Remedy and Remedyforce are two of BMC's most innovate ITSM solutions. While there are some similarities in features and benefits between the tools, there are also some differences. In this article, we'll explore some of the features, benefits, and differences of these groundbreaking solutions.
BMC Helix: Next Generation ITSM
Remedy
Remedy is transforming service management with people-centric user experiences that help you to work even smarter. It's delivered in the cloud via BMC Helix or on-premises for unprecedented choice. The intuitive user experience is built around roles, not modules, to help you be more productive with less effort. Modern, mobile interfaces, built-in templates and guides, and instant, actionable insights help you work smarter and faster.
Take Remedy for a test drive

Deliver amazing service management with embedded ITIL v3 processes, industry best practice reports and KPIs available out of the box.
Key Features
Powerful analytics – New Smart Reporting for simple, self-service, drag and drop creation of dashboards and reports
Mobile everything – Fully supported on Apple® iOS®, Google® Android™, and HTML5 and can be delivered as SaaS or an on-premises solution
Intuitive experience – Modern, engaging user experiences help you work more effectively on both sides of the desk
Formless input – Smart Recorder offers a natural way to enter information and offers contextual recommendations for faster resolutions
Key Benefits
Be up to 75% more productive with formless ticket entry
Engage the whole team using embedded social and collaboration tools
Embrace digital transformation through a natively mobile and social platform
Make smarter, faster decisions with powerful in-app analytics
Quick time-to-value with out-of-the-box ITIL®, best practice reports, and KPIs
What Customers Say About Remedy
"Remedy is our internal system for managing technologies in a way that lets us knowingly deliver brilliant service experiences to our customers. It provides the means for changing the conversation with our customers and operating from the standpoint of their experience, not the standpoint of technology." — Paul Pattinson, Head of Service Management, O2
"Remedy cut support costs and made us more proactive in supporting the schools. Our custom applications automate non-IT functions such as tracking correspondence, triggering emergency notifications, and scheduling training—reducing costs in those areas as well." — Kim Olds Abner, Remedy Administrator, AACPS
Want to learn more? Check out the Remedy overview.
Interested in a free trial? Try Remedy today.
Remedyforce
Built on Salesforce App Cloud with speed and flexibility in mind, Remedyforce enables you to deliver high-speed service management that empowers your users and accelerates your business, with minimal capital investment.
Try Remedyforce Free for 30 Days

Streamline IT assistance by slashing wait times, improving first-call resolution, and boosting agent productivity right out of the box.
Key Features
Comprehensive functionality: Incident, problem, change, service level management, self-service, discovery and asset management
Social, mobile, modern access: With the Salesforce.com platform, solve incidents, submit approvals, and crowdsource information via Chatter or chat
Intuitive dashboards and reporting: Resolve 90% of IT issues on the first call; show key business metrics in real time
Configuration, not customization: Deploy new technologies and services without coding or scripting, using existing Salesforce staff
No software or hardware to install or manage: Seamless upgrades twice a year with simple, value-based pricing
Key Benefits
Improve business satisfaction by up to 30% by streamlining processes and expediting request fulfillment
Reduce audit prep time by as much as 96% with out-of-the-box and automated reporting
Rapidly realize value and effectively support the business with BMC's 60-days value realization commitment
What Customers Say About Remedyforce
"Remedyforce captures data and generates meaningful reports that provide managers at all levels with visibility into what's happening in their departments. As a result, they have actionable data that improves decision making." — Steven Vandamme, Global Chief Information Officer, Barry Callebaut Group
"With Remedyforce, our service levels have dramatically improved. Customers have one place to go for any kind of help that they need, and we've been able to replace multiple legacy tools with a single, comprehensive solution that simplifies IT workflows across our enterprise."
— Pauline Mulvey, Vice President of Enterprise Business Technology, Mitchell
Learn more about Remedyforce and view the Remedyforce overview.
Ready to take a test drive? Start your free trial of Remedyforce.
Differences Between Remedy and Remedyforce
One of the major differences between Remedy and Remedyforce is that Remedyforce is only available via the Salesforce platform, so there's no on-premises delivery option available. Remedyforce is ideal for mid-market companies because it's innovative, out-of-the-box capabilities reduce complexity and accelerate time to market. It uses an agile onboarding process that reduces time by 75 percent to realize value in 45 days or less.
On the flip side, Remedy 9 is available both on-premises or on-demand. Remedy 9 with Smart IT sets a new standard for the modern workplace with a beautiful look that is easy for your IT staff to use. Now with embedded cognitive capabilities, you can transform the way your agents deliver service to not only continue streamlining service processes but also increase accuracy and cost efficiency.
To figure out which solution is the best fit for your organization, contact BMC Sales today to schedule a consultation to discuss your specific needs and business requirements.
BMC Helix: Next Generation ITSM
BMC Helix ITSM combines the latest in digital and cognitive automation technologies to enable best-practice ITSM principles, helping you to provide intelligent and predictive service management across any environment. Learn more about BMC Helix ITSM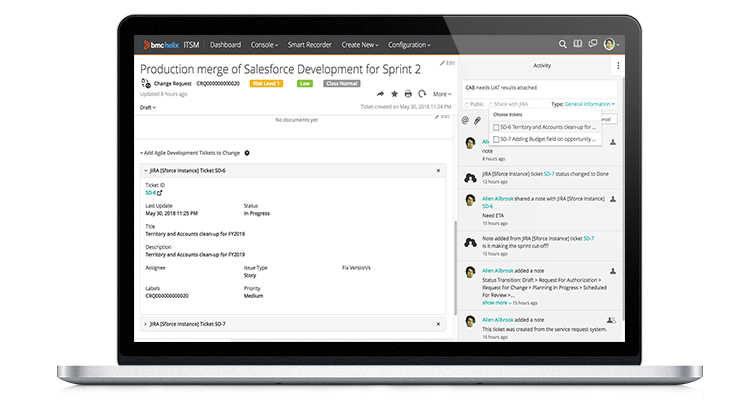 Optimized for ITIL® 4
Predictive service management through auto-classification, assignment, and routing of incidents
Integrations with leading agile DevOps tools such as Jira
Delivered in containers to enable operational and cloud deployment efficiencies
Free Demo: BMC Helix ITSM
These postings are my own and do not necessarily represent BMC's position, strategies, or opinion.
See an error or have a suggestion? Please let us know by emailing blogs@bmc.com.