Towards the end of 2018, Gartner released the much-anticipated update to their Market Guide for AIOps, covering AIOps platforms and how they support the application of artificial intelligence to IT operations. Overall, the report indicates a market that is still in its early stages (as evidenced by the Gartner Hype Cycle on this topic) but is also undergoing important developments that are driving the adoption and impact of AIOps in practical ways for ITOps teams. In this blog, let's take a look at some of Gartner's key recommendations from the guide.
Download your complimentary version of the Gartner Market Guide for AIOps here
The combination of big data, machine learning and visualization that AIOps delivers is increasingly being recognized amongst ITOps leaders as having the potential to transform monitoring and event management and drive significant benefits across IT Ops processes.
One of the key recommendations Gartner makes in the guide is to take a phased approach to deploying AIOps and look for solutions that 'support the ability to incrementally deploy the four phases of IT-operations-oriented machine learning: descriptive, diagnostic, proactive capabilities and root cause analysis to help avoid high-severity outages'. The below figure shows these four stages and the corresponding value that AIOps can deliver in each:
Many ITOps teams who have until now resisted the adoption of AI capabilities for various reasons can benefit from following a phased approach and, as a first step, start to get visualization of and conduct analysis on the operational data being collected with a view to implementing more advanced AIOps use cases.
AIOps skills shortages within IT teams are identified by Gartner as an inhibitor that may be holding back adoption and progression of AIOps initiatives. Amongst our customer base, we see that this skills shortage is exacerbated by the increasing complexity of IT environments. Most IT teams today face the situation of collecting operational data from many different sources including infrastructure, apps, services and devices across complex, hybrid IT environments including on-prem and multiple cloud sources. Given this complexity, it's important to focus on simplifying the data collection and analysis process. After all, how many IT teams have budget to spare to hire and train a data analysis expert? Leveraging an AIOps platform that unifies data from many sources into a single view and enables correlation, analysis and contextualization within a single solution with straight forward ways of applying data analytics and machine learning to event management challenges is clearly the way forward for ITOps teams.
In the guide, Gartner also recommends I&O leaders should 'initiate AIOps deployment to refine performance analysis today and augment to IT service management and automation over the next two to five years'. This is in line with what we're seeing our customers deploy in terms of AIOps adoption to date, deploying use cases across:
Event noise reduction – using behavioral learning of event data to alert only on abnormalities, reducing the event triage task for ITOps and driving efficiencies and cost reductions.
Predictive event alerting – using machine learning to identify recurring issues quickly, predict service impact and proactively alert before a service is affected.
Probable cause analysis – deploying analytics correlation to rank causal events to identify root cause faster and significantly reduce MTTR and improve user satisfaction levels.
Intelligent automation – Using intelligence from machine learning and data analytics to help automate remediation of recurring events.
These use cases are closely related to the observation made in the report of the increasing convergence of monitoring tools and AIOps platforms with Gartner predicting that, while the both will co-exist, AIOps platforms will play an increasing important role in initiating actions based on data analytics – representing a "right-shift" across the four stages of monitoring: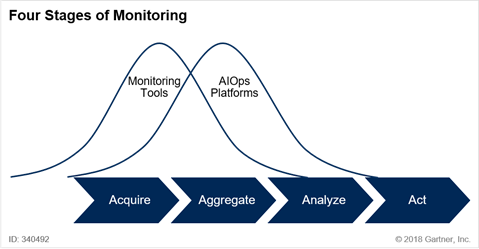 Getting to the point of having actionable insights from machine learning and data analytics that support automated workflows is an important development for ITOps teams that will drive real value from all this data intelligence. Successfully executing on this will require robust integrations to orchestration tools as well as the CMDB for service impact mapping. The visibility, intelligence, speed and insights that AIOps brings can revolutionize these latter stages of monitoring and drive significant benefits.
In this age of cloud, hybrid infrastructures, digital initiatives and rapidly changing technology landscapes, the IT Ops function has never been more important to the ability of IT to support the business. The most successful ITOps teams will be those who can leverage new AI capabilities in both a strategic and tactical way to drive efficiencies, cost reduction and speed throughout IT processes.
Gartner Market Guide for AIOps Platforms
Artificial intelligence is already changing the way IT Ops groups work—but what's the full potential of this technology, and how best can you realize it?
Read the report ›
These postings are my own and do not necessarily represent BMC's position, strategies, or opinion.
See an error or have a suggestion? Please let us know by emailing blogs@bmc.com.