Gartner recently released the 2021 version of its Market Guide for AIOps Platforms. Key findings of the guide show that artificial intelligence for IT operations (AIOps) is continuing its rapid growth, with a pandemic-driven shift from aspirational to practical implementations such as event correlation. The Market Guide includes new insights from leaders surveyed by Gartner into how AI, machine learning (ML), and analytics can enhance monitoring and event management to drive greater benefits across IT operations (ITOps) practices and the entire business.
(For anyone new to the concept, check out our introduction to AIOps.)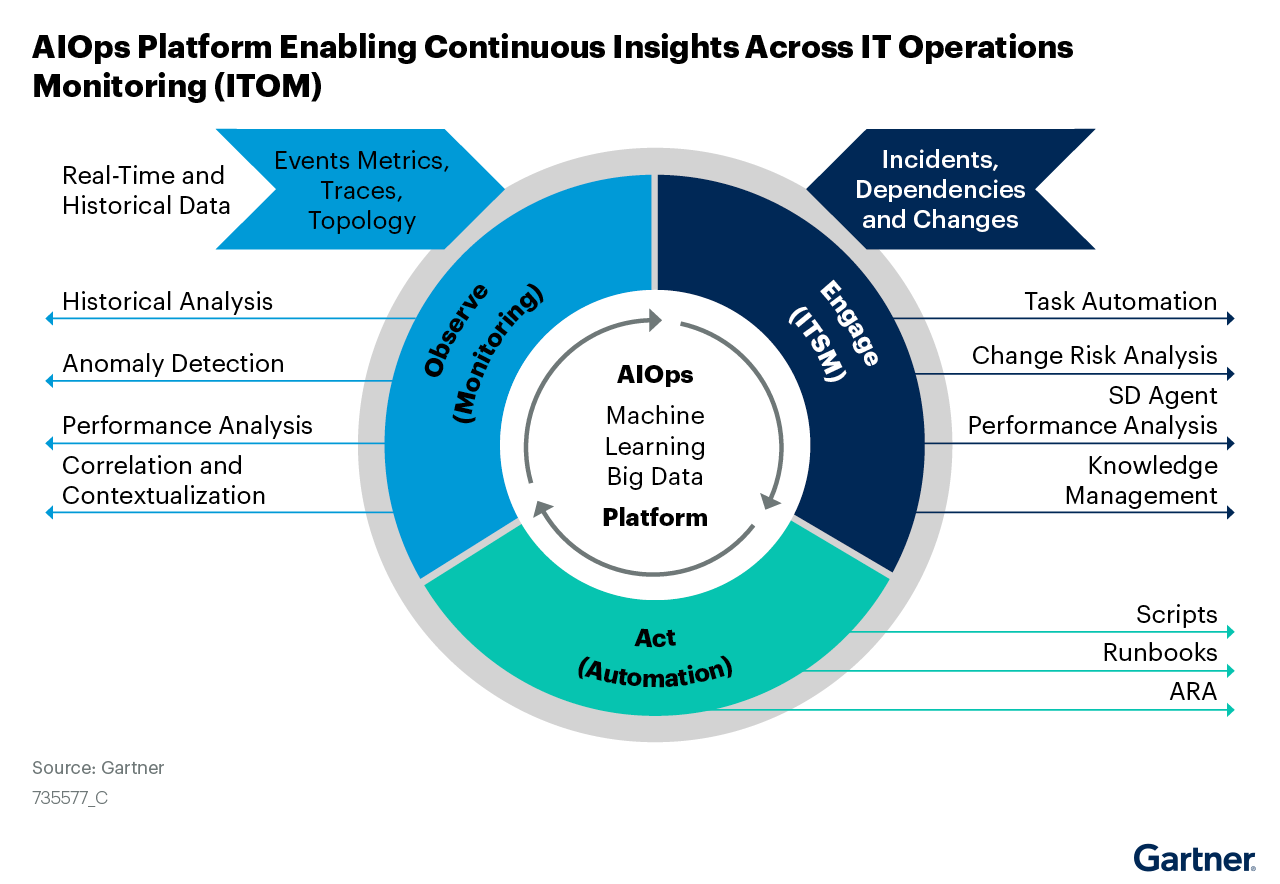 AIOps trends
Gartner reports that, "over the past 12 months, AIOps formed part of the conversation in 40 percent of all inquiries with Gartner clients on IT performance analysis."* At BMC, our customers are increasingly interested in how AIOps can address their growing complexity and volume of data, which are slowly outpacing humans' ability to manage alone. Here are my top three takeaways and action items for businesses, gleaned from the report:
Implement an AIOps strategy that covers the three aspects of observe, engage, and act.
There is significant potential to derive increased value and "enable task automation, knowledge management, and change analysis by selecting an AIOps platform that supports bidirectional integration with IT service management (ITSM) tools."*
Companies should "choose between domain-centric or domain-agnostic AIOps by allowing the use case to determine the approach. Use domain-centric AIOps features built into a monitoring tool for a one-off, specific use case, and deploy a domain-agnostic, standalone solution with a roadmap straddling multiple use cases."*
Gartner advice for AIOps adoption
Gartner has segmented the requirements of AIOps platforms across three areas:
In doing so, its analysts are underlining the importance of being able to ingest large volumes of diverse data sets and apply ML and analytics. Another key requirement is the ability to engage other IT disciplines and act on the rich, impactful insights that deliver value to the business. While monitoring and observability are the essential foundation of a successful AIOps strategy, the true game-changing value comes from engaging and acting on the data.
AIOps and ITSM
An important update in the latest guide is the observation that "many ITSM vendors have included AIOps capabilities through investment in internal development or through partnerships with AIOps platform vendors. The concept of AITSM enables effectiveness, efficiency, and error reduction for infrastructure and operations (I&O) staff by applying context, advice, actions, and interfaces of AI on ITSM tools."* BMC refers to this capability as AISM. The Gartner study also warns, "Beware of tools that provide only basic search-and-display capability."*
As the IT disciplines of ITSM and IT operations management (ITOM) overlap more and more, ML and analytics can be an essential enabler of that convergence. With a holistic AIOps strategy that observes, engages, and acts, effective integrated use cases can be implemented across ITOM and ITSM for automated event remediation, incident and change management, and intelligent ticketing and routing.
At BMC, we call that proactive service resolution: the ability to discover, monitor, service, and remediate events as they occur. Proactive service resolution is one of a number of capabilities enabled by the BMC Helix Platform, which is a unified, open platform that connects service and operations teams and provides visibility across BMC Helix and third-party solutions.
Deriving actionable insights from ML and data analytics that support intelligent automation will deliver real value to ITOps teams. Successful execution will require robust integrations to orchestration tools as well as the CMDB for service impact mapping. The visibility, intelligence, speed, and insights that AIOps brings can revolutionize these latter stages of monitoring and drive significant benefits.
Requirements of AIOps software
Gartner categorizes AIOps offerings as "domain-agnostic" and "domain-centric," and explains that there is likely to be overlap between the two within implementations. We certainly see this across our customer base. Domain-centric AIOps tools may be used for specific best-of-breed use cases, with data and events from those tools consumed by the BMC domain-agnostic operations management solution to deploy the ML, analytics, ITSM engagement, and automation for the required use cases.
Gartner's recommendation is that the AIOps platform should be able to support the full spectrum of observe, engage and act through:
The way forward for ITOps teams is to leverage a single AIOps solution that:
Unifies data from many sources into a single view
Enables pattern identification, analysis, and contextualization
Delivers actionable ways of applying ML and analytics to event management challenges
In this age of private and public cloud and hybrid infrastructures, digital initiatives, and rapidly changing technology landscapes, the ITOps function is integral to IT's ability to support the business. The most successful ITOps teams will be able to leverage new AI capabilities in a strategic and tactical way to drive efficiencies, cost reduction, and speed throughout IT processes.
AIOps use cases
Based on shifting priorities revealed during the pandemic, Gartner now advises that organizations should "prioritize practical outcomes over aspirational goals by adopting an incremental approach that starts with replacing rule-based event analytics and expands into domain-centric workflows like application and network diagnostics."*
Using ML and analytics to identify patterns can help predict events and automate event resolution. Once these essential patterns are identified, AIOps use cases can be prioritized based on business needs, including:
Dynamic (instead of static) threshold-based data to cut down on event noise and surface the most important events
Anomaly detection to predictively alert on potential events and triage them before they impact the business
Event correlation and log analytics to quickly perform root cause analysis and reduce mean-time-to-repair (MTTR)
Orchestrated workflows for automated event remediation of commonly recurring events, linked to ITSM for incident and change management
A top-down AIOps framework
According to Gartner, AIOps "lends itself to use cases spanning the hierarchy from the IT operator up to a line of business (LOB) owner or even a CEO."* The actual use cases will determine whether the solutions are used out-of-the-box or "end users must create outcomes relevant to personnel, such as I&O leaders, system administrators, architects and LOB owners."*
"Gartner recommends starting by drawing up a roadmap with an end-goal objective to be achieved through the use of AIOps platforms. For example, within a monitoring strategy, determine how AIOps can transform data for relevance to the target persona and how it helps address the purpose for the respective persona. Follow this by mapping out the following steps leading up to the objective, starting with the current state of visibility within IT operations:
Roadmap of objectives starting with the end goal in mind
Intermediate steps leading up to the goal
Existing state of IT operations (noisy events, static threshold-based alerts, or leveraging dynamic thresholds)
Select the AIOps vendor best suited to deliver out-of-box capabilities for the first step on the roadmap and to provide a platform that is aligned to the organization's roadmap (for example, helping the organization to advance from event correlation to dynamic thresholds to behavior analysis with minimal effort). Keep your eyes open to portability challenges in these platforms as use cases mature."*
Insights over actions
Gartner also highlights the importance of using automation to yield valuable insights versus simply automating actions, saying, "IT organizations with a high level of maturity prefer automated insights over automated actions as a tangible goal. I&O leaders should prioritize tools that reduce visual overload on IT operators. For example, instead of visually analyzing multiple graphs, the AIOps platform should highlight areas that need human attention."*
Relevance for diverse personas
AIOps platforms are ideal for helping cross-functional digital business teams or "fusion teams" innovate and implement across the business:
DevOps teams who focus on log ingestion and analytics
IT operations teams who need metric and log ingestion and analytics
Business leaders focused on user engagement and the influence of application performance
SRE practices that share goals with ITOps and DevOps use cases
BMC for AIOps success
BMC has a range of AIOps solutions to help you solve your business challenges.
BMC Helix Platform is an open platform that provides cross-domain visibility, operability, and AI-driven automated actions and workflows. It connects service and operations teams and improves speed and efficiency with a unified view across BMC Helix and third-party solutions. BMC Helix Platform can be leveraged for cross-product task execution and enables service and operations teams to lower costs, save labor, improve service performance and availability, and streamline proactive problem management.
BMC Helix Operations Management combines service-centric monitoring, advanced event management, and next-generation probable cause analysis to intelligently manage operations across complex IT environments and proactively improve performance and availability.
BMC AMI Ops Insight is a forward-looking tool that helps mitigate issues before they become business problems. It uses ML to learn what normal is, detect anomalies, diagnose the probable cause, and minimize time to remediate.
Additional resources
For related reading, explore these resources:
*Gartner, Market Guide for AIOps Platforms, Pankaj Prasad, Padraig Byrne, and Josh Chessman, April 6, 2021.
Gartner does not endorse any vendor, product or service depicted in its research publications, and does not advise technology users to select only those vendors with the highest ratings or other designation. Gartner research publications consist of the opinions of Gartner's research organization and should not be construed as statements of fact. Gartner disclaims all warranties, expressed or implied, with respect to this research, including any warranties of merchantability or fitness for a particular purpose.
This graphic was published by Gartner, Inc. as part of a larger research document and should be evaluated in the context of the entire document. The Gartner document is available upon request from BMC at the link provided.