If you're looking to build an artificial intelligence (AI)-powered chatbot, watch this session from BMC Exchange 2020. Amit Maity, lead technical instructor provides an overview of BMC Helix Chatbot, then teaches you how to set up your own, how to configure live chat, and how the chatbot can integrate with BMC and third-party solutions.
If you missed the BMC Exchange 2020 keynote you can watch it here.
The Autonomous Digital Enterprise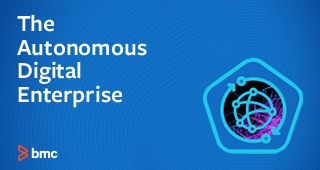 Learn about the basic elements of the Autonomous Digital Enterprise in this Executive brief.
Download e-book ›
See an error or have a suggestion? Please let us know by emailing blogs@bmc.com.