This is part 2 of a 3-part series exploring the implementation, refinement, and operation of an L2 service organization at BMC, and how you might find a similar path useful at your organization.
As we discussed in part 1, a critical concept to adopt for operational excellence in IT is one of optimized roles for optimal outcomes. Specifically (and in the context of this blog), regularly using the skilled employees of a development organization for moderate support requirements is neither efficient nor effective in the long run. We needed better definition between our service levels, and targeted outcomes for their roles.
As we looked to create an L2 support organization that would be a dedicated support arm of the BMC IT organization, our goals were fairly typical considerations for most IT organizations. We wanted to:
Eliminate organizational overlaps and redundancies, and establish better alignment with the business
Increase accountability across IT
Deliver incremental customer value in business-defined windows
We began by further defining and refining our support levels and their functions. We realized that for an L2 organization to flourish, it needed to not only deliver support, but also act as a customer connection, allowing us to operationalize innovations.
Our existing service organization includes:
L1: Service Desk – delivers excellent frontline support to all of BMC
L2: Complex Support Arm – works under corrective, preventive, perfective, and adaptive approaches
L2: End-user client service – provisions and supports end-user devices and technology
NOC: Minimizes outage time and facilitates crisis calls for faster resolution
A word of caution – for any strategic move to be successful, people and processes must be considered thoughtfully. Implementation can't be rushed—in fact, it took us approximately six months to build a functioning L2 organization across just one platform. Managing the combination of recruiting and onboarding the correct mix of talent, defining the scope of the organization, building processes around the transition management, and designing and incorporating the necessary measurements and feedback mechanisms (RACI playbooks, checklists, etc.) was a considerable task, and one that took deliberation, cooperation, and time.
Within the first year, we had demonstrably increased efficiency (including 20,660 hours saved by L1 and 14,380 hours saved by L2), lowered operational costs, and fully leveraged the ITSM/ITIL features that improved our work processes and outcomes. Now in our fourth fiscal year, we have increased the segregation of work between the L2 and L3 support levels from 11% to 29% , helping reduce context-switching for our L3 engineers and allowing them to focus on project work rather than operational issues. We will share more details about these outcomes and how we achieved them in part 3 of this blog series.
Why Any IT Organization Should Consider This Journey
If you are reading this blog series, chances are you've thought about ways to improve the service levels of your organization, as well as its partnership with the business. And if that's the case, you already inherently understand how your org and your enterprise can benefit from those changes. As we anticipated our own transformation, we kept these guiding principles in mind:
Focused operations—our teams would be better able to deliver positive outcomes, including meeting SLAs, if their work was appropriate to their skill level and their energies were spent effectively. These benefits would carry across the org and throughout the business.
Efficiencies—streamlining responsibilities, reducing operational costs, and investing skilled staff in valuable projects transforms user experiences and transforms IT into a value driver.
New services and processes—when roles are defined and workflow is structured, opportunities to invest in innovative practices and technologies become clearer and adopting them becomes part of the organization's overall transformation.
Cultural improvements—as a team comes together to define and assume new roles and responsibilities, collaboration and continuous learning are a necessary part of the process. The rigor requires openness to digital disruption and new technology, and it creates opportunity for career growth and skill expansion, benefiting staff at any level of experience.
This last point can't be overstated—to invigorate your teams and align their passions, they must become advocates of the process and end goals. Make sure everyone keeps the benefits in sight as they take on new tasks, and continue to provide opportunities for training and education to everyone. We will discuss more about onboarding new staff, keeping existing staff, and ensuring successful career paths more in our last installment.
Up Next: For more information about the specific processes and steps we took to create our L2 organization, and to learn more about our outcomes, read the last post in the series, or read the white paper for the full story now.
Creating an L2 Organization for Future-Ready IT Teams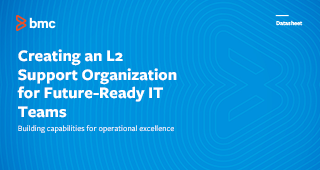 These postings are my own and do not necessarily represent BMC's position, strategies, or opinion.
See an error or have a suggestion? Please let us know by emailing blogs@bmc.com.