Conferences promote fellowship and create networking opportunities among like-minded peers. Importantly, conferences also provide access to the newest ideas and concepts. Fortunately, there are hundreds of tech and IT conferences around the globe each year, so you have the chance to find the right ones that will fit your area of specialty as well as your budget⁠—or your company's.
Attending one of these conferences is an excellent opportunity for both personal and professional growth, but sorting through these hundreds of conferences to find the perfect one can strain your already-precious time and energy. Whether you are looking to stay up-to-date with emerging trends in the industry, wanting to stay on top of the newest technologies, or are actively looking to network for customers or vendors, there is a conference for you.
BMC Helix: Next Generation ITSM
This list will be updated regularly, so be sure to check back and feel free to reach out if you would like to add a Tech/IT conference to the directory. To be considered, please email all details including the conference name, dates of the event, location, and a link to the event's website to blogs@bmc.com.
Be sure to also check out our list of the top DevOps Conferences, Programming & Software Dev Conferences, & CyberSecurity Conferences.
Top IT/Tech Conferences of 2019
Date: January 8-11
Location: Las Vegas, NV
Cost: $900- $1,500
For over 50 years, the Consumer Electronics Show (CES) has been the starting point for the newest technologies and innovations in the world. Held in Las Vegas, CES is the global gathering place for all those involved in consumer technologies and the next generation of innovations, showcasing products in the areas of 3D Printing, Augmented & Virtual Reality, Computer Hardware/Software/Services, and more. CES 2018 saw over 182,000 attendees and 1,000 speakers. Featured speakers of the 2019 event will include LG Electronics President and Chief Technology Officer Dr. I.P. Park; IBM Chairman, President and CEO Ginni Rometty; and AMD President and Chief Executive Officer Dr. Lisa Su.
Date: February 12-15
Location: Las Vegas, NV
Cost: $1,995- $2,295
IBM Think is the premier conference for cloud, mobile, and security. The event is for anyone interested in transforming industries and creating better solutions, whether you are a developer, designer, architect, security executive, or analyst. The conference includes top keynotes, over 200 sessions, and plenty of opportunities for networking. Some of the expert speakers at the 2019 conference will include: Ginni Rometty, Chairman, President and CEO of IBM; Joe Montana, Legendary NFL Quarterback; Dr. John E. Kelly III, Senior Vice President of Cognitive Solutions and IBM Research; Michelle Peluso, Senior Vice President & Chief Marketing Officer of IBM; and Tony Hawk, Legendary Skateboarder & Entrepreneur. Hot topics from this year's conference will cover Cloud, Dev, Internet of Things, Mobile, Security, Watson, and IBM Research.
Date: March 10-15
Location: Phoenix, Arizona
Your one-stop shop for Enterprise IT education where attendees enjoy a longstanding tradition of advancing the enterprise technology industry. The event is handcrafted by volunteers to help professionals expand knowledge, enhance skills and increase organizational efficiencies by focusing on SHARE's three main tenets: Educate, Network, Influence. SHARE 2019 will feature 500+ technical sessions, covering key topics such as Pervasive Encryption, Cloud Technology in the Enterprise, Data Privacy, API Economy and IBM Z topics. Experience hundreds of enterprise IT professionals under one roof during interactive meet-ups and networking events, aimed at helping attendees shape and build lasting connections.
Date: March 25-26
Location: San Francisco, CA
Cost: $2,895- $2,995
EmTech Digital is a two-day conference that covers human-computer interaction and everything AI. The event is designed to give attendees insights and intelligence needed in order to navigate this ever-evolving landscape, and offers educational sessions and expert talks from some of the sharpest minds in technology. The 2019 event will cover three main themes: What's Next for AI?, AI's Economic Impact, and A Global View. It will also feature speakers: Andrew Anagnost, President and CEO, Autodesk; Harry Shum, Executive Vice President, Artificial Intelligence and Research Group, Microsoft; Daphne Koller, Founder and CEO, Insitro; and Karen Hao, AI Reporter, MIT Technology Review.
Date: April 9-11
Location: San Francisco, CA
Cost: $1,499
Google Cloud Next is the conference to attend if you are interested in hearing more from Google executives about new and updated cloud services. Offering more than 200 sessions, as well as many keynote speakers, Google Next explores broad themes such as service scale and maturity, usable machine learning, and enterprise-friendliness. The 2018 event also included topics like how large enterprises and organizations are embracing the cloud, open source, cloud native architectures, deep dives on Kubernetes and TensorFlow, as well as product demos and presentations from start-ups and the venture capital community on future innovations. Learn more in our Complete Guide to Google Cloud Next.
Date: April 10-11
Location: Dublin, Ireland
Cost: €349
The Dublin Tech Summit is a two-day event that brings together the top global leaders in technology, innovation, and business to help shape the future of trends and technologies. The tech summit saw over 10,000 attendees in its first year alone, quickly solidifying its place as one of the biggest newcomers in the tech conference space. Sessions follow the eight core themes of the conference: The Internet of Things, Big Data, FinTech, Innovation, MusicXTech, Cloud Computing, Artificial Intelligence, and Cyber Security. There are over 250 expert speakers including global leaders such as Douglas Terrier, Chief Technology Officer at NASA; Cassie Kozyrkov, Chief Decision Scientist at Google; Mihai Alisie, Co-founder of Ethereum; and PJ Hough, Chief Product Officer at Citrix.
Date: Varies
Location: Held throughout the year in multiple cities around the world
Cost: Varies
Some upcoming conferences include:
New York City, April 15-18
Beijing, June 18-21
San Jose, September 9-12
London, October 14-17
Presented by O'Reilly and Intel AI, the Artificial Intelligence Conference brings together technology and business to explore opportunities in applied AI. Learn about the latest in machine and deep learning—from bots and agents to voice and IoT interfaces—and how to implement AI in real-world projects. Co-chaired by Ben Lorica, the event has expanded to four locations and attracts top thought leaders in applied AI such as Kai Fu Lee, Manuela Veloso, Andrew Ng, Olga Russakovsky, Peter Norvig, Ashok Srivastava, Tim O'Reilly, and many more. With the legacy of O'Reilly Media's best in class publishing history, the AI Conference is uniquely positioned to focus on applied technology and provide perspectives on enterprise applications for executives as well as hands-on training for practitioners.
Location: Madrid, Spain
The Digital Enterprise Show (DES) by the Digital World Congress is the world's leading event on Digital Transformation. The event showcases some of the most cutting-edge technology from the top tech companies in the industry, and helps you explore how to become more competitive in the digital market. The 2018 conference included vertical forums in fields like: Artificial Intelligence, Blockchain, IoT, Cloud, and Cybersecurity.
Date: May 9-10
Location: Amsterdam, The Netherlands
Cost: €259-895
TNW Conference is a highly anticipated technology festival that brings together international technology executives, top-tier investors, and promising startups for two days of business and knowledge sharing. Over the past 12 editions, TNW Conference has grown from a 200-person event to one of the leading technology events, bringing together 15,000 attendees a day and 3,500 companies from all over the world.
Date: May 21-23
Location: Atlanta, Georgia
Cost: $1,395- $2,295
Citrix Synergy is one of the top industry conferences on digital business transformation. The conference features strategic insights, business and technical training, and professional networking, all while providing opportunities for networking with peers and learning from some of the leading industry experts. With interactive features that will keep you engaged and interested, Citrix Synergy will share solutions for how to ensure your organization and your infrastructure can scale for the future. The 2018 event covered topics like: Application delivery and cloud networking, Security, App virtualization and VDI, Enterprise mobility, File sharing and collaboration, Cloud services, and Analytics.
Date: May 29-30
Location: Santa Clara, California
Cost: $695- $1,200
The Augmented World Expo (AWE) is the largest conference and expo on augmented reality in the world. Held each year in Santa Clara, California, this three-day event brings together a huge mix of industry leaders and enthusiasts, including CEOs, CTOs, designers, developers, creative agencies, futurists, analysts, investors, and the top media outlets. AWE brings together more than 5,000 attendees from all over the world, with a large percentage of them representing Fortune 1000 companies. The conference has featured keynotes from leading industry figures like "Shots of Awe" filmmaker, philosopher, and futurist, Jason Silva; "The Fourth Transformation" author and Transformative Group partner, Robert Scoble; and game designer, author, and Carnegie Mellon scholar, Jesse Schell.
Date: June 2-6
Location: Charlotte, North Carolina
Cost: $1,865-$2,295
The International Db2 Users Group (IDUG®) is the foremost independent, user-driven community that provides a direct channel to thousands of professional Db2 users across the globe. IDUG's annual North American event brings Db2 professionals of all backgrounds together — allowing you to reach key players in the industry.
Date: June 3-6
Location: Toronto, Canada
Cost: $3,475 CAD
The Gartner CIO & IT Executive Summit was designed to empower CIOs and IT leaders to adapt to all of the fast-paced changes in the ever-changing digital world. It features many top industry leaders and will teach you how to apply digital business concepts to real-world scenarios, how to put that theory into practice, ways to create agility within the enterprise, and how to best manage the top digital talent. It will also showcase cutting-edge technologies, applications, and approaches. The 2019 event will cover topics like: Innovation, Artificial Intelligence, Cloud, Culture and People, Security and Risk, Blockchain, Future of Work, Data and Analytics, Digital Transformation, and Customer Experience.
Date: June 17-19
Location: Chicago, IL
Cost: $1,495-$2,495
Digital Workplace Experience 2019 is in its third year as the industry-defining digital workplace conference produced by SMG/CMSWire with strategic partner and boutique consultancy, Digital Workplace Group. This three-day event will gather enterprise-level digital workplace leaders to share the latest knowledge around best practices, organizational leadership, employee experience and digital workplace technology platforms via live demos, co-working sessions, innovation panels and the latest industry performance data.
Date: June 24-28
Location: Hannover, Germany
Cost: €100- €2,400
With more than 3,000 companies and over 200,000 people attending, CeBIT is one of the largest and most internationally recognized computer expos in the world. Held each year in Hannover, Germany, CeBIT is the leading platform for experts and top decision-makers in all areas of digital business. CeBIT covers topics such as artificial intelligence, cyborgs & biohacking, robots, virtual worlds, the Darknet and cybercrime, and features many keynotes by global experts and leaders.
Date: September 6-11
Location: Berlin, Germany
Cost: £
IFA is held in Berlin, Germany, and is the leading trade show for consumer electronics and home appliances. Known for offering an extensive overview of the international market, this six-day event attracts close to 240,000 visitors from more than 100 different countries. IFA serves as the main meeting place for key retailers, buyers, and experts from the industry, showcasing the latest products and innovations. IFA 2018 featured keynotes from global leaders such as: Jo Seong-jin, Vice Chairman & Chief Executive Officer LG Electronics; Dr. I.P. Park, President & Chief Technology Officer LG Electronics; Nick Parker, Corporate Vice President, Consumer and Device Sales, Microsoft Corporation; and Daniel Rausch, Vice President of Smart Home, Amazon.
Date: September 15-19
Location: Austin, Texas
Cost: $495
Pure//Accelerate is a conference that aims to challenge how to think about storage, data, and the cloud. It provides a large variety of breakout sessions, as well as plenty of opportunities to network with some of the biggest leaders and companies in the industry. Pure//Accelerate features top tech and IT initiatives, and provides access to some of the most cutting-edge tech innovations. Past Keynotes have featured Pure Storage executives John (Coz) Colgrove and Scott Dietzen, as well as other leading technology professionals like: Liz Centoni, Senior Vice President and General Manager of Cisco Computing Systems Product Group and Arthur Riel, Director of World Bank Group.
Date: September 23-26
Location: New York City
Strata Data Conference is where cutting-edge science and new business fundamentals intersect—and merge. It's a deep dive into emerging techniques and technologies. You'll dissect case studies, develop new skills through in-depth tutorials, share emerging best practices in data science, and imagine the future. The data industry is growing fast, and Strata Data Conference has grown right along with it. Last year's program added new sessions and tracks to reflect challenges that have emerged in the data field—including security, ubiquitous computing, collaboration, reproducibility, new interfaces, emerging architecture, building data teams, machine data—and much more. Strata is the largest data conference series in the world, yet it's kept the informal, collegial spirit that makes it one of the best places to connect and collaborate.
Date: September 27-29
Location: Lviv, Ukraine
Cost: $160- $400
IT Arena is the largest tech event in Ukraine and Eastern Europe. The three-day conference, conducted exclusively in English, brings together more than 2,000 entrepreneurs, investors, developers, business analysts, and designers every year. Some of the previous speakers of IT Arena included representatives of Twitter, Uber, Facebook, Philips, Samsung, IBM, Google, and Microsoft, and the 2018 conference consisted of four streams: Business, Product, Technology, and Startup. This conference is known for its daily after-parties, which are excellent networking opportunities. On the last day of the conference, the FutureLand Festival takes place, which attracts more than 3,000 visitors.
Date: October 9-10
Location: Amsterdam, Netherlands
Cost: €399
The World Summit Artificial Intelligence (AI) is a unique platform for all AI innovations and projects. World Summit AI is the result of a collaboration between the global City.Ai Network and 100+ international AI events, and it provides unique networking and discussion opportunities for the 2,000 attendees. This two-day conference brings together the three main pieces of the AI system: Enterprise, Startups & Investors, and Deep Tech. The 2018 conference saw many top speakers, including: Steve Chien, Head of Artificial Intelligence Group, at NASA; Cassie Kozyrkov, Chief Decision Scientist at Google; Itamar Friedman, Head of Alibaba Israel MV Lab at Alibaba; and Yossi Matias Vice President Engineering at Google. World Summit AI is the industry's only organized tech summit that brings together the entire applied AI ecosystem, and it can't be missed.
Date: November 4-8
Location: Orlando, Florida
Cost: $2,220
Microsoft Ignite is Microsoft's annual meeting designed for enterprise professionals, services, and products. Microsoft Ignite offers over 700 different sessions that cover topics like deployment, development, architecture, implementation & migration, security, access management & compliance, usage & adoption, and operations & management. The conference provides advanced technical training for attendees, as well as plenty of opportunities for networking and sharing the latest ideas. It also offers demos on more than 150 products. The keynote speaker of Microsoft Ignite 2018 was Satya Nadella, the CEO of Microsoft. He was joined by SAP CEO Bill McDermott and Adobe Systems CEO Shantanu Narayen for this powerful keynote delivered to a standing-room-only crowd. There are more than 700 hours of past sessions that you can explore, including keynote presentations, overviews, and deep dives.
Date: December 2-6
Location: Las Vegas, NV
The largest gathering of the global cloud community returns to Las Vegas for the 8th annual AWS re:Invent. Join the global cloud computing community for an action-packed event featuring keynote announcements, training and certification programs, over 750 technical sessions, energy hub-the partner expo, after hours events, and more opportunities to educate, entertain, and engage with the best and brightest business and IT decision makers, hottest startups, and visionary technology leaders. Check out our Complete Guide to AWS re:Invent for more information.
Summary
Whether you are a CEO, developer, or IT professional, attending these conferences can help you to stay current on the latest trends and up-to-date on the newest innovations and technologies. All of these events are designed to provide you with all of this information, as well as life-changing networking opportunities and the chance to listen to top industry experts.
BMC Helix: Next Generation ITSM
BMC Helix ITSM combines the latest in digital and cognitive automation technologies to enable best-practice ITSM principles, helping you to provide intelligent and predictive service management across any environment. Learn more about BMC Helix ITSM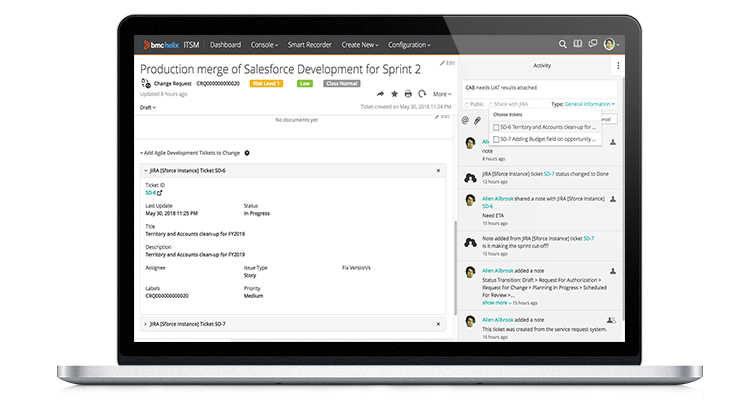 Optimized for ITIL® 4
Predictive service management through auto-classification, assignment, and routing of incidents
Integrations with leading agile DevOps tools such as Jira
Delivered in containers to enable operational and cloud deployment efficiencies
Free Trial: BMC Helix ITSM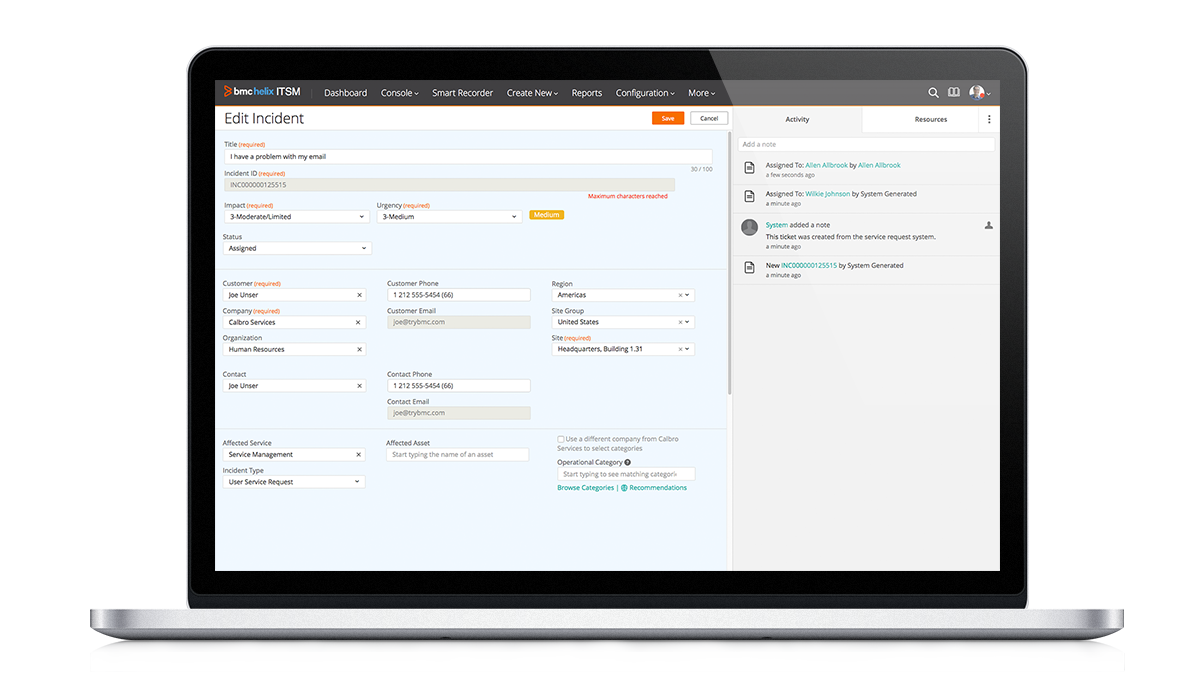 These postings are my own and do not necessarily represent BMC's position, strategies, or opinion.
See an error or have a suggestion? Please let us know by emailing blogs@bmc.com.