There is ever-growing pressure on IT organizations to innovate and deliver applications and new business services faster than ever. Driving initiatives, including big data and DevOps, while ensuring security measures remain intact are critical to keeping a competitive edge. What's more, data centers continue to increase in complexity with a mix of mainframe, distributed systems, virtual, public and private cloud, and mobile platforms, all of which run numerous applications. And managing the workloads that span these multiple disparate platforms creates the need to address real-time processing and to deliver those services.
Enter Control-M: Our groundbreaking digital business automation solution that simplifies and automates diverse batch application workloads. Control-M improves workflow services performance and usability, and reduces operating efficiencies with new capabilities—such as out-of-the box predictive analytics, automated agent and client deployment—for faster upgrades and maintenance, and a time-saving global calendar. Plus, Control-M significantly enhances automated application workflow promotion through automated job promotion across multi-cloud and on-premises environments.
At the center of infrastructure, data, and applications, Control-M improves SLAs and accelerates application deployment. And trusted third-party reviewers have already taken notice. Below is the definitive list of user reviews, analyst reports, and customer stories to help your evaluation of Control-M as the go-to solution for your organization's workload automation needs.
TrustRadius
TrustRadius is one of the most trusted review sites for business technology users to share real-world insights through in-depth reviews.
The overall TrustRadius score of Control-M is 8.4 out of 10 from 84 reviews.
The Control-M Scorecard Summary shows high marks across the board with very high ratings in Likelihood to Recommend and Renew: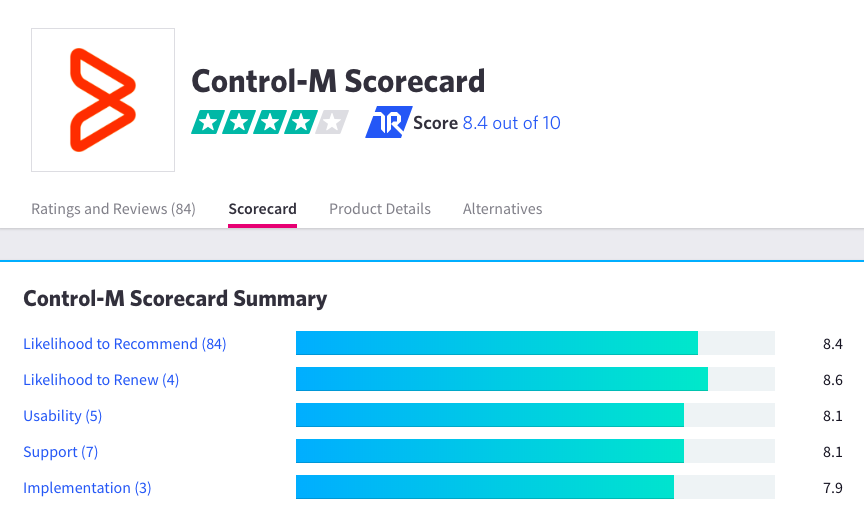 The Feature Rating shows highest marks in Multi-Platform Scheduling and Central Monitoring:

IT Central Station
IT Central Station has become a trusted website for crowdsourcing enterprise technology reviews. The website has an engaged community and offers objective feedback on everything IT. Control-M was ranked the #1 tool for June 2018 by average user ratings on IT Central Stations website.
IT Central Station has 39 reviews for Control-M with an average of 4.3 out of 5 stars.

EMA Radar for Workload Automation
The EMA Radar report, which evaluated 14 vendors and included interviews with 100 business users, rated Control-M as a 2017 Value Leader and the strongest product for workload automation. Additionally, Control-M received the award for Best DevOps Support. Better yet, the solution achieved the highest overall score on functionality, architecture, and integration—a level of recognition that it has received in numerous prior EMA assessments.
According to the report, "Control-M is an outstanding choice for organizations that intend to give workload automation its rightful place as a data center discipline with significant business impact."
Get the full EMA Radar report to learn about:
Driving digital transformation with comprehensive workload automation functionality
More than 50 key feature ratings for Control-M
The favorite features of real-world customers
Hear from Our Customers
Many customers from various industries have been able to benefit from Control-M. Here's a handful for you to view:
Learn More
Interested in getting more details about Control-M? Check out our Control-M overview.
Want a risk-free trial of Control-M? Start your Control-M trial now.
This post is part of a series on BMC product reviews. Be sure to check out our other posts covering Remedyforce Reviews, Remedy ITSM Reviews and FootPrints Reviews.