Forbes Insights, in association with BMC, recently published the results of a comprehensive State of ITSM survey. This report, titled "Delivering Value to Today's Digital Enterprise: The State of IT Service Management, 2017" details service management trends and changes in the industry.
Get the IT Buyer's Guide for Service & Operations
This IT Buyer's Guide helps you understand what to look for and how to choose the right tools for IT service and operations.
Eight Key Performance Indicators (KPI's) were included in the report:
Service availability
Time to resolve
First-call resolution rate
SLA breach rate
User satisfaction
Cost per contact
Customer satisfaction
Net promoter score
This blog post will go into detail on the KPI's identified by survey respondents.
The Forbes survey, from which these trends were identified, includes responses from more than 250 executives covering a range of industries and position. More than 60 percent of respondents are based in America, around 30 percent from Europe, and the rest coming from elsewhere. Nearly a quarter of organizations surveyed have annual revenues exceeding $5 billion while three quarters have greater than $500 million in revenue.
Close to half of those surveyed cite service availability as the key performance indicator used to benchmark ITSM effectiveness, followed by time to resolve issues at 41 percent. Nearly one-third say they look at SLA breach rates as an indicator of the success of their ITSM efforts.
Service Availability
Most IT organizations define availability for IT services or configuration items. Availability is typically determined by reliability, maintainability, serviceability, performance and security. Availability is most often calculated as a percentage. This calculation is often based on agreed service time (as defined in the SLA) and downtime.
Learn how Service Modelling can help plan for service availability
Time to Resolve
There are a number of related "time to resolve" metrics worth considering when measuring ITSM success. Whether focused on mean time between failures (MTBF), mean time to failure (MTTF), or mean time to resolve/repair (MTTR)
Time to resolve (MTTR) typically represents the average time to resolve a ticket or issue.
Explore the differences between different "time to resolve" metrics
First-Call Resolution Rate
First Call Resolution (FCR) rate is the percentage of issues properly resolved during the customer's first call, therefore eliminating any subsequent calls or interactions on the issue.
FCR rate is a valuable KPI, foremost because it results in a happy customer with no further action required. Beyond that, there's a compelling business case for the metric. Benchmark studies usually put the cost of a first-line service desk resolution at between $20 and $30 USD. If the ticket escalates to second line, it's usually several multiples more expensive.
The following model shows how this plays out for an organization processing 10,000 tickets per month: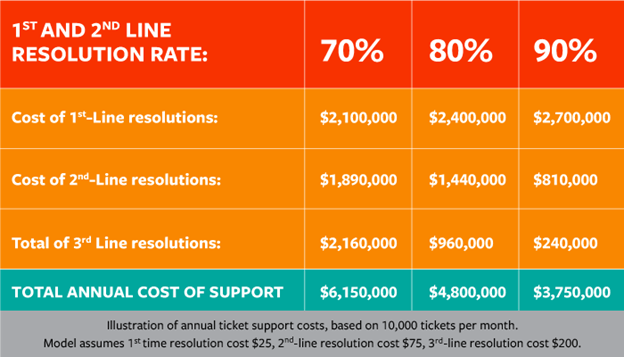 Learn more about how First Call Resolution is critical to measuring the success of a service desk organization
SLA Breach Rate
According to ITIL, a Service Level Agreement (SLA) is "An agreement between an IT service provider and a customer. The SLA describes the IT service, documents service level targets, and specifies the responsibilities of the IT service provider and the customer. A single SLA may cover multiple IT services or multiple customers."
An SLA breach rate is the percentage of tickets that have broken, or breached, an SLA. For instance, if a critical ticket was resolved in eight hours instead of five hours as required by an SLA, this ticket has breached the SLA. SLA breach is often due to either insufficient staffing or incapability of staff and often leads to adding more training or more staff to prevent future breaches.
Explore best practices for creating Service Level Agreements
User and Customer Satisfaction
End-user satisfaction is typically measured through a periodic survey or other feedback mechanism. Without measuring user satisfaction, a service desk can sometimes find itself focused more on KPI's than the business outcome that the KPI's are intended to measure.
User satisfaction is one of the primary business outcomes of ITSM. This Dilbert strip highlights the reality of not focusing on user satisfaction.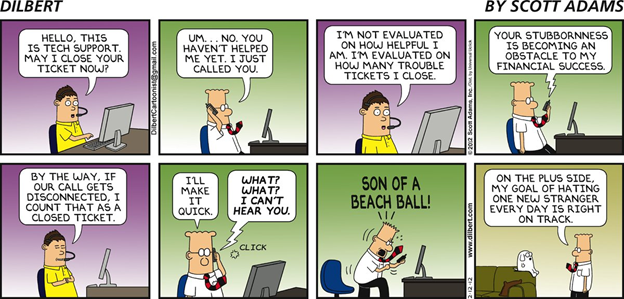 Source: http://dilbert.com/strip/2012-02-12
Cost Per Contact
Cost Per Contact, or Cost Per Ticket, is essentially the dollar amount of operating expense of the Service management organization divided by ticket or contact volume. Typically, this is calculated on a monthly basis. Operating expenses often include: salaries and benefits for personnel, hardware, software, telecommunications, and other related expenses.
The following chart shows how support tickets (or contacts) are typically broken down between service requests and incidents.
Source: MetricNet 2011 https://www.thinkhdi.com/~/media/HDICorp/Files/Library-Archive/Insider Articles/Cost per Ticket.pdf
Net Promoter Score
Net Promoter Score (NPS) is a proven way of gauging – and improving – customer satisfaction and loyalty with a product, service, or company. NPS attempts to make customer satisfaction scores understandable by focusing on a single statistic. You may have taken an NPS survey in the past if you've been asked the question, "On a scale of 0 to 10, how likely are you to recommend us to a friend or colleague?" NPS is a type of user or customer satisfaction score.
NPS is calculated by subtracting the percent of low-satisfaction customers (scored 6 or below) from the high-satisfaction customers (scored 9 or 10), ignoring neutral scores (7 and 8).
NPS can be a useful KPI for IT Service Management organizations when taken into account with other critical metrics.