Help Desk or Service Desk – Semantics or Strategy?
What is the difference between a Help Desk and Service Desk? Is it just a matter of semantics and terminology or are these in fact very different and distinct disciplines that impact an organization's IT approach and strategy? It is an interesting topic that has lots of different answers, interpretations and points of view. I believe the answer is that it is a little bit of both. In this post I will try to explain the basic similarities and differences between the two and point out some of the considerations that should be made when determining which type of system will best meet your needs.
Why does the help desk vs service desk debate keep resurfacing? I think it is because the diverse nature of organizations, the services they provide and the users themselves. Some IT professionals have been in the field for 20+ years and some have only been in it a few. ITIL (IT Infrastructure Library) has been around for a while now and it's processes and terminology have been widely used and adopted by many. End user's expectations are constantly changing and higher today than ever before, particularly since the rise of mobile devices and the social web.
BMC Helix: Next Generation ITSM
The distinction between the help desk and the service desk today is pretty fluid, often simply based on how organizations interpret these words and some are more specific to using ITIL guidelines. I wouldn't say that anyone is more right than the other and there are no hard and fast rules that mandate the use or best practice. It really depends on what works best from an organizational standpoint, an organization's size and level of IT complexity ultimately meeting your customer and business needs.
Let's start with some of the standard or most widely used definitions of these two terms along with some examples and differences of each:
Help Desk – the IT Help Desk is typically viewed as being more tactical with the primary goal being to help quickly resolve end users immediate needs and technical issues and incidents. The IT Help Desk can be separate or part of a larger Service Desk operation to improve the overall organization's Customer Services. The ultimate goal of the Help Desk is to resolve end user issues and requests as efficiently and quickly as possible.
Some of the key traits of the Help Desk are:
Act as a single point of contact (SPOC) for IT Support
Use a tracking solution for all incoming incidents
Automated ticket tracking, routing and email notifications
Basic Incident Management and Problem Management
Offers some limited integrations with other IT Service Management Processes
Some areas/applications supported by specialty groups outside of the help desk
Provide level 1, 2 support and pass incident ownership if escalation is needed
Problem resolution and escalation procedures
Managing the Knowledge Base
Self-Service options for end users
BMC Track-It! help desk software offers many of the features listed above, including automatic email to ticket conversion, ticket management, automated routing, prioritization, service level agreements, automatic email notifications, reporting and more. Track-It! also offers an end user web portal where users can log tickets or check the status of their existing tickets and a Knowledgebase module where solutions to issues can be documented to help when the same issue is encountered in the future.
Try Track-It! Help Desk for Free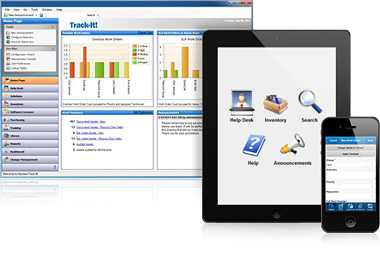 Track-It! is the most widely used IT Help Desk Software in the world. Organize and manage your help desk and assets with Track-It! starting at $995
Service Desk – the IT Service Desk is thought of as a broader term that is more strategic and cross organizational. This looks at the business needs rather than being solely focused on resolving the user's needs and takes into account the broader business context. The ITIL definition of the Service Desk (Service Operation) is the Single Point of Contact between the Service Provider and the Users. A typical Service Desk manages Incidents and Service Requests, and also handles communication with the Users. The Service Desk typically has a help desk component and should have an overall goal of improving IT and business processes across the organization looking for opportunities for all IT processes (including the Help Desk) to run more efficiently.
Some key traits of the Service Desk are:
BMC FootPrints service desk software is an ITIL verified Service Desk platform offering all the functionality of a full help desk solution, plus full support for all other Service Management processes, full customization, visual workflow, CMDB (Configuration Management Database), visual impact analysis and more.
Try FootPrints Service Desk for Free

FootPrints Service Desk provides a powerful suite of on premise tools that helps mid-size organizations manage the entire lifecycle of their IT services.
Can a company just have a Help Desk and not a Service Desk and vice versa?
As I said, there are no specific rules here and there are many instances where a company does not require or may not be ready for the processes and service offerings of the broader Service Desk. In that situation a Help Desk is perfectly fine to meet these tactical needs. The Help Desk provides business users a place to contact when they are having specific IT issues. The goal here is to have that initial point of contact to reduce the wait time and get the issues resolved quickly to get the user working and productive.
The Service Desk looks at the overall IT processes and the individual components that function and interact with each other on both a software and process level. One area that is a must in any IT service offering is the ability to manage specific end user problems and issues. A Service Desk either has to have Help Desk functionality embedded as part of the Service Desk infrastructure or have the ability to link into a Help Desk offering for the end user. The Service Desk is typically focused on corporate strategy and ensuring all the IT functions are currently working and will work in the future, they must also have the ability to ensure all end users up and functioning.
Keep in mind, there are no hard and fast rules here. There are many companies operating successful Help Desk operations and many that are struggling. On the flip side, there organizations running formal Service Desks that are in the same boat. There are also organizations using Help Desk type processes who call their group the Service Desk and vice versa. In the end, the processes you follow and what you call your group are largely dependent on the people staffing it, the people you are serving, the processes you use and the views, needs and expectations of the end users you are servicing.
Here are some additional and important capabilities to consider for a Help Desk and Service Desk deployment:
Enabling a Mobile IT user solution provides more self-service and user enabled capabilities in your business user's hands and reduces the resource burden on the Service Desk and Help Desk.
Providing an Intuitive User Experience that empowers your business users by making it easy for them to get service, support, information, and apps no matter where they are.
Enabling Business or Process Automation to help drive greater responsiveness, efficiency, and standardization in your service management operations allowing you to respond to the growing challenges of scale and new demands from the business by automating repetitive and time consuming tasks.
Better decision-support capabilities with actionable intelligence to help your IT Service Management organization manage the evolving challenges of delivering effective service in increasingly complex environments. Provide your teams with a detailed view of your infrastructure and its dependencies with diagnostic data, performance information, and actionable knowledge.
BMC Software Solutions
At BMC Software, we understand the typical IT Help Desk and Service Desk and everything in between because we have been developing products and services to manage IT operations for more than 20 years.
Whether you are moving from a home-grown solution, freeware solution, are implementing your first formal Help Desk solution or you have outgrown your existing help desk product, are interested in adopting more formal ITIL processes or are simply seeking more power and flexibility from your solution, BMC Software has a Help Desk / Service Desk product to meet your needs.
BMC Helix: Next Generation ITSM
BMC Helix ITSM combines the latest in digital and cognitive automation technologies to enable best-practice ITSM principles, helping you to provide intelligent and predictive service management across any environment. Learn more about BMC Helix ITSM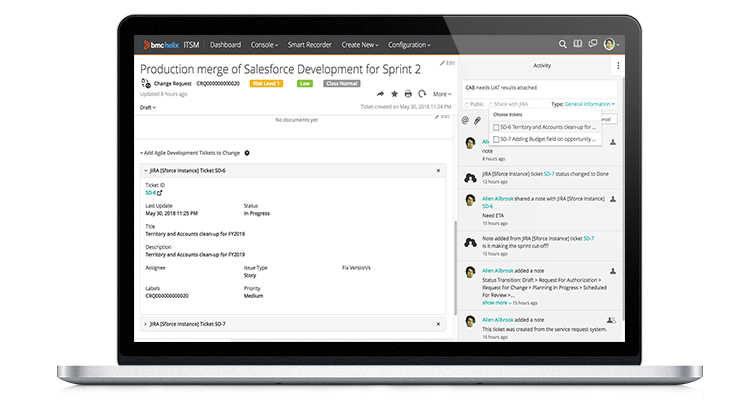 Optimized for ITIL® 4
Predictive service management through auto-classification, assignment, and routing of incidents
Integrations with leading agile DevOps tools such as Jira
Delivered in containers to enable operational and cloud deployment efficiencies
Additional Resources
Free Trial: BMC Helix ITSM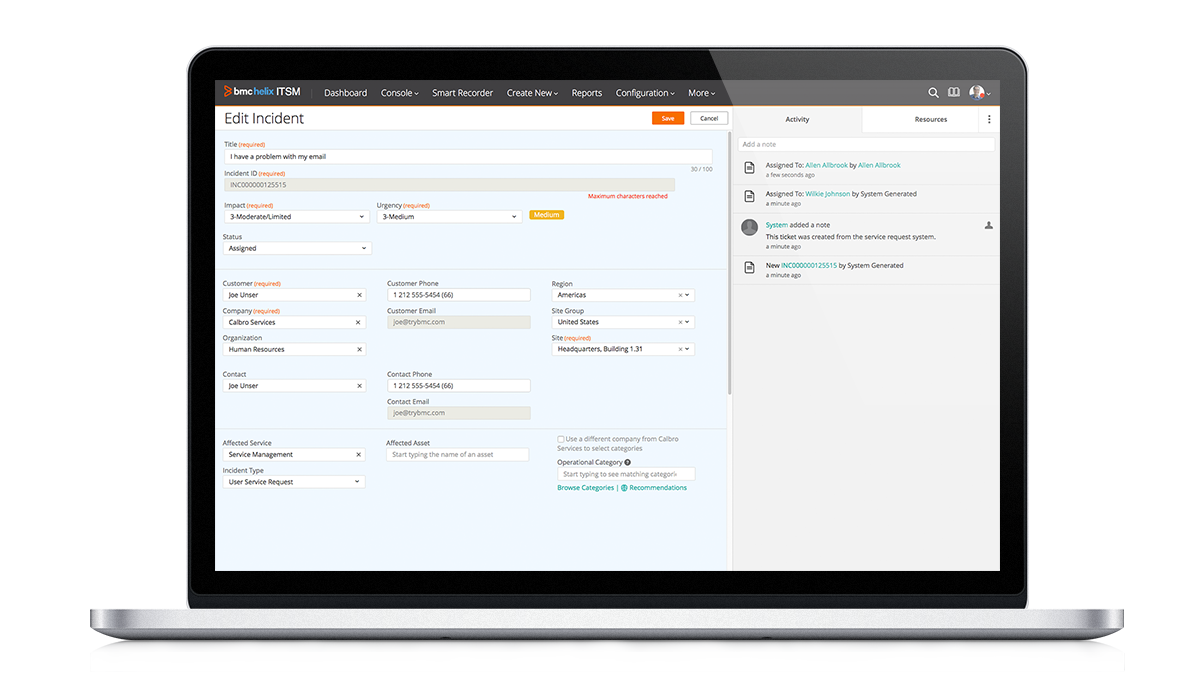 These postings are my own and do not necessarily represent BMC's position, strategies, or opinion.
See an error or have a suggestion? Please let us know by emailing blogs@bmc.com.