Innovation means you must constantly look for new ways of doing things. The more you can quickly and flawlessly execute, the better the ROI you'll earn, which leads to more investment and innovation. Automation is an essential component to all of this. Learn how automation-driven actionability is a true game changer for service and operations management.
If you missed the BMC Exchange 2020 keynote you can watch it here.
The Autonomous Digital Enterprise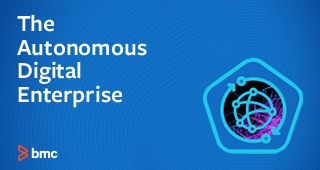 Learn about the basic elements of the Autonomous Digital Enterprise in this Executive brief.
Download e-book ›
See an error or have a suggestion? Please let us know by emailing blogs@bmc.com.