It is safe to say that the digital age is powered by the service industry. Because the service sector generates value mainly through intangibles, it is better suited to take advantage of the growing advances in technology and the knowledge industry.
For this reason, companies and organizations struggle with decisions on which business approach is best suited to meet customer needs and remain ahead of competition. The business approach you might choose is defined by:
Management style
Process framework
Technology
Culture
Other parameters
Organizations have turned to reference frameworks and models to provide guidance and benchmark their operations for improvement and to meet the needs of stakeholders. ITIL® and CMMI are two service-oriented frameworks that have been around for quite some time. Both are still relevant to today's digital age, having undergone updates in recent years to adapt to the evolving demands of customers and industry.
How do the two compare and contrast when it comes to the services sector?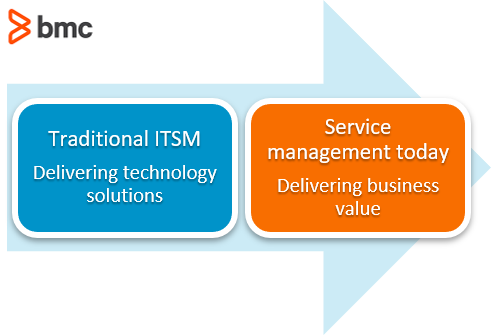 Origin stories
Let's first see how both approaches got started.
ITIL origins
ITIL started out as an improvement initiative in the 1980s by the British Government which was concerned with the level of quality of IT services. The task was given to The Central Computer and Telecommunications Agency (CCTA) who came up with the Government Information Technology Infrastructure Management (GITIM) framework, which focused on service support and delivery, ensuring efficient and financially responsible use of IT resources in government and private sector.
GITIM was then reworked and as released ITIL v1 (Information Technology Infrastructure Library) in 1989. The CCTA was then merged into the Office of Government Commerce (OGC) who released version 2 in 2001, followed by version 3 in 2007. Version 3 went through another update in 2011.
In 2014, the OGC and Capita PLC formed a joint venture called Axelos, which oversaw the next update termed ITIL 4 in 2019.
(Explore our comprehensive ITIL 4 Guide.)
CMMI origins
CMMI started out as a research initiative in 1980s by the US Military which funded the Carnegie-Mellon Software Engineering Institute (SEI) to create a model for objective evaluation of software subcontractors. The result was the Capability Maturity Model (CMM), published as Managing the Software Process in 1989.
In 1991, The Capability Maturity Model for Software SW-CMM v1.0 was released, and later updated to SW-CMM v1.1 in 1993. Because the framework became useful for not only evaluating software subcontractors but other areas of IT and operational processes, additional CMMs were being developed alongside the software model including:
Systems Engineering
Software Acquisition
Integrated Product Development
So CMM Integration (CMMI) project was initiated by government industry and SEI to collapse the various CMMs covering different disciplines into a common framework managed by the CMMI Institute. The original CMMI model was published in 2000, with updates pushed in 2002 (v1.1), 2006 (v1.2), 2010 (v1.3).
The CMMI Institute was acquired by ISACA in 2016, and a major update to the framework was then released in 2018 (v2.0).
ITIL vs CMMI: current structures
The ITIL 4 model is structured on the service value system (SVS) that describes five elements required to deliver value through services:
The SVS elements are:
The CMMI v2 model is structured on four categories that group capability areas consisting of practice areas. The four categories are:
Doing. Capability Areas for producing and delivering quality solutions
Managing. Capability Areas for planning and managing implementation of solutions
Enabling. Capability Areas for supporting solution implementation and delivery
Improving. Capability Areas for sustaining and improving performance
Each practice area consists of a set of practices that collectively describe the critical activities needed to achieve a defined intent and value. The practices are themselves organized into six maturity levels that provide a path for improvement by adding functionality or sophistication resulting increased capability and performance within the organization.
The maturity levels are:
Level 0 – Incomplete: Ad hoc and unknown
Level 1 – Initial: Unpredictable and reactive
Level 2 – Managed: Managed on the project level
Level 3 – Defined: Proactive, rather than reactive
Level 4 – Quantitatively Managed: Measured and controlled
Level 5 – Optimized: Stable and flexible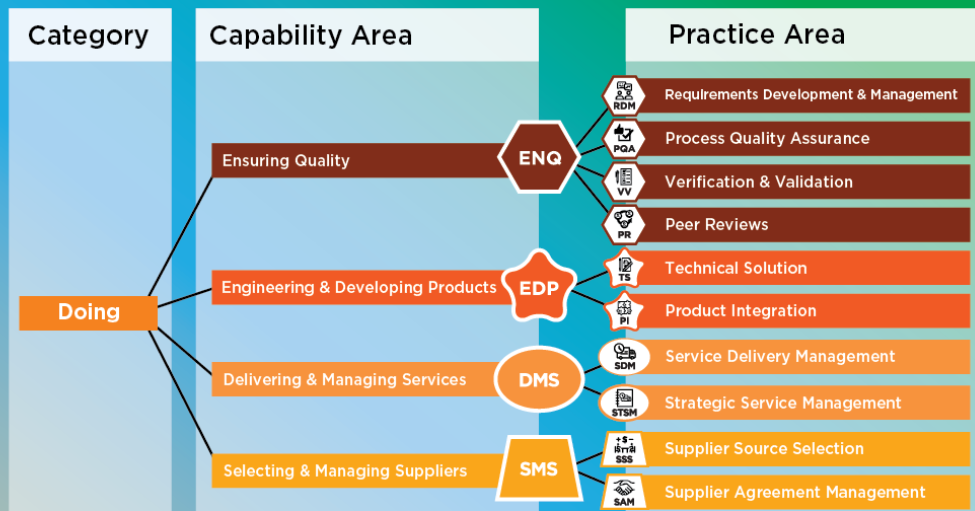 Sets of the CMMI model components can be selected based on:
CMMI predefined groupings, such as CMMI for Development, CMMI for Services or CMMI for Supplier Management
User defined needs
Certification schemes for individuals
The ITIL Certification Scheme comprises of four levels. It starts from the ITIL Foundation which introduces learners to the concepts of ITIL 4. After Foundation, there are five advanced modules based on two learning paths:
Managing Professional
ITIL 4 Specialist Create, Deliver and Support
ITIL 4 Specialist Drive Stakeholder Value
ITIL 4 Specialist High-velocity IT
ITIL 4 Strategist Direct, Plan and Improve
Strategic Leader
ITIL 4 Strategist Direct, Plan and Improve
ITIL 4 Leader Digital and IT Strategy
The highest level is ITIL Master which involves an assessment of one's ability and career experience in implementing ITIL best practices in an organization to achieve business outcomes.
The CMMI learning path is based on the following certifications based on the successful completion and assessment of the related courses:
CMMI Associate. Introductory CMMI Course Series: Building Organizational Capability.
CMMI Professional. Advanced CMMI Course Series: Advancing Organizational Capability.
CMMI Lead Appraiser. Expert CMMI Course Series: Mastering Organizational Capability.
Certification for organizations
There is no organizational certification for ITIL 4. Any organization wishing to implement ITIL best practices will adopt and adapt the guidance based on their own needs. Though you can go through an assessment by an accredited consultancy company, there is no official certification that demonstrates implementation of ITIL.
For CMMI, organizations can undergo an independent appraisal and be assigned a certification based on meeting the requirements of the desired maturity level. There are four types of appraisals:
Benchmark Appraisal: Full organizational appraisal and rating – every three years
Sustainment Appraisal: Full organizational appraisal to validate continuance of previous rating
Evaluation Appraisal: Selected scope to check alignment with model
Action Plan Reappraisal: Selected scope where previous appraisal failed to meet model requirements
Choosing ITIL or CMMI
Determining which approach is best for your company comes down to your company's organization, values, culture, and short- and long-term goals. Both can offer structure and certain outcomes that can help you get where you need to go.
Related reading