Ever since the dawn of DevOps over 10 years ago, ITIL® has found itself under siege.
The core of the entire DevOps philosophy is continuous integration/continuous delivery (CI/CD). But, some critics say, this is at odds with the ITIL framework. So, does that mean that ITIL's decades of service management experience are no longer relevant? Do organizations adopting DevOps have to forgo ITIL completely?
Or can the two co-exist?
In this article, we've put together some major differences between ITIL and DevOps—but we also show how both methodologies can complement each other in the modern enterprise.
ITIL basics
ITIL is the most widely recognized and accepted framework for IT service management (ITSM) in the world. It lays out a number of ITSM best practices, giving direction to organizations on how to:
Use IT for specific business value
Apply IT to development, transformation, and change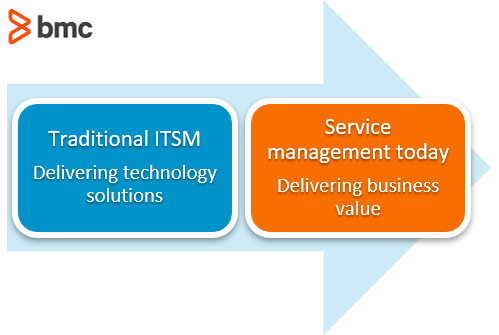 ITIL defines and documents IT processes and procedures with a large focus on oversight and planning. But, opponents say, it ends up creating silos, which is exactly the opposite of DevOps. The biggest issue with silos, of course, is the lack of transparency among teams, resulting in:
Lack of efficiency
Gaps in security
Repetitive or unnecessary expenses and costs
The latest version, ITIL 4, which debuted in 2019, continues to provide the guidance needed for organizations to address new service management challenges—but its most notable changes were around guidance on using different technology in the era of digital transformation, cloud, and DevOps. ITIL has also renewed its focus on the customer experience.
Thanks to the new Service Value System (SVS), ITIL 4 does include continual improvement, specifically through its Continual Improvement practice. (In one fell swoop, one major complaint of ITIL—no focus on improvement—is gone.)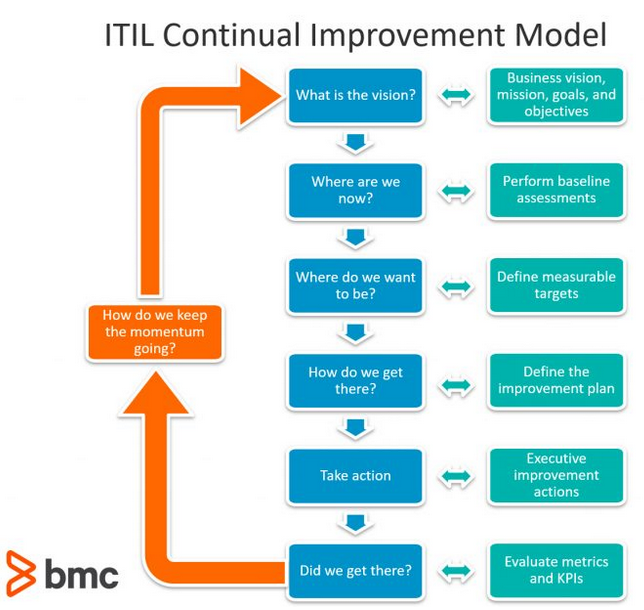 Businesses today continue to use ITIL as a high-level guide to support service management improvement initiatives. ITIL 4 puts a strong focus on customer experience and value, and helps ensure any improvement efforts align with the organization's goals and visions.
If ITIL might feel rigid, that's because historically it was. Today's model, however, is designed for you to pick and choose which practices you need help with. In fact, experts often recommend starting with just one ITIL practice that your company needs the most help with.
(Get a comprehensive understanding of ITIL with our ITIL 4 Guide.)
DevOps basics
Unlike ITIL, DevOps is not one single thing: no single framework, no single way for processes to work. Instead, DevOps is a totally new mindset that requires a cultural shift.
Combining the Development team with the Operations team, DevOps thrives on automation. By automating as many processes as possible, you can:
Streamline tasks
Concentrate human effort on productivity
Deliver applications at high velocity

With this continuous cycle, not only can apps be developed and deployed at a quicker rate, but companies can then innovate and produce much faster than the competition, decreasing overall time-to-market.
In DevOps, frequent (but smaller) code releases are executed in less time, allowing you to detect bugs and other issues much quicker than in traditional environments, typically resulting in faster fixes that are easier to implement.
By bringing the Dev and Ops teams together, you break down silos and you foster a culture of collaboration, accelerating your ability to produce high quality software at scale. The development environment as a whole continues to become more seamless as members build trust and work towards a shared goal, experimenting, researching, and developing more effectively.
(Explore key concepts & best practices in our DevOps Guide.)
Can ITIL & DevOps be used together?
After comparing ITIL vs DevOps, the question is: Can you use both together?
From a purely DevOps perspective, ITIL might seem like a big set of speed bumps that is going to do nothing but slow everything down and get in the way. And, initially, this might be true.
After all, the continuous processes and flexible relationships between teams using DevOps directly conflicts with the more specific principles of ITIL. However, DevOps does have the potential to expand upon the tried-and-true ITIL framework and strengthen it for better business outcomes.
Organizations can begin this merge by:
Listing out key ITIL processes that you need right now.
Pinpointing where complications in those processes arise.
Any gaps or slowdowns or weaknesses in how you currently do things could be a starting point for injecting DevOps, with automation and continuous delivery potentially alleviating some issues.
For example, much of service management relies on ITSM ticketing systems that require someone to manually create a ticket to begin a set of tasks. By bringing DevOps into this process, you might be able to automate certain repetitive or timely tasks, freeing up staff for more valuable functions—like solving significant business challenges.
The collaborative nature of DevOps can also contribute to better relationships among development and IT operations teams, further expanding the transparency of vital data. No matter what framework is used, closer cooperation of teams across the software development lifecycle will only prove to:
Decrease misunderstandings
Improve workflows
Let's look at this in reverse, too. ITIL also comes to the table with many benefits that can improve the DevOps mindset. With its highly understood processes and well-defined principles, ITIL can provide a different set of approaches as DevOps continues to evolve across the enterprise.
(Read our review of The Phoenix Project, a novel about DevOps for everyone.)
Experience & agility aren't at odds
At the end of the day, ITIL and DevOps can happily co-exist. By utilizing the best practices of each, organizations can find the balance of traditional procedures with forward-thinking agility and speed.
By understanding the purposes each methodology brings, and implementing them in the right way to best benefit your business, it is clear that ITIL and DevOps are all aimed at the same goal: increased efficiency and enhanced collaboration.
The key for companies to use ITIL and DevOps successfully together is to adapt ITIL to work within the context of DevOps—without slowing it down.
Related reading