ITIL stands for Information Technology Infrastructure Library. It is a set of proven IT processes and common practices for IT Service Management (ITSM). ITIL V2 and ITIL V3 are standards in the field of ITSM. V3 builds on the operational excellence concepts of V2, and boosts service management towards a more holistic approach.
Download Now: ITIL 4 Best Practice e-Books
These all-new for 2020 ITIL e-books highlight important elements of ITIL 4 best practices. Quickly understand key changes and actionable concepts, written by ITIL 4 contributors.
(This article is part of our ITIL v3 Guide. Use the right-hand menu to navigate.)
ITIL V3 services and processes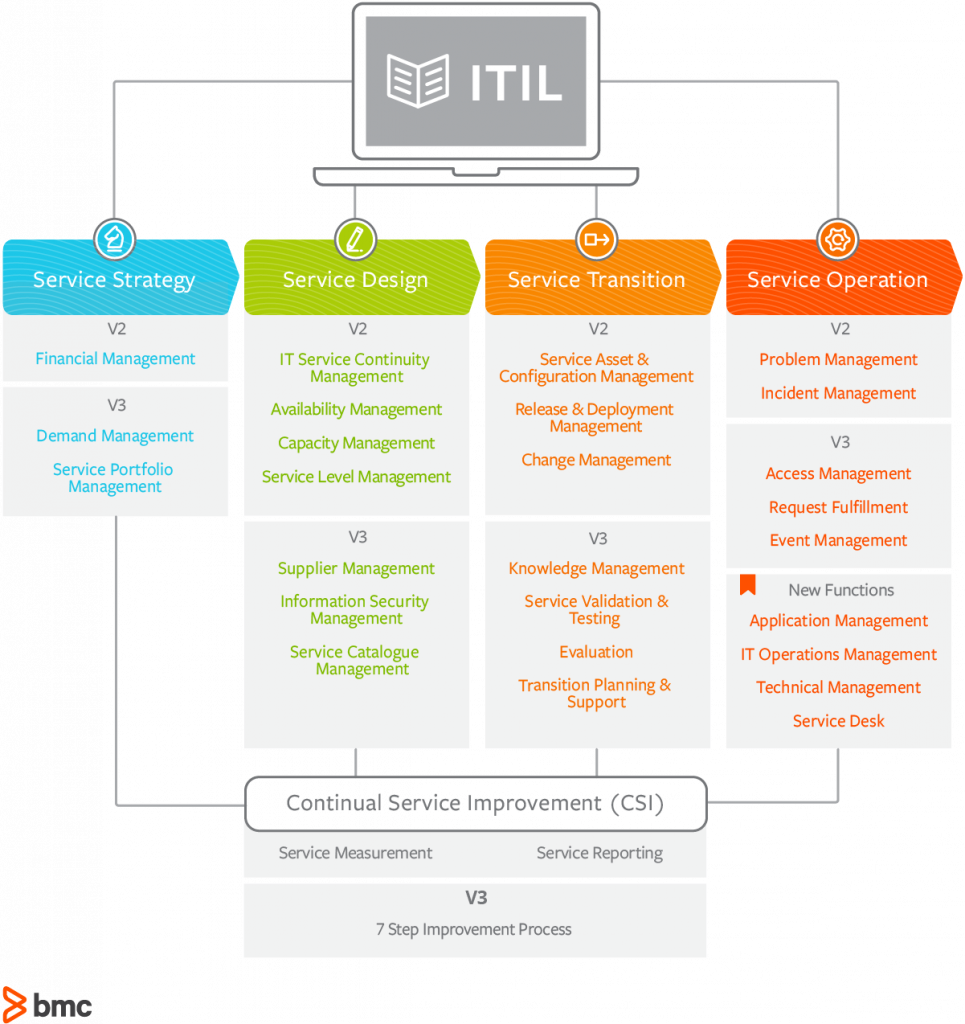 Key differences between V2 and V3 versions
| ITIL V2 | ITIL V3 |
| --- | --- |
| Heavily process-oriented | More service-oriented (Lifecycle approach to service management) |
| More about linear process flow from business to infrastructure | Offers a hub-and-spoke structure that adds flexibility |
| Includes around 700 pages of key publications | Includes around 1,400 pages in 5 key publications of service lifecycle (service strategy, service design, service transition, service operation, and continual service improvement) |
| Positioned around support and delivery of IT Services | Focuses on the full lifecycle of services, covering the entire IT firm |
| Offers little help to ITSM people to clearly articulate the benefits of professional service management | Clearly defines the roles and responsibilities, and reasons the role of communication in the entire lifecycle |
| Aims towards the "What" question—suggesting "What should be done to improve processes" | Takes care of the "How" question—explaining "How we should go about doing it" |
Let's explore the differences in each phase
Summary
ITIL V3 offers a framework and an opportunity to unify and integrate IT groups to work together. This version contains useful insights from the latest business research and management theory, and incorporates strategic, innovation-focused and integrated view of service management.
Additional Resources
Original reference image: