The purpose of the service desk practice is to capture demand for incident resolution and service requests. It should also be the entry point and single point of contact for the service provider with all of its users. It provides a clear path for users to report issues, queries, and requests, and have them acknowledged, classified, owned, and actioned.
Over time, the focus of service desks has broadened from simply logging and resolving technical issues, to proving more comprehensive support for people and the business. They are increasingly being used to get various matters arranged, explained, and coordinated. The service desk has a major influence on user experience and how the service provider is perceived by the users. By understanding and acting on the business context of transactional activity (i.e. logging tickets), the service desk is better placed to add value to the organization.
Download Now: ITIL 4 Best Practice e-Books
These all-new for 2020 ITIL e-books highlight important elements of ITIL 4 best practices. Quickly understand key changes and actionable concepts, written by ITIL 4 contributors.
With increased automation, AI, robotic process automation (RPA), and chatbots, service desks are moving to provide more self-service logging and resolution directly via online portals and mobile applications. The impact on service desks is reduced phone contact, less low-level work, and a greater ability to focus on the customer experience benefits of personal contact.
(This article is part of our ITIL 4 Guide. Use the right-hand menu to navigate.)
Service Desk Channels
Service desks provide a variety of channels for access including:
Phone calls, which can include specialized technology, such as interactive voice response (IVR), conference calls, voice recognition, and others.
Service portals and mobile applications, supported by service and request catalogues, and knowledge bases.
Chat, through live chat and chatbots.
Email for logging and updating, and for follow-up surveys and confirmations.
Walk-in service desk (which are becoming more prevalent in some sectors, such as higher education, where there are high peaks of activity that demand physical presence).,
Text and social media messaging, which are useful for notifications in case of major incidents and for contacting specific stakeholder groups, but can also be used to allow users to request support.
Public and corporate social media and discussion forums for contacting the service provider and for peer-to-peer support.
Service Desk Models
How the service desk practice is managed and delivered may vary from a physical team of people on shift work, to a distributed mix of people connected virtually. The use of automated technology and bots is increasing. Regardless of the model, the function and value remains the same. Service desks use supporting technologies such as:
Intelligent telephony systems, incorporating computer-telephony integration, IVR, and automatic call distribution
Workflow systems for routing and escalation
Workforce management and resource planning systems
A knowledge base
Call recording and quality control
Remote access tools
Dashboard and monitoring tools
Configuration management systems
Where the service desk is a virtual, it allows agents to work from multiple locations, geographically dispersed. A virtual service desk requires more sophisticated supporting technology, involving more complex routing and escalation (these solutions are often cloud based).
Service Desk People
However efficient the service desk and its people are, there will always be issues that need escalation and underpinning support from other teams. Support and development teams need to work in close collaboration with the service desk to present and deliver a 'joined up' approach to users and customers.
Service desk staff require training and competency in both technical and business skills, especially customer service skills such as empathy, incident analysis and prioritization, effective communication, and emotional intelligence. A key skill is to be able to fully understand and diagnose a specific incident in terms of business priority, and to take appropriate action to get this resolved, using available skills, knowledge, people, and processes.
Contribution of Service Desk to the Service Value Chain
Service Desk is involved in all service value chain activities (mainly engage and deliver and support) except the plan activity as shown below:
| | |
| --- | --- |
| Engage | The service desk is the main channel for tactical and operational engagement with users. |
| Design and Transition | The service desk provides a channel for communicating with users about new and changed services. Service desk staff participate in release planning, testing, and early life support. |
| Obtain/Build | Service desk staff can be involved in acquiring service components used to fulfil service requests and resolve incidents. |
| Deliver and Support | The service desk is the coordination point for managing incidents and service requests. |
| Improve | Service desk activities are constantly monitored and evaluated to support continual improvement, alignment, and value creation. Feedback from users is collected by the service desk to support continual improvement. |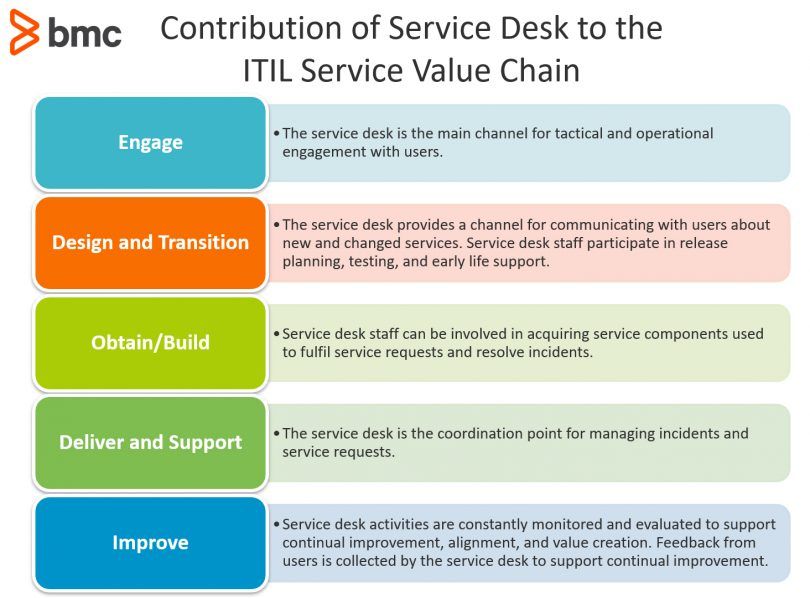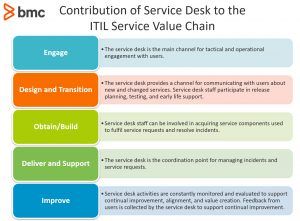 How to apply ITIL 4 Guiding Principles to your Service Desk
Let's now turn to applying the Guiding Principles of ITIL 4 to your service desk, with these best practices.
1. Focus on value
The Service Desk is the first point of contact of your organization with your end-users. The value of the Service Desk represents the value of the business and the Service Desk should therefore be designed to maximize customer satisfaction. The value realization is often tied to business objectives such as:
Customer loyalty
Revenue and business growth
Competitive strength
Use advanced technologies to deliver self-service issue resolution capabilities, route tickets to appropriate resolution teams, identify and fix the problem root cause associated with repetitive ticket requests.
The value in delivering high quality and timely support inherently creates business value to the organization in terms of increased customer satisfaction and brand loyalty.
(Use customer satisfaction as a service desk metric.)
2. Maturing your state of maturity
It's important to fully understand the state of maturity of your service desk in domains such as digital transformation, and adoption of the latest management frameworks such as Agile and DevOps. Adopt ITIL 4 guidelines to identify challenges and opportunities applicable to your Service Desk organization: a good place to start is to map the current state of the Service Desk to opportunities and risks associated with digital technologies.
For example, understand how well your current IT systems are prepared to automate the ticket handling process of the most popular support categories. Do you have the necessary expertise in-house to deploy the latest technologies and automate a support pipeline?

Repeat this process for all domains of the Service Desk, prioritizing based on business value, opportunities, and risk. It all starts at knowing your current capability and foreseeable changes.
(Explore ITIL maturity models.)
3. Improve iteratively
In an Agile set up, all changes should be iterative and driven by customer feedback. This strategy ensures that every small step contributes toward the improvements of the Service Desk, as perceived by all stakeholders including customers, end-users, business executives and the workforce using the IT Service Desk.
This can be achieved by deploying pilot projects, features, and training programs that can direct the Service Desk people and processes toward digital transformation. Along the way, the Service Desk will identify and experience challenges and risk activities that must be managed—before you adopt drastic digital transformation.
4. Collaborate for visibility & transparency
Collaboration goes beyond engaging multiple individuals as teams: it requires organizations to provide the tools and procedures that can enable true collaboration in real-time.
To get started, the Service Desk can start by identifying functional and information silos. When an issue requires collaboration of multiple cross-departmental teams, the team members may be required to go through a traditional governance model of slow approvals to find the right information efficiently.
According to ITIL 4, the Service Desk can avoid these pitfalls by encouraging cross-functional knowledge sharing and deploying tools that deliver a holistic collaboration experience including communications, information sharing. and multi-user technology controls.
5. Use holistic systems & processes
All improvements of the Service Desk must encompass all four dimensions of the service management:
Organization & People: easy to use, self-service and human-centric issue resolution.
Information & Technology: automation, monitoring and resolution tools to automate multiple segments of the issue resolution or support process pipeline.
Partners & Suppliers: increase visibility and control into IT systems operated in-house as well as third-party vendors.
Value Streams & Processes: identify key risk areas and opportunities of improvement across the support pipeline.
(Understand why the 4Ps became the four dimensions.)
6. Keep it simple & practical
Simplify the issue resolution process. Avoid unnecessary hops between the resolution teams. This can be done by adopting a simplified Service Desk workflow. The series of steps that provide solutions to known problems should be shifted left, closer toward the lowest support tier as possible.
The support system should be designed to incorporate the demands and requirements of a scalable user base, increasing partnerships and stakeholders. Any governance and control measure should ensure security and risk management, without compromising end-user experience or support quality.
In essence, the Service Desk workflows designed to deliver value for the business should not do so by creating more work for the Service Desk personnel and end-users.
7. Automate & optimize
Finally, it's important to automate and optimize the processes that are repetitive and time consuming. Human intervention should take place where strictly necessary.
For instance, manual reviews of support requests deliver accurate resolution but are typically slow. On the other hand, analytics tools with advanced natural language processing (NLP) capabilities can expedite the review process to connect each ticket with the right issue resolution team. However, it may be required to maintain manual intervention for compliance and risk management activities.
(Read about AI/human augmentation.)
ITIL® is a registered trademark of AXELOS Limited.
Related reading