As tech service providers grapple with the ever increasing and changing demands from the current VUCA digital environment, the need to work closely with customers and users remains paramount. And this is not a new concept, as one of the agile principles states:
"Business people and developers must work together daily throughout the project."
In ITIL®, value co-creation is at the heart of service management, and as such the relationship between a service provider and consumer is a critical component as to whether this will be achieved. Let's look at the relationship management practice, in particular why the ITIL 4 guidance removed the word "business", and how modern organizations are taking steps to remove any barriers between providers and consumers of services.
What is business relationship management?
One of the definitions of the word relation that the Merriam-Webster's dictionary lists is the state of being mutually or reciprocally interested (as in social or commercial matters).
The relationship aspect in service management is all about ensuring that both the service provider and the service consumer actively collaborate in the service value chain activities to deliver value through the production and consumption of products and services. This mutually beneficial engagement ensures that both parties have clarity and agreement in terms of:
What outcomes are to be achieved
The related costs and risks to be absorbed
ITILv3 referenced business relationship management as a process whose purpose was to establish and maintain a business relationship between the service provider and the customer based on understanding the customer and their business needs. The process sought to identify customer needs and ensure that the service provider is able to meet these needs as business needs change over time and between circumstances.
ITIL 4, however, expands the scope by dropping the word 'business' to reference relationship management as a practice whose purpose is to establish and nurture links between an organization and its stakeholders (customers, users, suppliers, partners, suppliers, regulators etc.) at strategic and tactical levels.
(Explore our entire ITIL 4 Guide.)
Service management can still take place without relationship management, as is seen in many B2C digital service offerings. However, at certain levels especially in B2B service provision, the lack of relationship management can result in:
Misalignment of expectations
Mistrust and incorrect prioritization leading to ineffective service delivery
Poor customer/user satisfaction
Ultimately, failure to deliver value
The relationship journey
Whether the relationship is between individuals, teams, or organizations, there is usually a way in which the relationship is formed and nurtured, and later ended. The ITIL 4 Relationship Management practice guide defines the relationship journey between service providers and consumers through the following steps: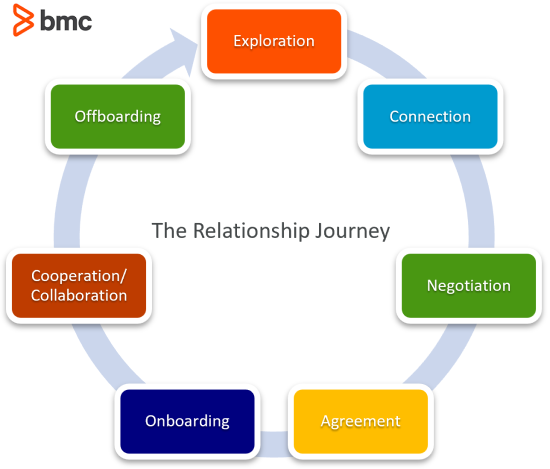 1. Exploration
Market research is the key activity here. The consumer explores the market to identify providers who offer solutions that are compatible with their requirements. The service provider explores the market to identify needs, gaps, and opportunities that match with current or planned service offerings.
2. Connection
Here the consumer and service provider make a formal introduction to each other. For corporate clients, this could be through an expression of interest or request for proposal which the service provider responds to. Other forms of connection could include:
Registering/requesting for a trial
Inviting the customer or provider for a pitch meeting
3. Negotiation
Following the introduction, negotiation will then take place where the consumer articulates their needs, and the provider articulates how their service offering (directly or through customization) meets their requirements.
Other forms of negotiation take place at the end of a trial, where the service provider enquires on whether the consumer's interest is still valid and offers a more substantial proposition, looking to shape the demand for the service offering.
4. Agreement
Here the service provider and consumer will:
Align expectations
Plan value co-creation and tracking
Agree service scope and quality
This is usually through contracting or service agreements, which will involve billing either during or after. Some digital services providers will maintain the same level of agreement that could have been offered during the trial phase, but for significant B2B engagements, there might be a greater level of variation in the agreement especially where integration and support are required.
5. Onboarding
Once an agreement is in place, the consumer and the provider will avail their resources for use. Onboarding includes activities such as integration, customization, user training and early life support.
6. Cooperation/Collaboration
Here, value realization and tracking takes place. The consumer uses the provider's service offerings and resources to achieve their outcomes, while the provider monitors service usage and user satisfaction, then makes the necessary adjustments to ensure that value is co-created as per the agreement.
Regular reviews may be jointly held by the consumer and the provider to align expectations and agree on necessary changes or improvements.
7. Offboarding
In the course of time, the provider may decide to withdraw the service offering, and hence offboard the consumer. Or the customer may no longer require the service being offered for what ever reason, and hence terminate the agreement.
Similar steps to onboarding may be required, especially where the level of integration was significant such as:
Data migration
Termination of interfaces
Final dues settlement
Non-service relationship management
Besides the service relationship that exists between providers and customers, organizations have to engage with a wider range of stakeholders who may influence the provider's operating environment and context in a variety of ways. Examples of such stakeholders include:
Governments and regulators
Societies and communities
Industry competition
Shareholders, investors, and sponsors
Media (traditional media and social media influencers)
Regardless of different stakeholder's interests and opinions, the organization must seek to actively manage these relationships. A key starting point is identifying and analyzing these stakeholders based on their influence and interest in the organization and its service offerings. Stakeholders can be mapped based on these factors (as seen below), then relevant engagement plans prepared and implemented to enhance or counter their influence for the benefit of the organization.
Success in Relationship Management
To be successful in relationship management, organizations have to adopt a common approach to relationship management as part of their culture. This includes incorporating values and principles that address concepts such as:
Openness
Collaboration
Psychological safety
The agreed approach should be communicated and accepted by every member of the organization. Further to that, the organization should strive to develop effective and healthy relationships with internal and external stakeholders. Identification, analysis, and effective engagement with different stakeholders is a daily activity that requires accountability, resources, monitoring, and improvement.
Related reading