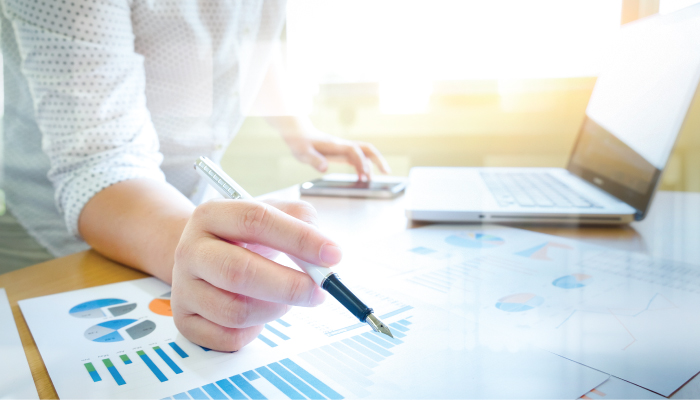 For the past six years, Puppet has released an annual DevOps Salary report, analyzing and curating data from careers in the IT field. The report features information comparing jobs, salaries, and working conditions of IT professionals across the world, providing insight into the differences and similarities. The DevOps Salary report aims to predict IT salary trends for 2017-2018, as well as highlight the areas that could still be improved upon for the future. You can download it here.
Robert Half, meanwhile, has been tracking salary trends longer than practically any other company. Their annual Salary Guide, which you can download here, has some of the most reliable data in the industry.
This post is a summary of the critical findings in these reports.
Understanding the Reports
The data displayed in the DevOps Salary report was collected from 3,200 technology professionals across six different continents. While most responses came from workers in the United States, Western Europe, and Asia, the report also contains respondents from Australia, Eastern Europe, and Latin America and the Caribbean. The data collected from the latter areas does not reach the required amount to be considered reliable for confident trend reporting, so these results are not as insightful as originally hoped.
The Robert Half 2018 Salary Guide contains data from a survey of over 8,000 tech professionals from North America of which more than a quarter were CIOs.
Salary comparisons are the focus of the DevOps Salary 2017 survey, but it is important to note the complexity that is involved when analyzing data from not only different countries, but different continents. For simplicity, all salaries are displayed in U.S dollars, however, the numbers do not take into account the variances of labor costs across geographical locations or the disparities in job titles from place to place.
Some job titles included in the survey of IT professionals included:
DevOps engineer
Software engineer
Systems engineer
Systems administrator
Software developer
Solutions architect
Architect
Infrastructure engineer
Platform engineer
Automation engineer
Cloud engineer
Site reliability engineer
Software architect
Tech lead
Network engineer
IT specialist
Along the same lines, some of the job titles that were included in the classification of IT managers were:
Director
Manager
IT manager
Project manager
DevOps manager
Development manager
IT director
Engineering manager
Operations manager
Director of engineering
Head of technology
Product manager
Program manager
Software development manager
VP of engineering
Director of IT
Where We Work: Salaries from Around the World
As seen in previous years, respondents in the United States continue to earn the highest salaries than others around the world. For the second year in a row, the highest "most common annual salary" is found in the United States at between $100,000 and $125,000, with the closest competitor being Australia, where workers earned $75,000-$100,000 per year on average.
For respondents in Western Europe and Asia, salaries look to be increasing across the board, although they are still much lower than those in the U.S. and Australia. Workers in Western Europe tend to make between $50,000 and $75,000 annually, while most of those in Asia earn less than $25,000 a year. Although the data collected from Latin America and the Caribbean is too small of a sample to confidently reveal a trend, it is appearing that numbers are also up from previous years, indicating that salaries could also be on the rise in these countries.
The below map shows certain key trends found across the US (click to enlarge).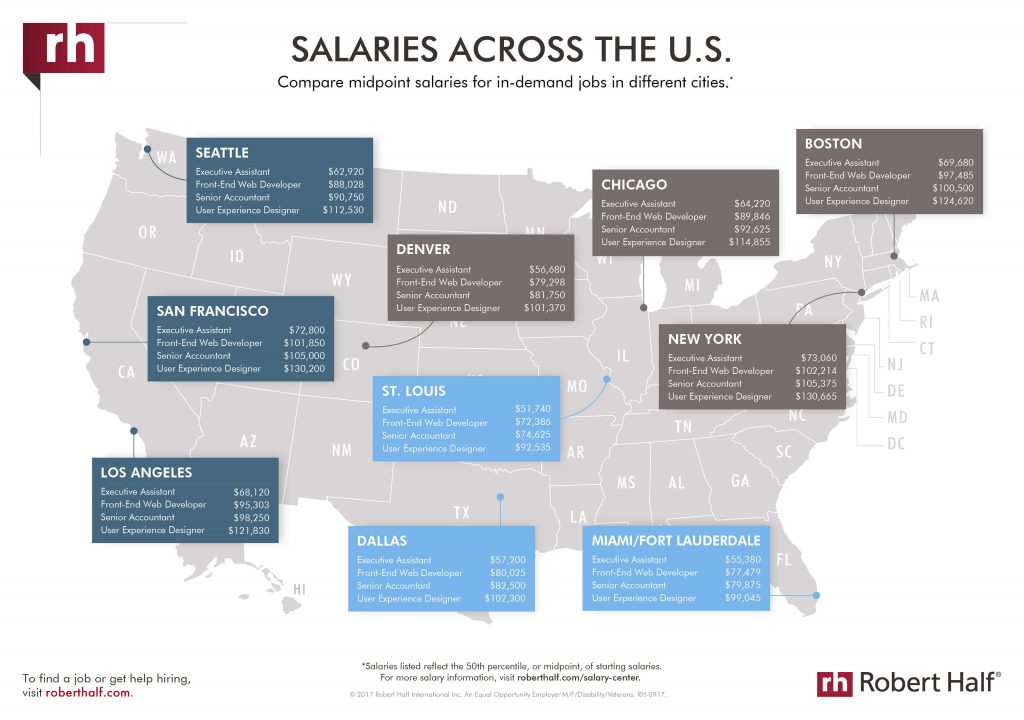 The Work We Do: Salaries by Industry
The data revealed that over one-third of all workers who responded to the survey worked in the technology industry; 35% to be exact, the largest category overall. Of those in the technology field, workers reported earning less than $100,000 worldwide on average, however, it is important to note the wide range between these salaries in the United States versus those in Asia.
Workers in the financial industry were the next largest group, with close to 13% of responders falling within this field. Close to half of these employees reported earning more than $100,000 per year. While the percentages of workers within other industries are smaller, the data they received is still revealing as to trends around the world. Some of the other careers in the industry, as well as their median average salary include:
Technology: $75,000-$100,000
Financial Services: $100,000-$125,000
Retail: $100,000-$125,000
Telecommunications: $100,000-$125,000
Government: $100,000-$125,000
Education: $50,000-$75,000
Healthcare & Pharma: $100,000-$125,000
Media/Entertainment: $50,000-$75,000
What Our Business Cards Say: Salaries by Job Title
Over the course of the last year alone, job titles shifted significantly. In 2016, system administrator was the most common job title across the globe, whereas for 2017 DevOps engineer was the most commonly reported job title in the world. Other common job titles from responders included: software engineer, architect, system engineer, and system administrator.
Compared both globally and in the United States alone, DevOps engineers most commonly earn between $100,000 and $125,000 per year, with software engineers' average salaries falling in the same range. Globally, system administrators reported earning $50,000-$75,000, compared to the same job in the U.S., which reported a salary closer to $75,000-$100,000.
Who We Are: Salaries by Demographic
Of all respondents to the DevOps Salary 2017 report, only 6% identified themselves as female. While this number is slightly increasing each year, the number is still extremely off-balance and not large enough to provide confident trend analysis for the female gender.
According to the limited data, the most commonly earned salaries for women are between $100,000 and $125,000, which is equal to the average salary for men. However, of those in the IT professional field, more than 20% of men earn over $125,000 per year, while only 9% of women earn more than $125,000 annually.
How Long We've Been at This: Salaries by Years of Experience
It may come as no surprise that respondents with over 10 years of experience earned more than those who were newer to the field, but the general salary increases over the course of a career may be higher than you'd think. Comparing amount of years worked to average annual salary, the data showed:
5 years or less: under $25,000
5 to 10 years: $50,000-$100,000 (tie)
10 to 15 years: $75,000-$125,000 (tie)
15 to 20 years: $100,000-$125,000
20 years or more: $100,000-$125,000
What We Work On: Salaries by Number of Servers
While the number of servers each company has greatly varies, the average salary according to number of servers did not differ by much. A majority of responders to the survey (66%) reported working for companies that maintain less than 2,000 servers. Of these, workers whose companies had fewer than 100 servers reported average salaries of $50,000-$75,000, and those with 100 to 500 servers reported salaries of $75,000-$100,000.
For companies with more than 500 servers, respondents earned between $100,000 and $125,000, regardless of whether the organization had 500 servers or more than 100,000 servers.
Who We Work For: Salaries by Size of Organization
Another strong trend that the data revealed this year was that the larger the organization, the higher the average yearly salary. For instance, at organizations with more than 10,000 employees, almost half of respondents reported earning over $100,000 per year. This number drops significantly for companies with 20-99 employees, only 33% earn as much as $100,000.
For companies that have less than 100 employees total, the most common salary range is between $50,000-$75,000, while those with 2,000 to 5,000 employees the most common annual salary range is between $100,000 and $125,000.
Who's Automating: Salaries by the Degree of Manual Configuration Management
One of the additional categories included in this year's DevOps Salary report 2017 involved finding out if respondents mostly performed manual configuration management or if it was mainly automated. For those who stated that most of their configuration was automated, a majority (61%) earned more than $100,000 per year, while those who reported that a lot of their configuration was manual, 55% earned that much.
The addition of this category was necessary this year as many organizations are switching to more automated processes, which leaves many IT employees feeling like their job prospects will become worse. The data suggests the opposite: as companies become more automated, salaries increase as employees are able to spend more time on innovation and strategy.
Who's in Charge: Salaries of Managers
Over the course of the last year, 450 managers, VPs, and IT directors responded to the survey. Responses from general IT professionals provide great insight into the salary trends within the industry, however, those from managers differ in great respects. While the salaries of IT practitioners stayed the same or increased around the world, those of managers declined.
In the United States, managers reported earning between $100,000 and $125,000, which is an entire band lower than the previous two years. This trend is also being seen across other parts of the world, namely Western Europe and Asia. In Western Europe, the most common salary range for managers has also dropped one band, down to $50,00-$75,000 annually, which is the same average of IT practitioners in that area. In Asia, managers' salaries have dropped two bands, now with managers in the region most commonly earning less than $25,000.
Perks & Benefits
The following chart shows the common benefits offered to those employees surveyed by Robert Half (click to enlarge).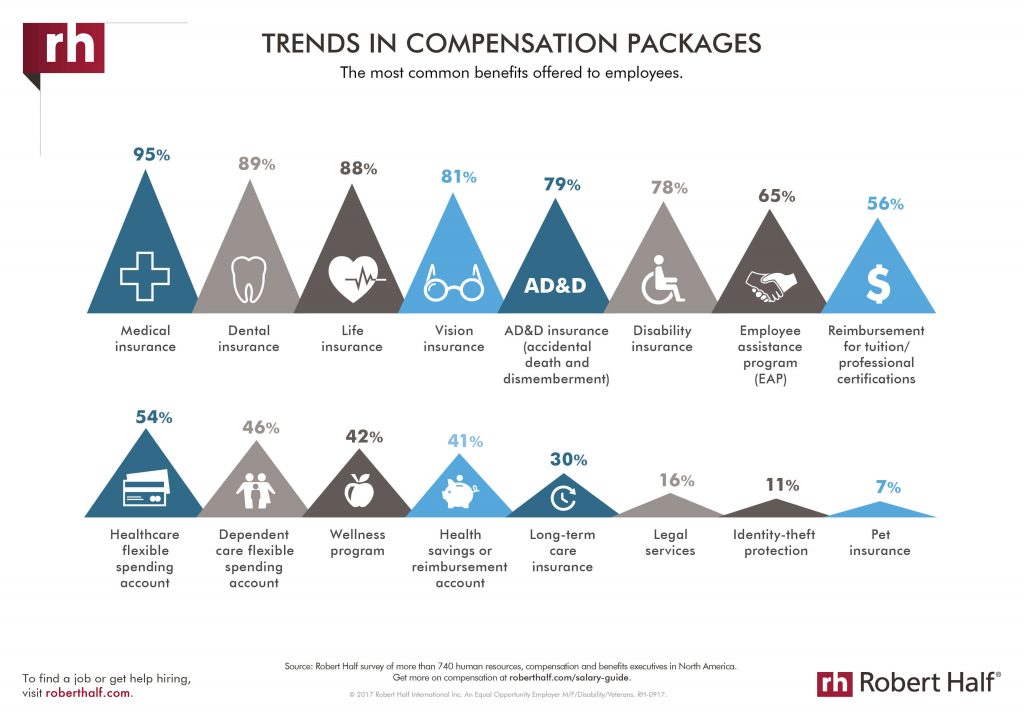 In Conclusion
This data highlighted many positives that have occurred in the IT industry in the past year, as well as brought forth some potential areas of concern. As the field of IT and DevOps continues to evolve and grow, it will be intriguing to see how salary trends change over the years, and we will be back next year to report it.
Free Trial: BMC Helix ITSM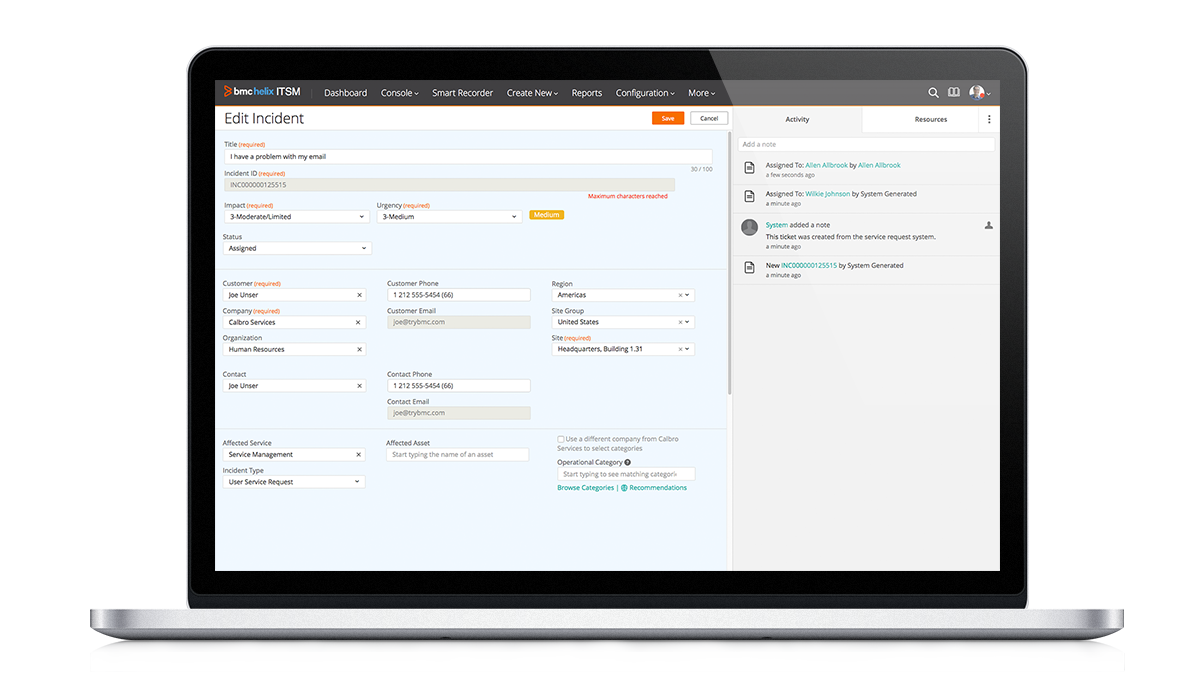 These postings are my own and do not necessarily represent BMC's position, strategies, or opinion.
See an error or have a suggestion? Please let us know by emailing blogs@bmc.com.