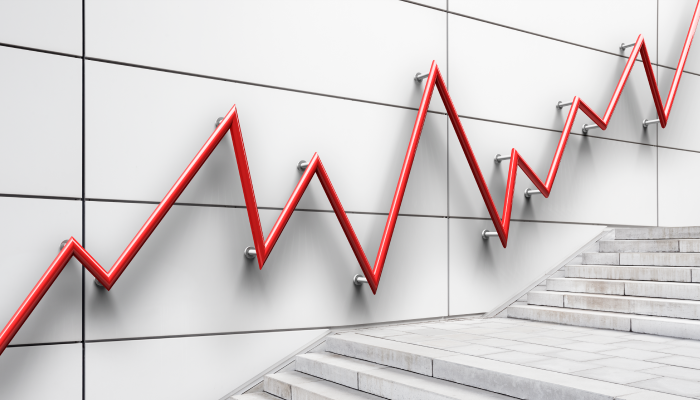 IT's shift from "keeping the lights on" to enabling business transformation is well documented and discussed. From CIOs to the folks in the trenches, IT teams are now required to approach their jobs from the perspective of adding business value versus just making sure that everyone and everything remain online.
This change isn't new, but like technology itself, the pace of change continues to accelerate. In our recent survey with Forbes, "Delivering Value to Today's Digital Enterprise: The State of IT Service Management 2017," 56 percent of respondents say that the pace of IT transformation is accelerating significantly or close to significantly, while only 13 percent see IT remaining in the same place it's always been.
These results from our survey, asked of senior-level IT executives from around the globe, didn't surprise us (although I think the 13 percent of leaders who believe that IT isn't changing should perhaps reexamine that opinion.) The more striking insights came from our respondents' reports on IT budgets. While the rhetoric and expectations of IT have changed, budgets still struggle to keep up.
Our survey uncovered three major trends that reflect the state of IT budgets in 2017. Let's take a closer look.
IT budget trend #1: Many organizations still spend the majority of their budgets on maintenance
Given the business's reliance on IT to drive innovation, competitive differentiation, and digital transformation, you would think (hope?) that the money would follow. For more than a third of organizations, that is demonstrably not the case. Thirty-seven percent of executives in our survey report that the majority of their IT budgets goes to ongoing maintenance and management, tasks like maintaining uptime and availability; applying upgrades, fixes, and patches; and ensuring security – versus new project development or new initiatives like digital, virtualization, or cloud.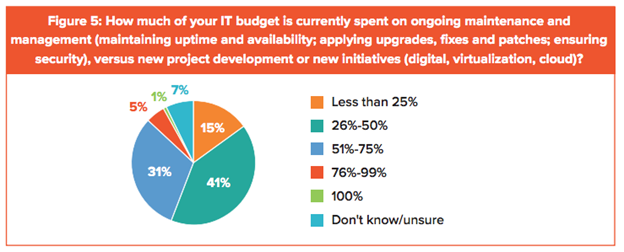 A similar number, forty-one percent, puts their percentage of budget spent on maintenance at 26-50 percent, a more promising and reasonable ratio. But for the 37 percent of organizations spending more than half their budget keeping the lights on, there is a significant disconnect between IT's new imperative and their ability to get it done.
Other recent surveys support this sentiment. Computer Economics' 2016/2017 IT Spending & Staffing Benchmarks report shares that 60 percent of IT executives feel that their budget is "somewhat" or "very" inadequate to support the business – up from 56 percent last year. According to the Harvey Nash/KPMG CIO Survey 2016, almost the same number, 59 percent, of CIOs and technology leaders report being held back from innovation due to lack of resources or funding.
IT budget trend #2: Relative spend on maintenance and management is actually going up
While the gap between IT's new role and the funds available to support it is certainly challenging, we can potentially explain it: change takes time, and IT can never completely abandon its maintenance responsibilities. In this new paradigm, however, we would expect the percentage of budget spent on factory tasks to be decreasing. For more than half of our respondents, that's not the case.
Fifty-five percent of IT leaders that we surveyed report that the share of their IT budget dedicated to ongoing maintenance and management has increased over the past three years. For another 30 percent, it hasn't changed. That means that 85 percent of IT organizations are spending at least as much or more keeping the lights on as they were three years ago.

These findings are particularly interesting given the unpredictable state of IT budgets in general. The Computer Economics survey found that 62 percent of organizations are increasing their operational IT budgets this year, but 23 percent are cutting them. KPMG shared similar numbers, with 45 percent of respondents reporting budget increases in 2016, but 22 percent reporting declines. IT budgets are clearly in flux, but IT's continued and growing investment in maintenance remains steady across the industry.
IT budget trend #3: More mature IT shops spend less on maintenance
Our survey respondents classified their ITSM initiatives, used here as a general measure of IT maturity, based on the degree to which they are positioned as a comprehensive enterprise strategy. Organizations fell into three categories: 10 percent rated their strategies basic, 35 percent as transitioning to a more business-centric view, and 54 percent as advanced enterprise-grade IT.
We used these results to compare budget trends across more and less sophisticated IT shops. The results here are perhaps less surprising, but still compelling to see proven out. Sixty-three percent of organizations with enterprise strategy ITSM spend less than half of IT staff time on ongoing maintenance and management tasks, compared to 48 percent of teams with less developed ITSM efforts. Only eight percent of enterprise strategy ITSM respondents reported that they didn't know or were unsure how much staff time went towards maintenance, while a full 28 percent of ad-hoc ITSM groups didn't know.

This indicates that IT teams with a greater level of maturity dedicate fewer resources to factory tasks – and likely less budget – and have a better understanding of where their time and money go. These organizations presumably rely more heavily on advanced IT operations like automation and change management to streamline daily tasks, opening up more resources for innovation-driven initiatives.
You can read all the details and statistics on IT budget trends and more in the full report, co-authored with Forbes Insights, "Delivering Value to Today's Digital Enterprise: The State of IT Service Management 2017." But here's one more bonus trend for the road. The KPMG survey found that increasing amounts of the overall IT budget are being dictated by decision-makers outside of IT. For 38 percent of CIOs, over 11 percent of the IT budget is beyond their control, while 10 percent of CIOs control less than half of the overall IT spend. That's an IT budget trend to keep an eye on.
Introducing Cognitive Service Management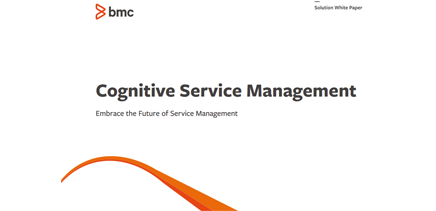 Cognitive Service Management is the cutting-edge of ITSM. This innovative approach helps businesses keep up with the pace of emerging technologies and diverse environments. Download the whitepaper to learn more.
Download Whitepaper ›
These postings are my own and do not necessarily represent BMC's position, strategies, or opinion.
See an error or have a suggestion? Please let us know by emailing blogs@bmc.com.