The impact that the COVID-19 pandemic has had on businesses and people alike was completely unforeseen. Nearly a year in, organizations have gotten a chance to better analyze the situation and make some educated predictions about how long the effects of all of this will last. One huge takeaway—for IT leaders and everyone else—is how technology has played a crucial role in people's ability to continue to work, learn, receive services, and socialize.
For a majority of companies, IT has shifted from that which helps to get the business done to a mission-critical role. Developers and DevOps professionals are now suddenly in a world of opportunity, with a renewed focus on frequent improvements and new innovations alike.
With this eye on the future, we have put together some of the top DevOps trends for 2021.
(This article is part of our DevOps Guide. Use the right-hand menu to navigate.)
DevOps predictions for 2021
Based on current trends and future predictions, here's what we can expect to see in the world of DevOps in 2021.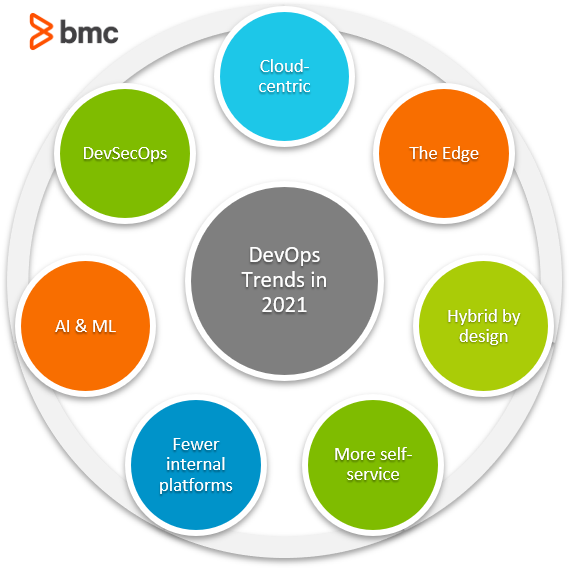 1. Becoming cloud-centric
Even before the changes that came about as a result of the pandemic, most enterprises were already making moves to adopt a more cloud-centric infrastructure to support cloud-based workflows and applications. Given the pressing need for the industry to adapt and adjust, this shift will have to happen even faster than you may have planned.
In fact, according to IDC FutureScape: Worldwide Developer and DevOps 2021 Predictions, 80% of enterprises will have developed a mechanism to double the acceleration rate of this migration by the end of 2021. Thanks to the shift towards a primarily remote workforce, this number could turn out to be even higher.
2. Prioritizing edge
Even though most decisions are being made in response to current situations, there's no doubt that organizations have recognized how important edge-driven investments and business-models have been throughout 2020.
Edge computing is a distributed architecture that allows applications to react almost exactly where the data is created: on the edge of the network. In recent years, this transformational approach has been utilized for things like fitness trackers and household appliances, but according to research giant Gartner:
"Edge computing is entering the mainstream as organizations look to extend cloud to on-premises and to take advantage of IoT and transformational digital business applications." 
This type of major transition will require a revised infrastructure, with data resources and application resources pushed toward edge locations, but the payoff will be worth it. By turning to cloud-centric edge and network solutions, companies will be able to:
More quickly respond to urgent business needs
Offer more flexibility to their staff and customers
Promote better digital reliance and scaling—a bit of future proofing
3. Hybrid by design
While some companies turned to work-from-home employee setups, no one could be prepared for what this would like by the end of 2020, with most of us still at home behind our computers. Looking ahead to 2021, organizations will potentially need to make more long-lasting decisions about the dispersed workforce.
"There was always this perception about, 'OK, the remote work, it's a temporary thing. When the crisis is over, people will go back to the office'," said Rick Villars, IDC's Group Vice President for Worldwide Research.
"What we saw was that really the companies who were accelerating and doing well were ones who are inclined to completely change their model and recognize that giving their employees to work anywhere and in any environment, and work together anywhere as equals, as opposed to second-class citizens and first-class citizens, was going to be a key part of succeeding in the next phase."
The IDC report predicts that by 2023, 75% of G2000 companies will have created some type of hybrid structure.
4. Increasing self-service
As Puppet highlighted in one of the essential State of DevOps reports this year, self-service for developers is on the rise. This isn't just because self-service options are improving—though that is true. For organizations with maturing DevOps practices, self-service capabilities actually further mature your DevOps.
Self-service capabilities are now readily available for a range of DevOps practices:
Dev environments
Deployment patterns
Database provisioning
Monitoring and alerting
Audit logging
And more
5. Reducing internal platform usage
In the same Puppet report, 63% of respondents reported that their company uses at least one self-service internal platform, with the majority using between 2-4 internal platforms.
Bulkiness is a significant problem with these internal platforms though. Because internal platforms are never out-of-the-box, they take more time and technical skills to get them exactly where your developers need. These platforms require dedicated time to standardize—and time is what most devs are short on.
This lack of standardization, then, means that code from various platforms cannot be as lean, clean, and automated as possible. Reducing these internal platforms—or taking the precious time to standardize them—will be necessary for any company seeking to mature their DevOps.
6. Autonomous IT
Automation is nothing new to the DevOps community. But, in 2021, these initiatives will only continue to have more urgency in their adoption. In order to make this happen, you must not work only to automate the entire pipeline—you must also be willing to integrate AI and ML.
Applying ML to the delivery lifecycle will allow your organization to understand where blockages or capacity issues occur. Armed with this knowledge, you can better mitigate problems when they arise. AI-based predictive analytics can make the DevOps pipeline smarter in two key ways:
Anticipating problems
Providing potential solutions
7. Collaborating for security
2020 no doubt showed that people are truly the heart of the business. Organizations are nothing without strong teams.
For DevOps to stay afloat and flourish in 2021, it will be more important than ever for teams to collaborate and work together, not only those in development and operations, but also those professionals in security. DevSecOps teams will ensure that security is injected into every layer as secure code, allowing any vulnerabilities to quickly be detected and mitigated.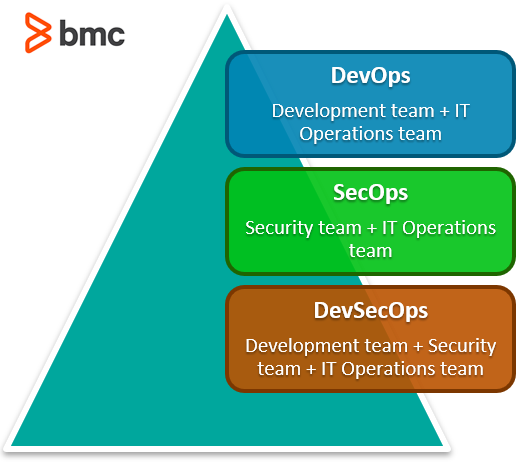 DevOps innovation continues
Although some major developments and priorities shifted a lot this year for many industries, one thing will continue to remain: nothing can deter the human spirit from innovating. Organizations will have to continue pivoting in 2021, but these major DevOps trends will help to make this shift a little easier.
Related reading