Utilizing IT service management (ITSM) frameworks within the IT organization is common. The truth, however, is that companies using only one of these frameworks are missing some major benefits.
In fact, a majority of the available ITSM best practice bodies are created with other frameworks in mind, designed to coexist with complementary features and capabilities. Two of these are COBIT 2019 and ITIL® 4.
ITIL is the most popular framework worldwide for service management.
COBIT is globally recognized for both enterprise governance and IT management.
On their own, each framework is extremely successful in offering custom governance while delivering quality service management. When paired together, however, COBIT and ITIL have the potential to dramatically increase value, not just for the customer, but for the entire company and its partners.
So, the question remains: what are the differences between COBIT and ITIL, and how can they best be used together?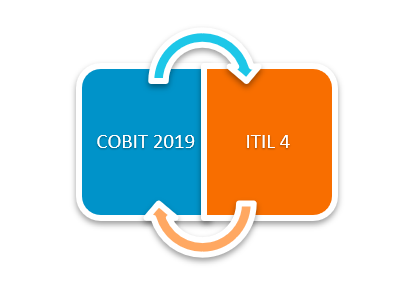 COBIT basics
Developed by ISACA, COBIT is an IT management framework designed to help businesses organize, develop, and implement strategies related to governance and information management. It provides the resources to build, monitor, and improve its implementation, while helping to:
Reduce costs
Establish and maintain privacy standards
Give structure and oversight to general IT processes within the company
Since COBIT 5 debuted in 2012, the IT landscape has changed dramatically. Along with it, the need for companies to manage risks and secure assets. COBIT 2019 was created to address the challenges faced in the ever-evolving tech landscape, with additional features and services that allow organizations to feel confident in their risk management strategies.
The COBIT 2019 framework is based on six core principles for a governance system:
Provide stakeholder value. The governance system must satisfy stakeholder needs and generate value by balancing resources, benefits, and risks to develop an actionable strategy.
Holistic approach. The system must have several components, whether the same or different types, that work together in a holistic way.
Dynamic. If one or more design factors change, you must consider the impact on the EGIT system.
Governance distinct from management. The governance system, including its structures and activities, are different from management structures and activities.
Tailored to enterprise needs. The system utilizes design factors for customizing and prioritizing the components of the governance system to the enterprise.
End-to-end. Governance encompasses all enterprise functions, including all information and technology that the enterprise uses.
(Get more details in our COBIT 2019 explainer.)
ITIL basics
ITIL is a globally recognized framework for service management that gives direction to enterprises on how to use IT for business development, transformation, and change.
The latest version, ITIL 4, continues to provide the guidance needed for organizations to not only address new service management challenges, but also how to use different technology in the era of DevOps, Agile, cloud, and digital transformation.
A significant evolution of ITIL from previous iterations, the key components of the ITIL 4 framework are:
The ITIL service value system (SVS)
The four dimensions model
ITIL service value system
The ITIL service value system provides an operating model for the creation, delivery, and continual improvement of services. This also provides a blueprint for companies to understand how organizational activities can work together.
The core components of the ITIL SVS are:
(Understand the full scope of the ITIL SVS.)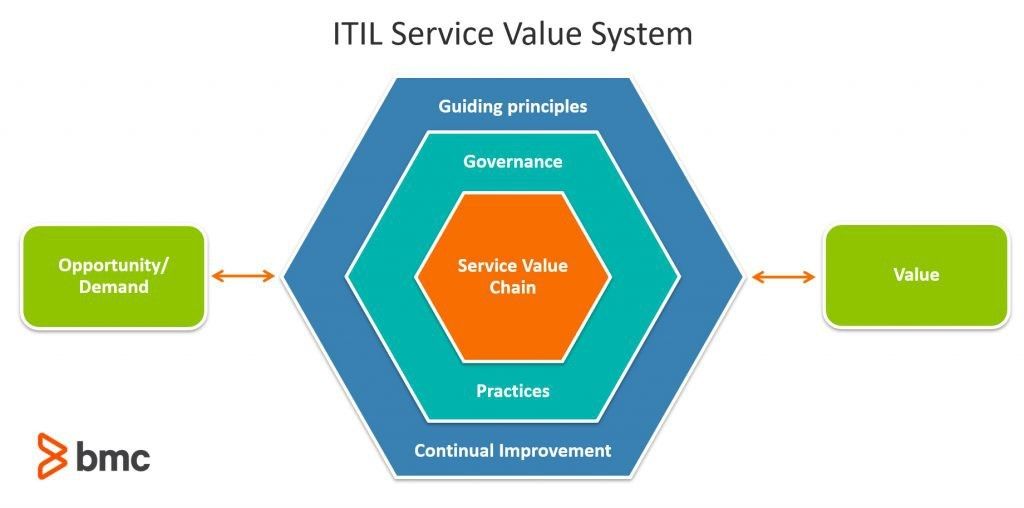 ITIL four dimensions
The Four Dimensions, on the other hand, describes a balanced focus on the ITIL SVS through a holistic approach. The four dimensions are:
Organizations and People
Information and Technology
Partners and Suppliers
Value Streams and Processes
(Get more details on the Four Dimensions.)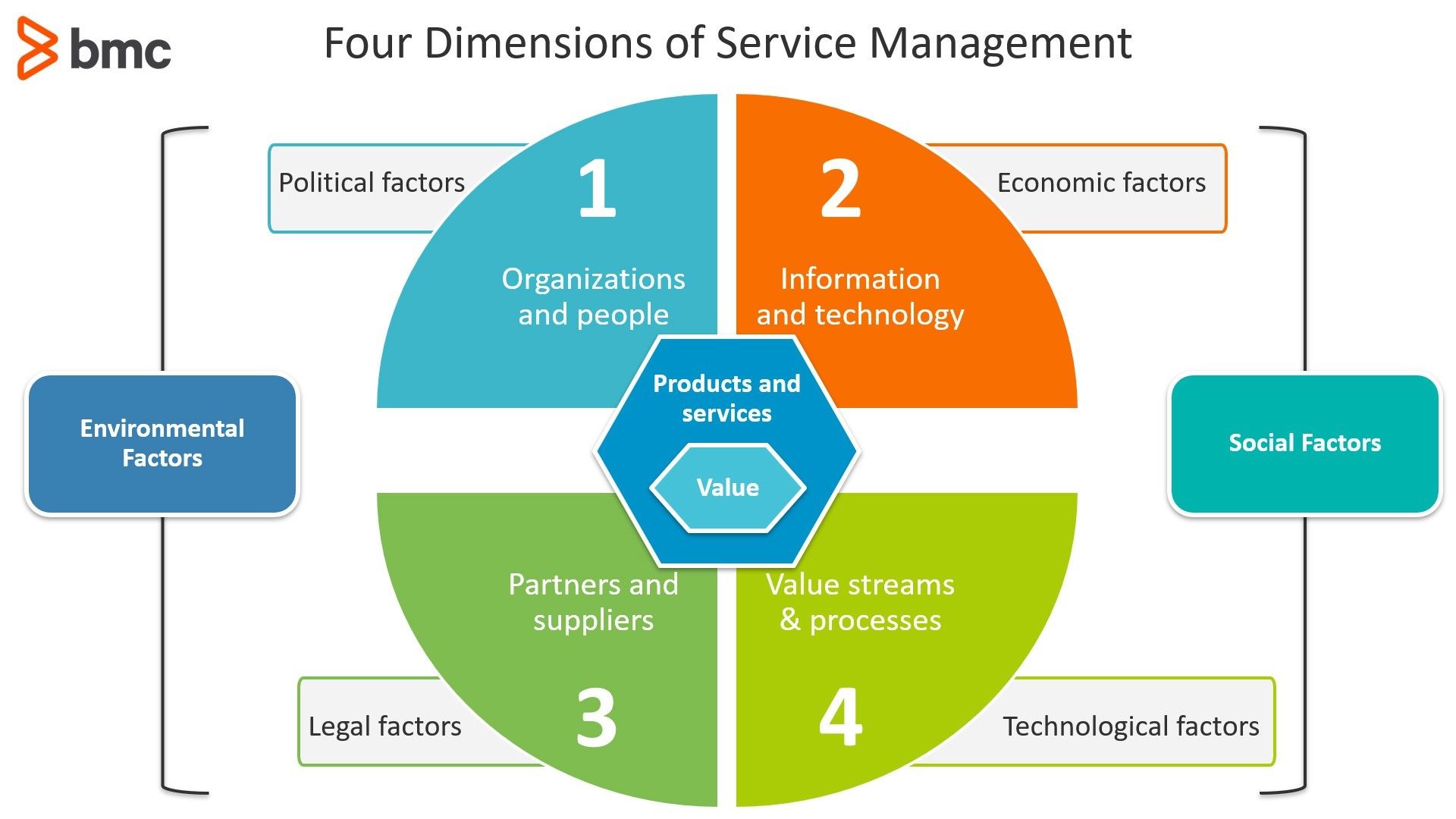 Can COBIT & ITIL work together?
In many ways, COBIT provides the "what" and ITIL shows the "how". In their recent updates, they only continue to complement each other.
Both bodies focus on how to transform stakeholder desires into value, while also both being created to be completely tailored for the organization. This type of customization allows businesses to use the parts that are most beneficial to them when and how they need them.
Let's look at some examples.
ITIL 4 has a stronger focus on governance than its previous versions, with a ring within the SVS wholly dedicated to it. This helps companies more clearly understand how and where COBIT can fit into the strategy. ITIL 4 also provides detailed advice on how to then carry out several of the COBIT processes. One example is change management—ITIL clearly defines a structure and a process to accomplish this practice properly.
To help organizations meet the needs of stakeholders, COBIT 2019 uses goal cascading; a visual waterfall that flows down from stakeholder needs to enterprise goals. This mechanism enhances ITIL effectiveness and also supports Service Management by:
Prioritizing ITSM improvement opportunities
Identifying key ITSM activities
Justifying improvement proposals by linking those to concrete organizational objectives
This structure can also help organizations that use ITIL continue to receive real value from their IT capabilities while at the same time assisting them in avoiding risks.
Overall, you can easily use…
COBIT 2019 to create organizational management objectives and governance directly from the stakeholders' needs.
ITIL 4 to guide those specific needs through its unique Service Value System, morphing inputs into valuable outputs for customers and the business alike.
IT governance frameworks for enterprises
COBIT and ITIL are both popular systems used for governance in IT service management. Utilized together, in part or in whole, these IT frameworks offer guidance for effective management of IT services.
Related reading