In a long line of ITSM frameworks and methodologies, VeriSM is an emerging approach that goes beyond service management in IT by incorporating service management in every part of your business. The VeriSM models believes that every business unit delivers a service, not just IT, so service management must be holistic, not siloed. Because each business unit's service management needs vary widely, flexibility and customization are key.
Importantly, VeriSM will not replace your existing, working ITSM frameworks. Instead, it will augment them and allow for individual departments to independently follow the best service management principles suited for their business needs, such as DevOps, Scrum, or ITIL®. The policies and procedures guided by VeriSM principles are applied to the use of modern technologies and resource management based on customer and market feedback.
In this article, we'll define VeriSM, see how its model works, and talk about VeriSM benefits.
What is VeriSM?
According to the 2017 EXIN Service Integration and Management survey, conducted among 3,800 industry professionals across 119 countries, most organizations struggle to manage IT and business services today. Only 20 percent of respondents believed that their existing service management tools and strategies effectively managed multi-source suppliers. Many organizations are already using multiple ITSM frameworks to manage different service functions. This multi-framework use indicates that organizations draw upon and adopt best practices from multiple management frameworks—and that's where VeriSM comes in.
The aim of VeriSM is to provide a structured approach to combining value from multiple frameworks to different organizational departments. The term VeriSM is an acronym for 'value-driven evolving responsive integrated service management', which underscores the key components of the framework. Proponents of VeriSM also highlight the word 'verism', meaning an "artistic preference" for truth, such that it is a form of realism.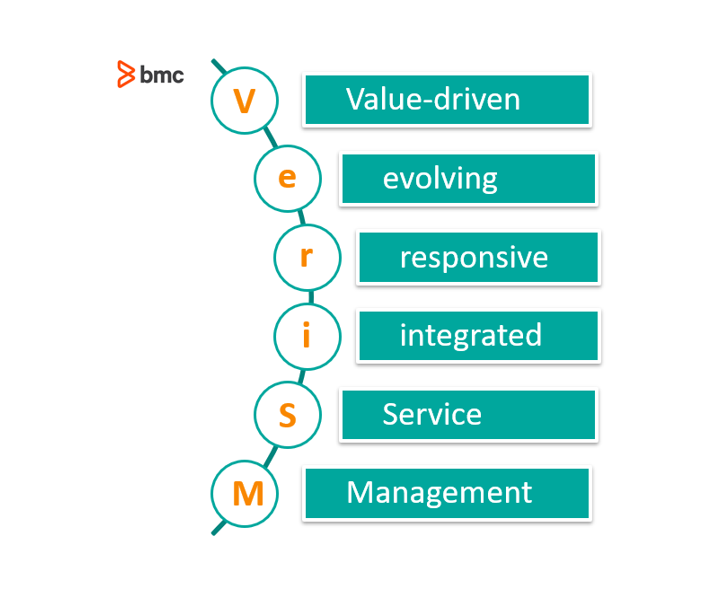 VeriSM does something that most ITSM frameworks do not: VeriSM applies service management to all business units, because every part of your company is both digitized and delivering their own services. Indeed, VeriSM sees the entire enterprise needing a spectrum of capabilities in order to satisfy "the consumerization effect". By combining standard ITSM best practices like ITIL and COBIT with 21st-century priorities like DevOps, agile, and customer focus, VeriSM augments the existing practices within your company.
Developed by a worldwide team of ITSM and change management professionals, VeriSM debuted in the fall of 2017. Today, the veriSM.global platform is used across the globe, with certification courses available in more than 50 countries.
The VeriSM model
VeriSM lets service providers develop a flexible operating model that fulfills their unique requirements to add value to the business—and they do so with a "management mesh", the core of VeriSM. The VeriSM model is driven by governance, in terms of its strategic purpose. According to the VeriSM model, each organizational department has its own service management principles designed to realize the organization's strategic objective. The service management principles apply to decisions surrounding risk management, financing, resource utilization and change management, emerging technologies, and the business environment. The workforce within each organizational department has the flexibility to follow appropriate development or service management frameworks such as DevOps, Scrum, and ITIL without compromising its pre-defined service management principles.
Each department can create their own management mesh, evolved to identify an optimal set of service management policies and procedures, driven by customer requirements and feedback. A simplified example of a Management Mesh is shown below: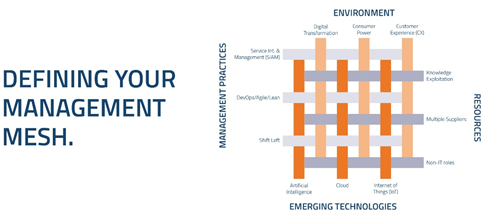 Source: EXIN
Your service management strategy should aim to meet or exceed customer expectations using four important factors: available resources, management practices, environment, and emerging technologies. Each strand within the mesh represents a single service management component that can be activated to meet changing organizational requirements. First, a current state of the requirements is identified. Appropriate mesh strands are highlighted and the pre-defined service management principles are followed to reach a desired future state. Once the new policies and procedures are applied, the new current state is compared with the previously intended future state as represented by the management mesh. The gaps between those states are addressed by utilizing the available resources and following the necessary management practices as per the service management principles, until a satisfactory working state is achieved.
The VeriSM operating model offers a systematic approach to implement this process. The four stages of implementation are:
Define. The first stage triggers activities to help identify customer requirements and detail an appropriate solution. The outcome is a service blueprint—the management mesh—that will be relied upon in later stages to fulfill customer requirements as per service management principles defined uniquely for each service department or organizational function. New services, resources, and capabilities necessary to fulfill service blueprint activities are also identified.
Produce. The second stage triggers activities as outlined in the service blueprint to develop, test, and implement a solution, service, or change. Per the service principles, costs including financial, risk, and security issues are controlled during the Produce stage. The policies and processes are updated for future reference. This stage also covers the requirements for service fulfillment such as sourcing technology solutions from third parties, restructuring the project teams and collaborating with external partners before delivering a working version of the solution.
Provide. At this stage, the organizational department ensures dependability of the system. The new current state of the service function in the management mesh is compared with its previously defined or expected future state. Gaps that compromise service performance and functionality are identified. Appropriate service management principles are followed to fill these gaps. Activities may include documentation of service quality as well as identification of corrective actions and the resulting changes in configurations and service quality.
Respond. The fourth stage refers to issues and requests registered by customers. In addition to proactively responding, the service provider must also be equipped with the necessary capabilities and resources to identify the underlying causes and reducing future incidents related to repetitive service incidents. The service issues and requests must be documented and classified in alignment with the organization's governance strategies.
Benefits of VeriSM
In the age of digital transformation, the convergence of emerging new technologies and rising customer expectations are disrupting the operating models of business organizations. With a range of service management frameworks available, internal teams must operate as individual service providers improving end-user experience to yield business value.
VeriSM is designed to integrate best practices from multiple service management frameworks, including those already adopted by internal service providers. For instance, development and QA teams readily adopt the latest SDLC methodologies including DevOps and Agile. Internal organizations beyond IT can take advantage of such frameworks and adopt the policies applicable to their unique requirements using the VeriSM model and Management Mesh. Individuals can enhance their skills in optimizing the people, processes, and emerging technologies as organizations readily adopt digital transformation initiatives.
Holistic service management is a vital difference in VeriSM compared to ITSM-focused frameworks. Conflicting goals of internal organizations are possible, as each team independently follows its own strategic service management principles. The result is a collaborative effort between cross-functional as well as disparate organizational departments to produce the intended business outcomes. These goals are inherently consumer-centric and VeriSM allows service providers to leverage full capabilities to enhance value for end-users.
The next generation of ITSM
It might be inaccurate to call VeriSM the next generation of ITSM. Instead, think of VeriSM as bringing service management to all parts of the company. Within ITSM, some technology experts believe that ITIL, the standard bearer ITSM framework, may have lost some of its prominence, as its versions can be a bit outdated. Though ITILv4 was recently released, in spring 2019, VeriSM and ITIL can work together, along with other frameworks, to both improve ITSM and bring service management out of the IT silo.
With the complexity and ambiguity of service management, VeriSM may be just the flexible solution you need to fit all your service management strategies, processes, and tools into an overall, value-driven context for your company.