Service desk performance is essential to improving customer experience. In IT service management, the service desk is responsible for satisfying end users by serving as the single point of contact related to business expectations, product support, and available resources.
The service desk perspective is focused on real-world performance, management, and service delivery capabilities and it measures successes and insights using metrics and KPIs. These metrics may measure individual attributes or incorporate end-user feedback and communication to optimize customer service. To measure service delivery capabilities in particularly, use metrics such as tickets per user, which accounts support volume, efficiency, and engagement quality that your service desk agents provide in response to customer demands. In this article, we'll take a look at the tickets per user metric, including benefits and limitations of this KPI.

Defining the tickets per user metric
The tickets per user metric is a simple calculation: the total number of tickets your service desk agents logged in a month divided by the number of users your service desk supported.

When used at the service desk, tickets per user can provide a range of insights that can empower IT and business executives to direct their resources toward profitable and effective product support and feature improvement. For example, a high number of tickets per user mean that many users are waiting for a support service to conclude.
That high number also says a lot about the product itself, your company's ITSM process and workflows related to service desk initiatives, and the overall customer experience. Each of these are opportunities for your company to excel as a reliable and customer-friendly service provider.
Business insight from the tickets per user metric
Let's look at many areas where the tickets per user metric can provide visibility and business insights.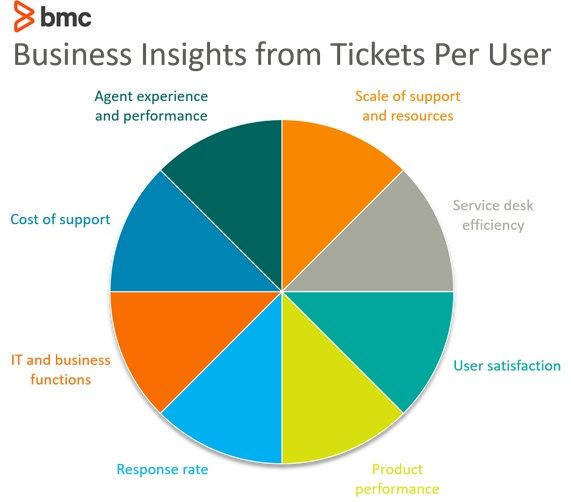 Scale of support and resources
In an ideal world, the resources available for effective service desk support are proportionate to the scale of support that your customers demand. Evaluating the number of tickets per users is a true measure of how many employees and systems should be designated to resolve customer issues across all levels of the support process—because this is not a one-size-fits-all ratio. With this information, your organization can devise an ITSM approach to optimize resource utilization across the support pipeline.
Service desk efficiency
Different support issues are resolved at different speeds and timelines. The number of tickets per user can help the service desk evaluate the efficiency of support activities for appropriate support issues. Accordingly, your service desk can track the activities and processes that emerge as cost-centers, providing minimal support efficiency despite incurring high cost and resource investment. Addressing these cost-centers can help the service desk improve its performance bottom line and focus its efforts in delivering efficient support at various stages of a ticket lifecycle.
User satisfaction
A high number of tickets per user can indicate customer satisfaction (or dissatisfaction) and highlight product issues. The userbase can be profiled according to their product usage needs. The number of tickets associated with each user can help IT categorize issues and support activities with respect to the business objectives associated with each user profile, better contributing to IT-business alignment.
Product performance
Advanced ticket monitoring and ITSM solutions can help the service desk track tickets and the support performance associated with different product functions and IT systems. Attributing recurring support requests specific to product features can be used as end-user feedback in improving the overall product quality. Additionally, IT can understand how end-users perceive the performance of different product features in comparison with the internal IT's definition of optimal product performance.
Response rate
Response time is a leading indicator of service desk performance, as well as a top priority for end users. A constant stream of requests for quick-fix issues can overwhelm the service desk while they engage most of their resources in addressing critical technical faults. While the organization and end users cannot compromise on the latter, it is important for the service desk to address non-critical issues that emerge at scale, reflected in a high number of tickets per user. The tradeoff for resource allocation across the two support categories is vital to maintain an optimum satisfaction rate among end-users.
IT and business functions
Ticket volume typically consists of two support categories: incidents and service requests. The information for both categories helps organizations identify business opportunities within your existing user base as well as your potential across the market with new users.
Incident-related tickets
The number of tickets associated with an incident reflect the scale of unplanned support requirements experienced by the organization. Support requests for unplanned work have a high correlation with end-user satisfaction, especially in the short-term.
Service request tickets
Tickets for new service requests reflect the demand and expectations of planned work. Support requests for planned work describe the expectations of existing users already sufficiently engaged with the product and pursuing feature improvements or releases.
Cost of support
The service desk is expected to optimize resource investments in favor of business objectives and customer satisfaction. The business cannot invest limitless resources for support desk operations; therefore, it must account for every support request. Cost per ticket is a popular service desk metric. More granular information on the number of tickets per user across support levels, business functions, user profiles, and request categories can help provide accurate support cost insight.
Agent experience and performance
Another vital insight revealed by the number of tickets per user: the performance and experience of individual service desk agents. Each employee must perform optimally while also maintaining a positive and healthy work experience.
Considering the well-documented IT skill gap, organizations must ensure that support desk personnel perform productively without experiencing an overwhelming workload. By evaluating the number of tickets per user assigned and resolved by each employee, you can understand how each agent performs and whether the working conditions are satisfactory to facilitate a long-term healthy working relationship.
Limitations of ticket per user metrics
It is important to note that service desk metrics, including tickets per user, may only provide partial insight when evaluated independently. Consider analyzing this metric alongside other top service desk metrics.
Additional resources
BMC Blogs has many resources on IT service desk metrics and best practices. Browse our Enterprise IT Glossary or see these articles: