ITSM is evolving at rapid pace in response to changing enterprise IT trends. Changing patterns in IT investments, IT service delivery and consumption models, SDLC practices, market trends for technology-enabled products and the growing risks associated with enterprise IT are driving the shifting trends in ITSM technologies, practices and strategies. In this post, we explore the top 5 trends in ITSM for 2018 based on various news reports, research studies and surveys.
Top 5 ITSM Trends for 2018
Prevalence of AIOps: Artificial Intelligence for IT Operations (AIOps) adoption is rising as organizations pursue intelligent automation for a range of IT processes including real-time identification and remediation of ITSM issues.
Digital Transformation: ITSM adoption is seen as critical to manage and accelerate digital transformation.
Monitoring Moving to the Edge: With the proliferation of IoT and Edge computing, incident monitoring and processing has shifted closer to the network edge.
ITSM Spending on the Rise: Americas Region losing dominance to EMEA and APAC.
Containerization and Microservices: Disrupting the ITSM tooling segment.
ITSM Trend 1: Prevalence of AIOps
Gartner predicts that 40 percent of the enterprises will adopt AIOps by the year 2022. By 2019, hiring of IT technical specialists will reduce by 5 percent and by 2021, 40 percent of IT personnel will take on multiple business-related responsibilities as AI disrupts the ITSM segment. However, the lack of knowledge management foundation will cause 99 percent of AI initiatives in ITSM to fail. IT users will rapidly adopt virtual customer assistants (VCA) and chatbot technologies and by 2020, AI-enabled customer-facing service desk support operations will increase by 25 percent. According to the 2018 State of Chatbots Report by Drift, SurveyMonkey and Salesforce, the survey respondents ranked the key benefits of AI chatbots. Benefits such as continuous service availability, immediate response and easier communication for simple questions were regarded as the most important value propositions of AI-based virtual assistants. Detailed results are given below: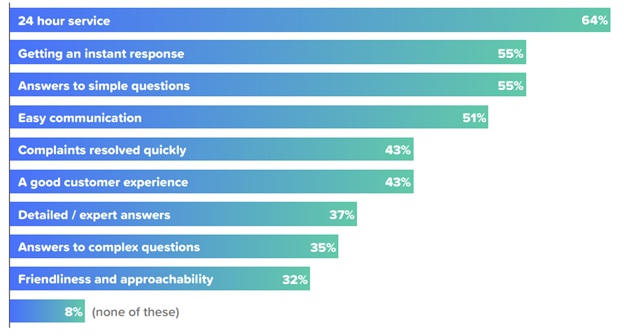 Gartner
https://www.gartner.com/newsroom/id/3869879
https://www.gartner.com/newsroom/id/3858564
Drift:
https://blog.drift.com/wp-content/uploads/2018/01/2018-state-of-chatbots-report.pdf
Trend 2: ITSM will Drive the Digital Transformation
The role of ITSM is considered as critical for digital transformation in 2018. According to the recent BMC report 'Delivering Value to Today's Digital Enterprise: The State of IT Service Management, 2017' that surveyed over 250 senior executives across global organizations, 56 percent of the respondents labeled ITSM as "extremely important" to enable digital transformation via cloud, Big Data and other digital transformation initiatives. In 2018, these priorities appear well-aligned with the investment trends. According to the latest Gartner research on Enterprise IT spending and cloud growth trends, 2018 continues to see an exponential increase in investments geared toward digital disruption. Growth in cloud adoption predict highest rates than ever before, with a 21.4 percent increase from last year. These spending trends are expected to continue with similar growth rates as organizations pursue transformation through advanced enterprise IT technologies.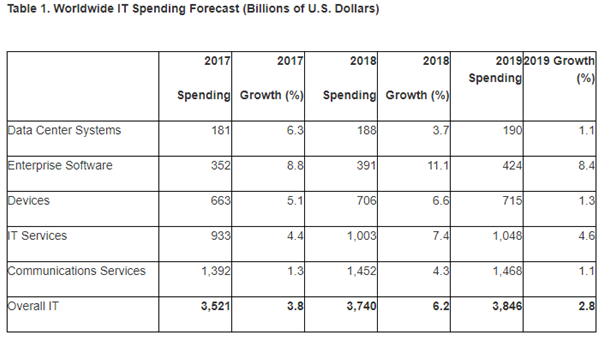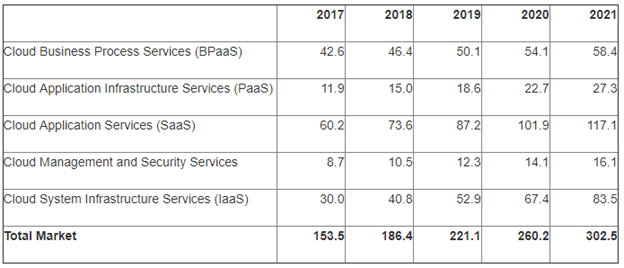 Trend 3: Monitoring Closer to the Edge
Technologies such as the Internet of Things, connectivity and cloud computing are dominating the strategic shift and disruption in the ITSM segment for 2018. Edge computing is on the rise. Gartner labels edge computing as the Top 10 strategic technology trend. From an ITSM perspective, proliferation of the three technologies have collectively reshaped IT Operations in the 2018. With the exploding volume and complexity of data – including IT incidents and events information — ITSM professionals struggle to maintain optimal standards for IT services and operations. Edge computing, automation and AI are empowering IT Ops personnel by analyzing and processing information closer to the data source and communicating insightful metrics information to take appropriate actions. According to IDC, spending on edge computing will constitute 18 percent of the total investments in IoT infrastructure by the year 2020. The convergence of edge computing and IoT is therefore a key focus for organizations looking to bolster their ITSM capabilities, especially as their IT infrastructure and service offerings increasingly depend on IoT technologies.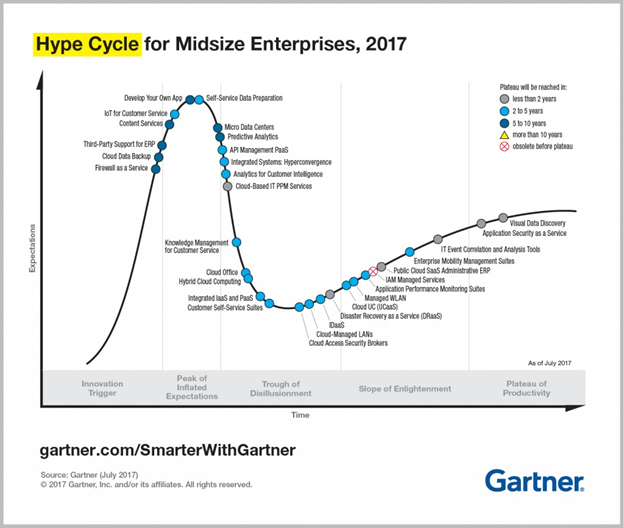 Gartner:
https://www.gartner.com/smarterwithgartner/gartner-top-10-strategic-technology-trends-for-2018/
https://www.gartner.com/smarterwithgartner/top-trends-from-the-gartner-hype-cycle-for-midsize-enterprises-2017/
Trend 4: ITSM Spending on the Rise
According to the 2018 Technavio market research report titled 'Global ITSM Market 2018-2022', the ITSM industry will see a CAGR of 9 percent between the years 2018 and 2022. As a result, the global revenue for ITSM vendors will increase by $2.65 billion during the period of 2017 to 2022. The research also highlights that the ITSM market in the APAC region will see a higher incremental growth as compared with the EMEA region. The global ITSM market share of the Americas region is expected to decrease from 51 percent to 48 percent during the years 2018 through to 2022. These spending trends are in line with the predicted revenue figures for enterprise IT industries in various segments, including cloud management, security, infrastructure and platform services.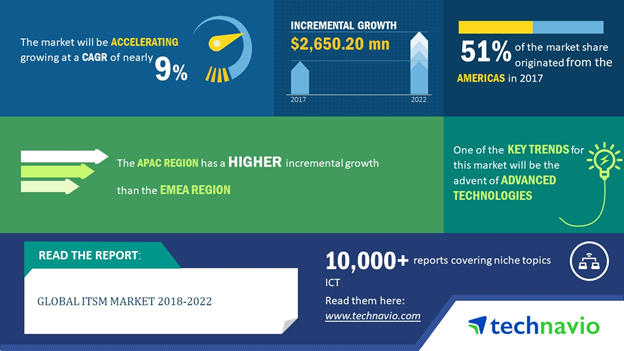 Technavio:
https://www.technavio.com/report/global-itsm-market-analysis-share-2018
Trend 5: Containerization and Microservices Disrupt ITSM Tooling Practices
Containerization is showing no signs of slowing down and is driving digital transformation in the enterprise IT segment. From an ITSM perspective, this trend represents a fundamental shift in the tooling as IT personnel have to deal with the resulting ITSM complexity in the network architecture. With containerization and microservices, organizations can operate a system of interconnected software components and infrastructure environments. As a result, monitoring, performance and security related information must be captured, analyzed, correlated and integrated from the distributed sources in order to draw accurate conclusions. For these use cases, traditional APM tooling don't deliver. The technology should be capable of managing the countless microservices operating within the same underlying infrastructure and yet delivering the right results. Research suggests that the market demand for microservices architecture will reach $33 billion by the year 2023, at a 17 percent CAGR during the period of 2017 to 2023. The microservices architecture fundamentally impacts the way ITSM approach toward change, configuration and release management. For instance, microservices may require organizations to redesign their strategies to manage change across several individual functional elements of the microservices app instead of the entire software. Organizations are therefore forced to consider various architectures and frameworks in devising their ITSM strategies for the year 2018.