Businesses depend on technology to gain a competitive advantage and deliver better solutions to their customers. Additionally, there's even more pressure on IT service organizations to keep pace in an ever-changing business landscape. Many IT organizations, however, are struggling to meet these new demands because the technology and processes they have are inflexible and outdated.
IT service organizations need modern, flexible, and automated service and support technologies that facilitate the flow of data among people, teams, and departments. The solution must be fast to deploy, easy to maintain, and painless to adapt and integrate.
Built on Salesforce App Cloud with speed and flexibility in mind, Remedyforce is modern IT service management that enables your users and advances your business, with minimal capital investment.
Below is the definite list of reviews, user ratings, and customer stories to help your evaluation of Remedyforce as your go-to solution for IT service management on Saleforce.
AppExchange
AppExchange from Salesforce is the world's leading business app marketplace with millions of installs and thousands of customer reviews. On the AppExchange, Salesforce users purchase and review apps within the Salesforce ecosystem, making it one of the most reliable sources of information.
On AppExchange, Remedyforce has 42 reviews with a strong 4.4 out of 5-star rating.



Source: AppExchange 77/5/2018
https://appexchange.salesforce.com/listingDetail?listingId=a0N30000003GrDmEAK
TrustRadius
TrustRadius is a trusted website for business software users to share real-world insights through in-depth reviews.
TrustRadius has 40 reviews of Remedyforce, with an average 7.3 out of 10 rating.



The Remedyforce Scorecard Summary shows good marks across the board with high ratings in Likelihood to Recommend:



The Feature Scorecard Summary breakdown shows highest marks in ITSM reports and dashboards:


Source: TrustRadius 7/5/2018
https://www.trustradius.com/products/remedyforce/reviews
Gartner Peer Insights
According to Gartner, Peer Insights is a "platform for ratings and reviews of enterprise technology solutions by end-user professionals for end-user professionals."
Peer Insights has 356 reviews of BMC and Remedyforce with an average 3.9 out of 5 star rating.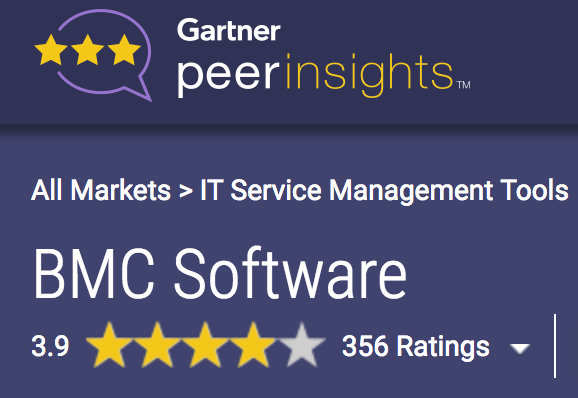 Here's one of the reviews for Remedyforce on the site:


Source: https://www.gartner.com/reviews/market/itssm-tools/vendor/bmc?pid=635
Gartner Peer Insights reviews constitute the subjective opinions of individual end-users based on their own experiences, and do not represent the views of Gartner or its affiliates.
Software Advice
Software Advice is a Gartner company that provides trusted, detailed research and reviews on thousands of software applications.
Remedyforce has six reviews on Software Advice with an average 4.5 out of 5 stars.


Source: Software Advice 7/5/2018
http://www.softwareadvice.com/crm/bmc-remedyforce-profile/
TechValidate
TechValidate is a market leader in surveying and analyzing verified customer data.
Some of the key findings from TechValidate include:
Some of the key findings from TechValidate include:
Source: TechValidate 7/5/2018
https://www.techvalidate.com/product-research/bmc-itsm/charts?utf8=%E2%9C%93&chart_search%5Bquery%5D=remedyforce
BMC Customer Stories
Remedyforce has delivered high-speed service management for companies around the world.
Here are a few for you to read about:
What Customers Say About Remedyforce
"Remedyforce captures data and generates meaningful reports that provide managers at all levels with visibility into what's happening in their departments. As a result, they have actionable data that improves decision making."
— Steven Vandamme, Global Chief Information Officer, Barry Callebaut Group
"With Remedyforce, our service levels have dramatically improved. Customers have one place to go for any kind of help that they need, and we've been able to replace multiple legacy tools with a single, comprehensive solution that simplifies IT workflows across our enterprise."
— Pauline Mulvey, Vice President of Enterprise Business Technology, Mitchell
Learn more about Remedyforce and view the Remedyforce overview.
Interested in a giving Remedyforce a try? Start your free trial of Remedyforce.
Try BMC Helix Remedyforce Free for 30 Days!
Streamline IT assistance by slashing wait times, improving first-call resolution, and boosting agent productivity right out of the box.
Start Trial ›
These postings are my own and do not necessarily represent BMC's position, strategies, or opinion.
See an error or have a suggestion? Please let us know by emailing blogs@bmc.com.