This post is part of a series on BMC product reviews. Be sure to check out the other post on Control-M Reviews and Remedy Reviews.
BMC's FootPrints service desk is an ITSM solution for mid-size organizations that includes incident and problem management, knowledge management, analytics and reporting, mobile access, and much more.
User reviews, analyst reports, and customer stories are important to consider when evaluating IT solutions. This post is designed to bring together all of that critical information into a single, shareable format.
Try FootPrints: Start your free trial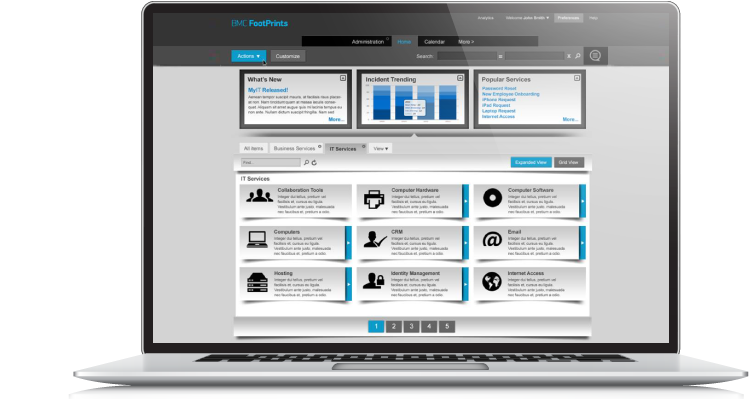 FootPrints service desk provides a powerful suite of on premise tools that helps mid-size organizations manage the entire lifecycle of their IT services.
G2 Crowd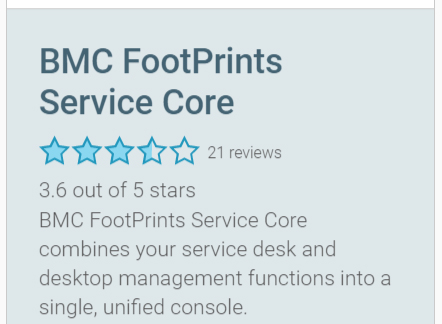 G2 Crowd is a business technology review site whose mission is to "provide the insights business professionals need to gain confidence in their buying decisions and become more successful in their jobs."
On G2Crowd, BMC's FootPrints has 21 reviews with an average 3.6 out of 5 rating.
Source: G2Crowd 5/4/2017
https://www.g2crowd.com/products/bmc-footprints-service-core/reviews
TrustRadius
TrustRadius is a leading website for business software users to share real-world insights through in-depth reviews and networking.
BMC's FootPrints has 11 total reviews on TrustRadius, consisting of 4 mid-size companies and 7 enterprises, with the vast majority of responses rating FootPrints a 7 or higher (out of 10).
The TrustRadius Rating Summary breakdown shows high marks for Likelihood to Recommend, Likelihood to Renew, and Support

Source: TrustRadius 5/5/2017
https://www.trustradius.com/products/bmc-footprints-service-core/reviews
IT Central Station
IT Central Station has been called "The Yelp for Enterprise Technology" by The Wall Street Journal for crowdsourcing enterprise tech reviews. The site has a dynamic community and offers objective feedback on all things IT.

IT Central Station has only 1 review for FootPrints with a 4 out of 5 star rating. We encourage you to visit their site and contribute your review if you have experience with FootPrints.
Source: IT Central Station 5/3/2017
https://www.itcentralstation.com/products/bmc-footprints-service-core
Capterra

Capterra is one of the most comprehensive business software review sites on the web.
Capterra rates FootPrints an average 4 out of 5 stars overall along with 4 of 5 for Ease of Use and Customer Service.
Source: Capterra 5/12/2017
http://www.capterra.com/itsm-software/spotlight/100291/FootPrints/BMC Software
BMC customer stories
BMC customer stories offer a glimpse into digital service management advantages enabled by Footprints.
Explore these FootPrints customer stories:
Charter Manufacturing: Steel industry leader improves patch deployment success rate 200% with optimal client management
Duke Energy: Ensure security standards compliance by standardizing and automating workflows