ITIL certifications are some of the top paying IT certifications in the industry. Having an ITIL certification could be the first step in landing a job, obtaining a promotion, or advancing your career to the next level, especially if you are considering becoming CTO or CIO.
As a framework for IT service management, ITIL can help organizations to:
Manage risk
Increase productivity
Reduce cost of service development and deployment
Strengthen customer relations
Build an agile IT environment
To maximize the value that ITIL can bring to your organization, you might want to pursue ITIL certifications. There are a few levels, found foundational to Master. Importantly, only individuals can pursue ITIL certifications—you cannot earn it to cover the entire organization.
In spring 2019, ITIL 4 was introduced. ITIL 4 is a significant transition from ITIL v3 to a newer, more modern and agile approach. If you're currently certifying in ITIL v3, you may pursue that to completion. But if you're brand new to ITIL, then ITIL 4 is for you. And that's what this article will cover.
Let's take a look.
(This article is part of our ITIL 4 Guide. Use the right-hand menu to navigate.)
Download Now: ITIL 4 Best Practice e-Books
These all-new for 2020 ITIL e-books highlight important elements of ITIL 4 best practices. Quickly understand key changes and actionable concepts, written by ITIL 4 contributors.
ITIL debrief
ITIL is the preeminent global framework for IT service management and delivery. The ITIL framework offers a detailed set of practices for managing and delivering IT services. The practices, tasks, and guidance all aid your organization in delivering the best quality services to your end users. You can expect help with:
Continually improving services
Demonstrating compliance
Avoiding common pitfalls
The ITIL framework is owned by Axelos, which maintains the ITIL framework and accrediting training and examination institutes. There are hundreds ITIL Accredited Training Organizations (ATOs) with the certification exam administered at the end of the training course or by a partnering examination institute.
The framework is not limited to a certain industry, company size, or organization type (private, public, etc.). If you use technology to manage service (you do), then ITIL might be for you. In fact, ITIL is used globally in every industry type, with internationally known companies like IBM, HBSC, and NASA implementing ITIL.
For many companies, the biggest benefits of ITIL are its versatility and scalability: companies can take as little or as much as they'd like from ITIL, and they can also combine it with practices that follow other popular frameworks like:
(See who else uses ITIL.)
What is an ITIL certification?
ITIL certifications demonstrate that you are educated in service management best practices, utilizing processes, terminology, and methods that are common in modern IT. ITIL-certified professionals are in high demand: they possess the skills to grow and transform the business.
Digital services typically rely on ongoing project management that focus on the service's objectives while also paying attention to inevitable issues in developing, delivering, and maintaining the service. A good IT service management approach is knowing exactly how to integrate all these ever-changing factors into your development process.
(Explore other popular ITSM certifications.)
Benefits of ITIL certifications
The benefits of earning your accreditation or certification are invaluable. With an ITIL certification, you can:
Earn a solid foundation in product knowledge
Accelerate your professional development
Increase your earning potential
Improve productivity
Enhance your credibility
Become a leading, solutions-oriented professional
Benefits aren't limited to the certified individual. Organizations see far-reaching advantages from adopting ITIL, including:
Aligning IT to business
Providing quality services that better meet the needs of their customers
Improving the quality of the IT services you deliver
Decreasing time, money, and other resources spent on the entire service development lifecycle
Increasing customer satisfaction
Boosting staff morale
By following these guidelines, organizations can expect to see:
A better, more tangible understanding of your customers, their needs, and their expectations
Increased productivity
Risk management that minimizes or prevents service disruption
A stable yet flexible development environment
Industry experts as well as those certified in ITIL often agree that certification behooves both the individual and the company. A recent survey of 117 people who have earned at least intermediate-level ITIL certification found the following:
76% of those surveyed said that intermediate and advanced certifications made them more marketable, and nearly 59% said that they were better able to compete with an intermediate-level ITIL certification.
70% reported developing new knowledge and expertise. This is significant because a common complaint of ITIL certification maintains that new knowledge acquisition is rare.
55% felt they had improved their overall effectiveness on the job, and 47% reported that their employees improved efficiency in cost and time. This indicates that an ITIL-certified employee may have a larger impact on colleagues and teams.
Large, global companies can often more easily justify the cost of ITIL certifications for a number of employees. In such companies, it's common for any IT professional, from sysadmins to project managers to CIOs, to obtain some level of ITIL certification. These same companies often also have dedicated ITIL coaches and mentors.
Small- and medium-sized businesses (SMBs), on the other hand, often have a hard time justifying the cost of fully certifying and implementing ITIL. But experts say these SMBs may want to consider the opposite: a failed IT project is often much more disastrous to your bottom line than the proactive approach of ITIL certification.
(Get ITIL advice specific to SMBs.)
Who can pursue ITIL certifications?
Importantly, ITIL certifications are available only to individuals, not to an entire organization. If a company claims they are ITIL certified, they probably either:
Comply with a related, but different standard, such as ISO/IEC 20000 which organizations can earn.
Promote any number of employees within the company do hold ITIL certifications.
ITIL 4 certification levels
So how does certification work? ITIL certification is divided into four levels of certifications. One person may only seek an entry- or medium-level certification, while a project manager or CIO may seek to obtain Expert or Master status in ITIL.
Of five levels, the first three are based on:
Number of credits
Passing examinations
Achieving the ultimate Master level, however, does not rely on credits. It instead has its own criteria.
Here are the ITIL 4 certification levels:
(Ready to start studying? Check out our tips for studying & training for ITIL certification.)
ITIL Foundation
The ITIL 4 Foundation certification introduces the ITIL framework and enables candidates to look at ITSM through an end-to-end operating model for the creation, delivery and continual improvement of tech-enabled products and services. The certification can help candidates who require a basic understanding of the ITIL framework, want to use ITIL to enhance ITSM, or those whose organization has adopted ITIL.
The ITIL 4 Foundation course introduces participants to the ITIL framework with a focus on the following topics:
Key concepts of service management including value creation and service relationships
The 4 dimensions of service management
The ITIL service value system (SVS) including guiding principles and the service value chain
7 key ITIL practices
(Start studying with our ITIL 4 Foundation study guide.)
After passing the exam, you have the option of two streams depending on your career goals: Managing Professional or Strategic Leader.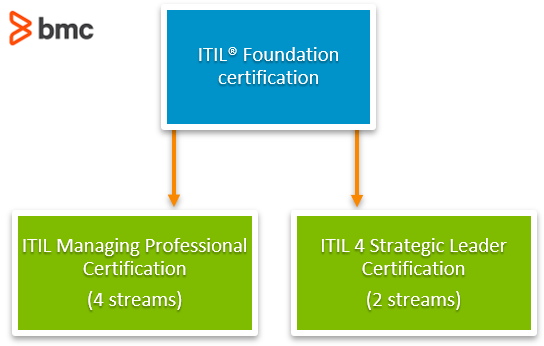 ITIL 4 Managing Professional
The ITIL Managing Professional stream provides practical and technical knowledge about how to run successful IT enabled services, teams, and workflows. There are four courses within this stream:
ITIL 4 Specialist Create, Deliver & Support (CDS). This module covers the 'core' service management activities and expands the current scope of ITIL to cover the 'creation' of services. It focuses on the integration of different value streams and activities to create, deliver, and support IT-enabled products and services while also covering supporting practices, methods, and tools. This module enables IT practitioners to continue to deliver innovative yet reliable tech-enabled services to their customers in an increasingly competitive market.
ITIL 4 Specialist Drive Stakeholder Value (DSV). This module covers all types of engagement and interaction between a service provider and their customers, users, suppliers, and partners. It focuses on the conversion of demand into value via IT-enabled services. The module covers key topics such as SLA design, multi-supplier management, communication, relationship management, CX and UX design, and customer journey mapping. It provides candidates with the tools to increase stakeholder satisfaction which is integral to business success in the current competitive landscape.
ITIL 4 Specialist High Velocity IT (HVIT). This module explores the ways in which digital organizations and digital operating models function in high velocity environments. This module includes the use of working practices such as Agile and Lean, and technical practices and technologies such as Cloud, Automation, and Automatic Testing, focusing on rapid delivery of products and services to obtain maximum value. This module is aimed at IT managers and practitioners involved in digital services or digital transformation projects working within or towards high velocity environments.
ITIL 4 Strategist Direct, Plan & Improve (DPI). This module provides individuals with the practical skills necessary to create a 'learning and improving' IT organization, with a strong and effective strategic direction. The module covers the influence and impact of Agile and Lean ways of working, and how they can be leveraged to an organization's advantage. ITIL 4 Strategist Direct Plan and Improve is aimed at managers of all levels involved in shaping direction and strategy or developing a continually improving team.
ITIL 4 Strategic Leader
The ITIL 4 Strategic Leader stream provides learners with the understanding of how IT influences and directs business strategy. There are two modules associated with this stream:
ITIL 4 Strategist Direct, Plan & Improve (DPI). This is the same course as mentioned in the ITIL Managing Professional stream.
ITIL 4 Leader Digital & IT Strategy (DITS). This module focuses on the alignment of digital business strategy with IT strategy. The module also covers how disruption from new technologies are impacting organizations in every industry and how business leaders should respond. ITIL 4 Leader Digital and IT Strategy will help current and aspiring IT leaders build and implement digital strategies that can face these challenges and drive success.
(Get more details on the Strategic Leader certification.)
ITIL Master
The ITIL Master certification validates your expert ability to apply the principles, methods, and techniques from ITIL in the workplace.
To earn ITIL Master certification, you must be able to explain and justify how you personally have selected and applied a range of knowledge, principles, methods, and techniques from the ITIL Framework and supporting management techniques to achieve desired business outcomes in one or more practical assignments.
This certification does not have a fixed syllabus or training course. Instead, each candidate will have different experiences that are highly personal. To be eligible for the ITIL Master certification, candidates must:
Have earned previous ITIL certificates
Have worked in ITSM with experience in leadership, managerial, or higher management
Ensure extensive practical hands-on experience with ITIL
Demonstrate active involvement in implementation of the practices
Pricing of ITIL certifications
As the overseer of the ITIL framework, Axelos accredits training and exam institutions. Remember, there are hundreds of ITIL ATOs, that deliver training and certification examinations—all available on the Axelos website.
A candidate for ITIL certification may choose from certification providers who are accredited by AXELOS for providing the training and examinations. (Non-accredited providers may cost less, but their content and results may not be as reliable or vouched for.)
Pricing varies depending on:
The country you reside
In-person vs online course
In-house training within your company
Registration for the various exams can run anywhere from $150-$500 for each—that's just for the test. If you want to study from the official coursework and/or take a training course, you'll likely have to pay extra.
Of course, as the certification is an investment in yourself and your company, ask whether your company is willing to foot the bill for any (all?) of it.
A word of caution: It is never a guarantee that an ITIL certification is worth the investment. With anything, you'll often get out of the process exactly what you put into it. But, because ITIL builds on previous experience, you can try it out with the entry-level certification and next steps—you don't have to commit to the ITIL Master certification until you're ready.
ITIL certifications for successful business
Many organizations already adopt ITIL for business, are you ready to join them?
The BMC Certification Program from BMC Education Services offers a full range of ITIL courses in addition to complete ITSM courses offering participants validation in technical competencies and expertise so you can effectively plan, deploy, and support solutions from BMC.
Related reading