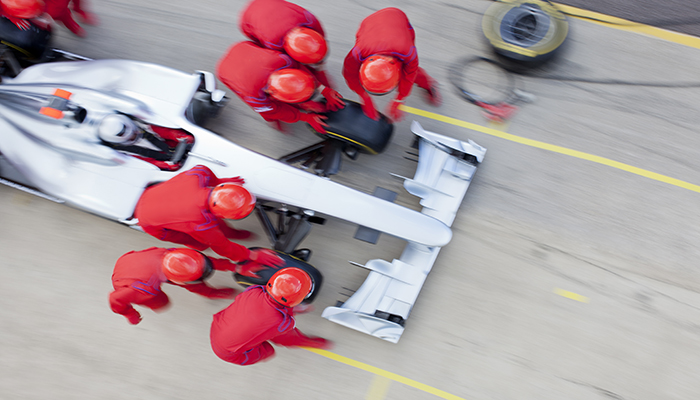 Trying to take advantage of great Development without equally strong Operations is something like trying to row a boat on dry land. These days, there's a tendency to overemphasize the Dev side of DevOps with folks simply expecting that the Ops side will be handled as efficiently and pretty much take care of itself. This occurs even at BMC where we have powerful solutions for both. However, if you don't deploy an effective and efficient infrastructure for your data and systems, then you can't possibly execute the development of new applications at the lightning fast speeds that businesses require today. But most of the talk continues to be about the Dev side of this equation. At the risk of mixing metaphors, it's like trying to drive a brand new Tesla on a pothole ridden highway. Dev & Ops deserve equal consideration and focus in order to optimize your business.
There is no doubt that the explosion of customer-facing applications and the development that goes along with that has impacted businesses immeasurably. I'd like to share my view of how the Mainframe plays a role in that from both a Dev and Ops perspective. You may have heard reference to the Mainframe as the backbone of digital business and it truly is – 91% of consumer-facing applications touch the Mainframe in some way and we've seen a resurgence in development on and around the Mainframe as a result. In fact, the z14 was just announced and it is another affirmation of the important role of the platform in the DevOps chain. The Dev is fast, agile, and continuous. When you're trying to accomplish those Dev goals, you need to make sure that your Ops is modern, can scale, and can keep up. If you don't have an effective and efficient infrastructure for your data and systems, then how can you possibly be able to execute the development of new applications at the speeds that businesses require today? And let's think about the data – the data for these business critical applications is coming from somewhere, correct?
Take for example, the Venmo app that my youngest daughter uses to send and receive money for even the smallest transactions like a shared meal or coffee. That application uses financial data from banking institutions that access and run on a mainframe. How fast these companies can move that money is a life or death equation. If my daughter is forced to wait 3-5 business days for her $4.50, she won't use that application again, ever. In fact, if she has to wait even 5 minutes the game's over. Imagine the number of young people swapping dollars at cafés across the US (and the world for that matter) and you can extrapolate the volume and velocity of transactions occurring daily. It's staggering. We can't afford to let those transactions slow down due to inefficient data, storage, or processing.
At BMC, we put the Ops back in DevOps. We help you ensure that Ops can:
Quickly, safely and efficiently incorporate the necessary changes to your systems and databases
Cost effectively support new workloads driven by the application changes
Quickly, efficiently copy and migrate product data to create realistic test environments
Automatically update your business continuity procedures
Restore your systems in a timely manner in the event that anything goes wrong
Systems and data management are key to the success of your DevOps initiatives and should not be an afterthought. If you're not investing in data and systems and if you don't have full awareness of your infrastructure, you could be introducing risk. As leaders, we need to think of both sides of the equation, have the complete picture, and ensure all cylinders are operating at peak performance. Are you confident that your operations can keep up?
Now Dev and Ops can accomplish incredible things – together. The high-performing vehicle (Dev) and the well-paved superhighway (Ops) can delight and awe their customers and perform incredibly well working in concert. One without the other won't perform and it will cost you more in the long run.
For more information on how BMC is innovating and supporting the DevOps space, see http://www.bmc.com/it-solutions/mainframe.html
Annual BMC Mainframe Survey
The 14th Annual BMC Mainframe Survey 2019 reports optimistic trends about the mainframe's role in emerging and established businesses.
Download Now ›
These postings are my own and do not necessarily represent BMC's position, strategies, or opinion.
See an error or have a suggestion? Please let us know by emailing blogs@bmc.com.