This blog completes our three-part series on IT service management for the mid-market company. In our last blog, we discussed ways to make sure ITSM delivers full value for your organization. In this installment, we'll drill down into the features most essential for efficiency, competitiveness, and digital transformation.
A modern, user-centric approach to ITSM can help mid-market companies compete more effectively, get more from their IT budget, drive innovation, and bring the whole organization to new levels of efficiency and productivity. But first, you've got to make sure the platform you rely on checks all the right boxes. To help you make the best choice for your organization, here are a few things to look for in your next ITSM solution.
All the tools IT needs
Comprehensive cloud ITSM functionality is obviously the first thing to check for. That includes change management, incident management, knowledge management, release management, self-service, and asset discovery, complete with built-in best practices and templates. The solution should also provide easy visibility into key performance indicators and service levels, and be able to bring in data from other tools including those for IT operations, sales, and customer service.
Multi-cloud discovery, client and asset management becomes all the more important as small to medium companies embrace cloud technology and the volume and diversity of endpoints increases. Make sure that you'll be able to discover, configure, manage, and secure endpoints simply and effectively to optimize their value and mitigate risk.
Automation is absolutely critical to help your mid-market staff deliver enterprise-class IT service. This can extend to everything from software delivery and patch management to new employee onboarding and password resets.
All the experiences users expect
Today's users want to do things their way—not IT's way. They have a point. Make sure they'll be able to submit service requests using mobile and social interfaces—and use collaboration and crowdsourcing to find their own solutions if they prefer. Self-service should be simple and intuitive, including a searchable knowledge base, an intuitive portal, and a way to check on the status of their own incidents without having to go through an IT staffer. Capabilities like these can speed resolution while improving user satisfaction, helping you keep the company's workforce happy and productive.
All the ROI your business demands
For companies with limited budget resources, it's especially important to deliver a quick return on investment. The solution should be fast and easy to implement to drive value right away, with flexible pricing to make sure you never pay for more than you're actually using. A SaaS or cloud-based solution will let you start small and scale easily while minimizing costs for on-premises resources. You'll also avoid the kind of routine software and update management that can divert staff from higher-value work. And as we discussed in the previous blogs in this series, the ability to extend the platform to serve as a digital services hub for additional service departments will multiply its value for your business.
Leverage AI technology in ITSM for your mid-market business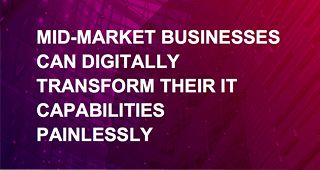 Take the pain out of DX transformation with cognitive technologies
Get the Report ›
These postings are my own and do not necessarily represent BMC's position, strategies, or opinion.
See an error or have a suggestion? Please let us know by emailing blogs@bmc.com.