Today's digital revolution spans more tiers, more locations, more data sources, more services, and more users—from more platforms than ever. With a click, a tap, or a swipe, performance expectations are just as critical for a user in a remote location as for someone accessing applications and resources straight from the corporate office. In competitive digital enterprises, IT staff have broken through the borders of the back office and need to be able to manage their infrastructure and applications from anywhere.
Only ITOM (IT Operations Management) software vendors with flexible deployment models and technology that scales quickly to keep up with the speed of digital businesses will succeed. But it's a tall order. Achieving the visibility necessary to maintain optimal services for all end users requires end-to-end operational analytics. Historically, gaining this insight has been very complex, chaotic, and in some cases, simply impossible. Today's IT requires a modern approach to enterprise management that is intuitive, simple, easy to deploy, and scalable.
We've heard this message from our customers loud and clear. We've spent the last two years redefining our infrastructure and application management portfolio in TrueSight Operations Management to deliver this promise to new and existing customers alike.
Today marks an important milestone in this continued commitment. I could not be more excited and proud to announce the general availability of TrueSight Operations Management 10.5. This release brings together important new features and enhancements and lays the groundwork for more frequent, easier-to-upgrade workflows that empower IT to identify, analyze, and resolve service problems faster.
As technologies evolve and enterprises respond to the market at scale, TrueSight helps IT achieve real efficiencies that reduce downtime and pinpoint slow performing applications and infrastructure for many critical digital tasks throughout the entire service delivery chain.
Mobile is at the heart of how digital enterprises are responding to the fast-paced changes in the market. Since the first release of TrueSight Operations Management, we've had a vision for mobile IT Ops. We introduced a totally responsive, HTML5 user interface that allows customers to easily manage their infrastructure and applications from a mobile device; however in this release we've taken a mobile-first approach. We are excited to introduce the BMC TrueOps native mobile app for iOS. The app makes it easy to get notifications, view application status, drill down into and assign associated events to specific users.
When we introduced TrueSight Operations Management two years ago, we provided a much greater focus on application awareness and workflows. In this release, we continue that focus by making it possible to tie service impact models to application models in order to visualize both the upstream and downstream impact in the context of business-critical applications. This is a huge gain for many enterprises who have capitalized on configuration management database (CMDB) workflows across our solution portfolios, especially customers currently using Remedy to manage their service desk. This also strengthens our market-leading event management capabilities to help reduce the number of duplicate events and unnecessary incident alerts and tickets. We've continued to enhance the application perspective in this release through new integrations with TrueSight App Visibility Manager including fresh dashlets, enhanced synthetic transaction management capabilities and full\support for passive end user experience (EUE) monitoring for applications running in any cloud-hosted platform such as AWS (Amazon Web Services) and Azure.
This release continues to make all of our features and capabilities more scalable than ever by using up-to-date processing such as ElasticSearch and instance filtering improvements. We've also realized efficiencies across our entire BMC portfolio with native integrations with TrueSight Capacity Optimization, Remedy, and MyIT.
To find out more about what's being delivered in this release check out the TrueSight Operations Management community.
TrueSight Operations Management Free Trial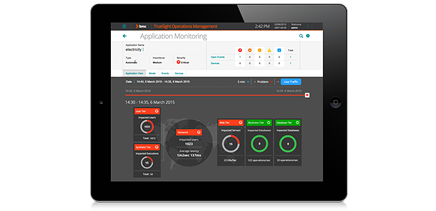 BMC TrueSight Operations Management monitors complex IT environments and analyzes diverse data to deliver actionable IT insight that helps you solve business problems. Start your free trial today!
Start your free trial ›
These postings are my own and do not necessarily represent BMC's position, strategies, or opinion.
See an error or have a suggestion? Please let us know by emailing blogs@bmc.com.