Today, at our New York BMC Exchange event, we announced the release of TrueSight 11.0.
I could not be more excited about what this delivers to our customers and the market. I'd like to thank the dozens of customers and partners that participated in our beta program and the entire global community that continues to help shape the future of IT Operations. Thank you! Thank you!
It's not news to any of you that the digital era creates tremendous opportunity for organizations regardless of size and industry. Multi-cloud strategies, big data techniques, micro-service architectures and containerization, as well as methodologies like DevOps are accelerating business innovation. However, these innovations challenge the role of IT Operations. Traditional models and the tools used to support them are being outpaced by the LOB/Application teams demanding more agility from IT Ops. In the interest of speed, the playbook with standards and processes is being bypassed and often ignored. The cost of using public cloud can easily skyrocket and crush the initial promise of lowering costs. MTTR continues to increase with infrastructure and services complexities. And, the ability to identify patterns in data across the distributed multi-cloud infrastructure is well beyond human scale.
At BMC, we believe the time has come for I&O leaders to rethink the approach to IT Operations. If I&O leadership does not shift to a model that enables efficiency and agility for IT Ops, they will be increasingly left out of critical digital transformation efforts. If this happens, we believe new digital services and innovations will ultimately fail. I&O has been, and continues to be, the core of a scalable technology strategy. Because technology and business are increasingly interdependent, when the core is unstable the business is at risk.
In fact, our recent research involving 1000+ senior IT leaders confirms this – 80% of research participants agree a new approach to IT Ops is needed. Culture and skills of the organization – your teams – play a huge part. But, it also requires your teams to have help from 'the machine'. I know some may think artificial intelligence is just marketing buzz and the new hype around the industry. Based on our experience, we know it offers much more. And, many of you agree – 78% of research respondents are looking to AI as a key element in their new approach. Fundamentally, we believe the future of managing I&O is in Artificial Intelligence for IT Operations (AIOps).
For the past three years, we've focused on: advanced analytics using machine learning (ML), support for the multi-cloud world, and the experience our customers have with TrueSight. The result: a comprehensive AIOps platform to elevate IT Operations beyond a slow and often rigid model, to one that enables efficiency and agility.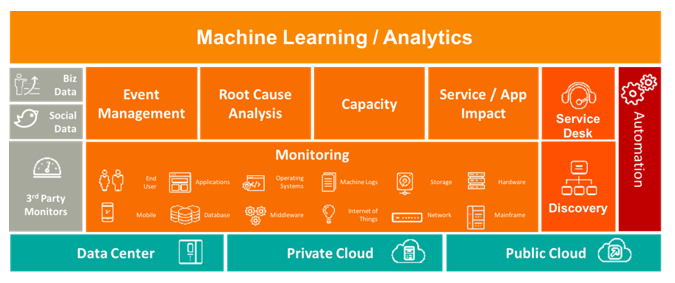 TrueSight applies machine learning in context of IT Operations to enable continuous improvement to the services that depend on multi-cloud infrastructure. With it, you can address use cases to improve performance and capacity management, the service desk, and your application development disciplines. Here is a simple picture that will help you think about how we apply ML in multiple ways across the key functional elements for IT Operations.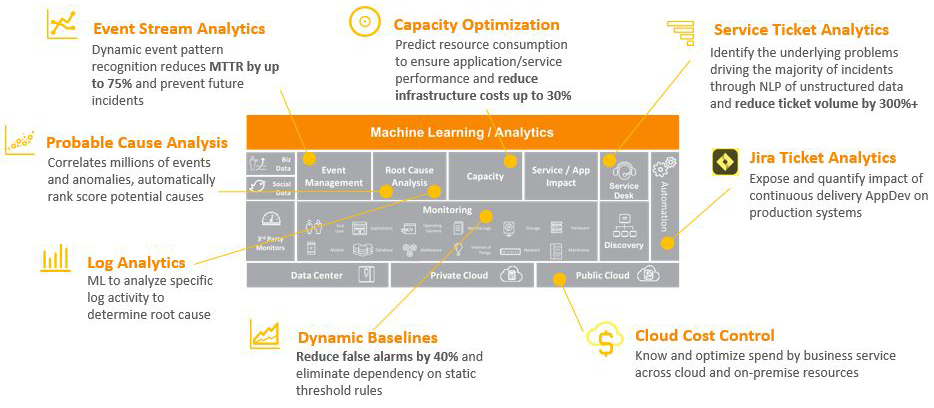 In the face of your ongoing digital transformation and your evolving multi-cloud strategy, I encourage you to ask yourself a few questions in the context of your business goals. If the answers to these questions are not what you want them to be, maybe it's time to rethink your approach to IT Operations.
Is IT Ops helping drive the success of critical digital transformation projects?
Does your current approach provide visibility into the services that depend on the mix of on-premises, private cloud, and public cloud environments?
Are you managing by infrastructure CIs and the layers of the tech stack, or do you successfully manage in the context of your business/app services and the user experience?
Do you have full visibility to cloud costs before you get your monthly bill? Do you know the business services that are using cloud resources most efficiently and those that are wasting money?
How connected is your event management and service desk and is this combined team managing the same events and incidents over and over?
How much time is spent in the war room (still, after all these years) trying to locate and solve for the root cause of incidents?
BMC has helped thousands of customers create highly efficient IT Operations groups. But, you need more than just efficiency to meet the demands of your business and your customers. If you are interested in learning more about AIOps, TrueSight 11 and how we can help, let's get together. I can be reached at Shayne_Higdon@bmc.com or on LinkedIn.