This past year in technology was full of new. New technologies that are becoming mainstream, and will be the norm in the future. It was also full of "what's hot" such as virtual reality, plans for drone home delivery and autonomous cars – concepts that may have been around for the last few years, but are coming to life now.
What is going to be the next big thing? A question I'm sure all of us have thought about at some point this year. It seems to me that technology just keeps getting better and better, it's hard for me to even fathom how we can continue to advance – but we always do. I remember back at the turn of the century, many speculated that we would have flying cars by now- and while we don't, Tesla is probably getting close. Back in 1921, it was predicted that we would have mail delivery by parachutes in the future – 2017 will likely bring us… drone delivery.
While there is no looming Y2K threat with the coming new year, cyber-security is being taken to new levels.  Thumb print approval and retinal scan recognition is standard for even the everyday consumer. Businesses are tackling digital transformation in ways not even imagined 15 years ago – companies such as Uber (who needs to own a car when you can get one on demand?) and Airbnb (the biggest hotel chain that doesn't own a single property) come to mind. It is the technology we now depend on that makes it all possible. Digital transformation acceleration will be a top trend in 2017 no doubt.
When our team started planning for 2017 I decided to poll some of my co-workers at BMC to find out what they thought the hot topics will be for the next 12 months. As you can imagine, I received all kinds of answers, ranging from Taylor Swift venturing into politics to Virtual Reality (VR) becoming standard in the workplace and yes, of course, predictions for Workload Automation and what will have the biggest impacts on this market segment in 2017.
Those that were mentioned most in this group included:
DevOps
DevOps initiatives will continue to grow across the Fortune 1000 companies, primarily focusing on culture and organizational change. DevOps will further cast a spotlight on more traditional Ops focused solutions and how they are innovating to solve issues with an integrated approach to application delivery – most notable for next year seem to be security and job flow scheduling. According to RightScale's State of the Cloud Survey, DevOps adoption increased 7% from 2015, and is now up to 74%. Of the companies making the leap, DevOps is strongest in the enterprise when compared to SMBs. Those enterprises are also adopting DevOps from the bottom up; they are introducing DevOps by projects and specific teams rather than taking a company-wide approach. This follows the footsteps we have seen in recent years around technology adoption (you may have long heard it referred to as "shadow IT"). But it's more than downloading a new application or spinning up machines in the public cloud for a one off project or more recently taking on big data analytics initiatives. More and more, now we see the business units leading IT change, independently doing what needs to be done to compete and succeed. DevOps is the cultural and process change born from the business that will drive IT to change their way of thinking.
Docker
While Docker isn't new, there is a shift to be able to do things at lightning speed. Also per RightScale, Docker is the fastest growing DevOps tool with a 27% adoption rate that has more than doubled from 13% last year. Like DevOps, Docker adoption is also strongest among enterprises, with 29% of enterprises having workloads running in containers versus 24% in the SMB space. The fastest adoption rate for Docker actually occurs in Europe, and the heaviest usage for Docker containers is among tech companies.
Cloud
The widespread adoption of cloud services and companies departing from their physical datacenters was another prediction that scored high on my informal survey. It seems there is no need to physically store large amounts of data anymore, when you can send it to the cloud. According to IDC's CloudView multiclient study, 58% of the organizations surveyed are using public cloud for more than one or two applications or workloads. IDC also predicts that in the next 24 months, 43% of an organization's annual IT budget will be allocated to external cloud, both private and public.
Big Data/Internet of Things
With enough data, I feel like anything is possible.  Data science and artificial intelligence will change how we live, and how we work. Consider that problems will be identified before they become problems, so they can be addressed before anyone faces the challenges – and all perhaps without any human interactions – a world where problems we never knew we were going to have never occurred – interesting paradox if you think about it.
Back to predictions from the turn of the century- the belief was we would have flying cars by the year 2020, and we're getting close.  If you think about it, autonomous driving is already here; this could be the first step. All of this is possible now that we can deliver a VW Bug sized, self-contained datacenter that is constantly processing huge amounts of information in real time.  Recently, the state of Michigan  legalized the use of self-driving cars on public roadways. These new laws allow for the testing of these vehicles without steering wheels, pedals, or human control- scary to those of us who drive around Texas – land of the large SUV! I found the fact that it was "legalized" interesting – will this start a new trend?  Will more states follow suit?  As of now, California rules prohibit fully autonomous driverless cars that don't have a steering wheel or brake pedal. How long do you think they will hold out? 2017 will be telling on the success and consumer acceptance (trust, really) of self-driving cars. Looking beyond 2017 – do you think it's possible that a mom could program her kids carpool club from her kitchen wearing her bathrobe and bear slippers?
What are your predictions for the hottest tech trends in 2017?  Share your thoughts here – anything but Taylor Swift running for office in 2020, please.  And most of all I wish you all a wonderful New Year – here's to tech in 2017!
2019 EMA Radar for Workload Automation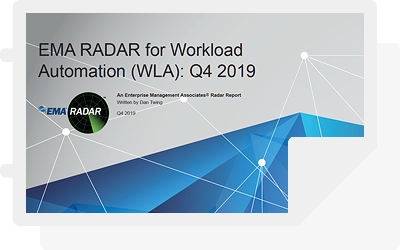 In the Radar Report for WLA, EMA determines which vendors have kept pace with fast-changing IT and business requirements. Read the report to learn why Control-M has earned the top spot for the 5th year in a row.
Download the report ›
These postings are my own and do not necessarily represent BMC's position, strategies, or opinion.
See an error or have a suggestion? Please let us know by emailing blogs@bmc.com.