When software companies merge, it can create uncertainties for customers. With any merger, there can be concerns about how this might impact commitments to existing products, the combined company's focus on new product innovation, and the ability to provide consistent quality in customer support.
Many organizations that are impacted by a merger choose to re-evaluate their service desk solution to define the best path forward and ensure maximum value to meet their business demands. If you are using a solution that's been recently acquired or merged with another company, you should consider BMC's Remedyforce solution. There are many ITSM vendors who promise a great service desk experience, but not all vendors can live up to this claim.
Here are some important questions to consider:
Is your IT department struggling to deliver more with limited resources and budget?

It's hard to move the business forward with cumbersome, legacy technology and even harder when budget and resources are stretched thin. Remedyforce is built on Salesforce App Cloud, making it easy to leverage the same tools and services to build, run and deliver digital services and apps that increase employee productivity and customer satisfaction. Remedyforce frees IT to provide faster service at a much lower cost than other solutions.
Does your service desk empower IT and enable an agile business?

Is your business moving faster than ever before?  If you need to run a high speed IT organization, in alignment with your business, and this is inhibited by your current IT service management technology and processes, Remedyforce may be a good fit for you.  We invite you to explore a modern approach to IT service management with our 30-day Remedyforce trial.
Can your current solution provide a service hub that automates, simplifies and scales to fit your business?

In the modern enterprise, business agility depends on IT agility. To adapt to shifting requirements in real time, it's necessary for IT to spend less time on routine infrastructure management tasks and more time on delivering critical business services. By moving to the cloud and creating a service management hub for digital service innovation, you can get out of the infrastructure business, break down silos, streamline workflow, and create a centralized environment where your business can leverage IT's service delivery knowledge for maximum value.
Are you concerned about potential risks in migrating to a new service desk solution?
There's no need to be stuck with a legacy IT service desk that isn't enabling your organization. Remedyforce uses a collaborative engagement model that will help you maximize the success of your investment. You'll be matched with a Business Relationship Manager who is an ITIL-certified professional with deep technical and field experience. Together, they will help you achieve a successful deployment and adoption in 45 days or less – with out-of-the-box industry best practices, pre-built templates, along with free education and training.
Why wait to upgrade your service desk? Experience the modern service desk today. Try Remedyforce to learn about all of the exciting capabilities available, and deliver exceptional service to your end users.
Gartner Magic Quadrant for ITSM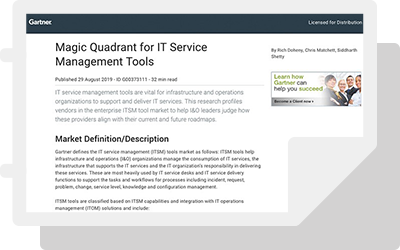 For the sixth year in a row, BMC is a recognized leader in IT Service Management Tools. Download the free report to see why!
Download Now ›
See an error or have a suggestion? Please let us know by emailing blogs@bmc.com.