Consumer technology has spoiled business users. People now expect IT to deliver the same kind of experiences at work that they enjoy at home. That might not come as good news to some staffers—but it should. The reality is, a consumer-like approach can be just as good for IT as it is for users.
Consider the way IT support usually works (or doesn't work, as the case may be.) Need a keyboard fixed or a new device enrolled? Pick up the phone and hope for the best—if not a live answer, at least a returned call at some point over the next few hours. Open a ticket. Fill out all the same user profile information you entered last time. Wonder when your issue will be resolved. Feel like a helpless—and frustrated—child. Resent IT and all it stands for.
Meanwhile, you're not getting as much work done as you should be able to. That's not just a problem for the user—it's bad for the entire organization.
Now let's take a look at the consumer-style expectations that business users are showing up with these days and what they can mean for IT.
Users demand self-service to deal with their own issues. That sounds good to IT operations, doesn't it? The more people do themselves, the more IT can focus on more valuable tasks. It also helps IT manage costs and improve response times by directing valuable IT expertise where it's most needed, not tying it up with low-level issues that any user is perfectly capable of handling.
The elements of self-service include easy-to-find content and resources, as well as context-aware services that guide people to the best options for meeting their own needs.
Users demand social collaboration to put the knowledge and experience of their networks to work for productivity and problem-solving. Again—this is a clear win for IT. Instead of having to solve the same problem over and over again for each user, why not socialize that expertise so people can crowdsource their own answers?
This isn't just a matter of making existing information available in new ways. Sometimes the "wisdom of the crowd" will deliver a better answer, or a wider variety of options, than an individual staffer. Helping the best knowledge flow more easily throughout your organization can make everything you do smarter and better.
Users demand mobility—not just in the sense of mobile devices, but more broadly. People value being able to get things done wherever it's most convenient and productive, whether on a laptop at home or the office, on a mobile device in a carpool or a café, or anywhere else.
For IT, mobility means providing a corporate app store people can access on any device to get the tools they need, when they need them. It also means location-based services and persona-based access that put the right resources for any scenario at each user's fingertips. In this era of the widely dispersed enterprise workforce, mobility is key to meet peoples' needs wherever they may be—especially when your IT service support team isn't in as many places as your users.
When you break it down this way, it's clear that users have the right idea about what IT service support should look like. Now it's on IT to deliver on that vision.
Related posts:
Gartner Magic Quadrant for ITSM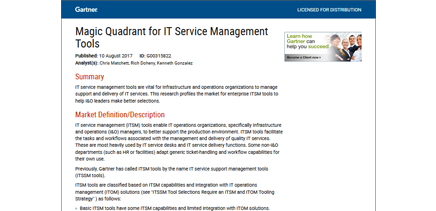 Get the detailed analysis and insight you need to make the best ITSM choice for your organization and deliver the digital services your business needs, more quickly and efficiently than ever.