The mainframe is as critical today as ever to the global economy. Digital business is exploding and driving more applications with more transactions and data, causing IT shops to expend more effort to ensure critical business workloads are running at peak levels while delivering full availability (99.999%).
BMC is highly focused on making sure the mainframe is blazing the digital trail through strong innovation via new products, updated technologies, and key strategic partnerships that enable seamless integration. Some important proof points include:
8 new products delivered in the last 3 years
More than 30 product releases and updates in the past 12 months
More than 30 patents awarded to BMC's mainframe products and inventors
That last one is critically important when you're a leader in the IT industry. BMC is the thought leader in making the mainframe a high-value asset to IT and lines of business. We're doing this with innovation that helps to maximize availability, better manage the exploding levels of structured and unstructured data, and optimize costs in an environment where costs are rising and IT budgets are flat to declining.
We also look to the next generation of mainframe experts to help lead the way. We have several terrific examples of new, dedicated mainframe professionals who are creating new ways of leveraging the mainframe like never before. One great example is Hemanth Rama, a Senior Product Developer, who now has been granted two U.S. patents. His most recent patent helps to differentiate BMC's Intelligent Capping® solution for pinpoint cost awareness.
When asked why he prefers to work on the mainframe, Mr. Rama replied, "The mainframe is not only the foundation of the past, but is now forging the path to the future for companies undergoing digital transformation."
Another great example is Jeremy Hamilton, one of our top software consultants, who recently authored a new model for optimizing subsystem environments to help companies streamline their high-volume transactional systems while saving loads of money in the process. Be sure to read his new white paper on the Subsystem Service Model.
As the vice president responsible for ZSolutions' innovation, I make sure that BMC is maniacally focused on the customer. We always have been, and today it's even more important that we understand customer requirements and offer solutions that help them lead their industries. Innovation is the path to success for most companies across most verticals today. Adopting the right technology from the right partners is absolutely critical. BMC intends to be that partner.
Read more about BMC ZSolutions.
Forrester study reveals strategies for controlling mainframe costs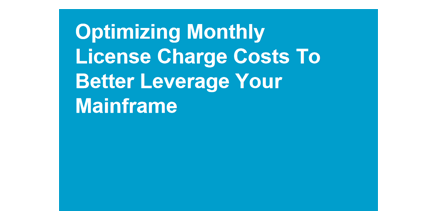 Read this Forrester paper to learn more about the key findings of this study and how to reduce MLC costs.
Download the Study ›
These postings are my own and do not necessarily represent BMC's position, strategies, or opinion.
See an error or have a suggestion? Please let us know by emailing blogs@bmc.com.