2017 was a banner year when it came to security breaches, but not in a good way. It has been reputed that ransomware netted $2 billion, which is 50% higher than in 2016. Thus, security is top of mind for both businesses as well as consumers – and it applies to mainframes as well as to mobile computing. But this is not the only thing that keeps IT up at night. Being able to provide a network that is available 24 x 7 and that delivers lightning fast performance are two other critical components. In fact, digital business which depends on the availability and performance of the network is so crucial there are sites devoted to making you aware of which websites are up and running and which are not. Currentlydown.com and downdetector.com are two that come to mind. Today's consumer expects to hit 'enter' on a website, smart phone, tablet or even their laptop and receive an immediate response. There is no tolerance for anything else – be it a momentary slow down or a serious melt-down of your network's ability to deliver a secure, speed of light connection, every day, all day. If this happens, you risk both business and reputational damage.
That is true for the mainframe networks (TCP/IP and VTAM®) that support the flow of data and transactions that are crucial to your business. These networks are difficult to manage across disparate systems and code bases. Your clients expect an instant response when they interact with your services. IT may not even be aware of network issues that impact end users if your network monitoring and management solution isn't working as effectively as possible. Plus, finding, identifying, and fixing networking problems in a complex mainframe environment is challenging. Delays in problem resolution cause business to suffer. That's why a mainframe network management solution must automatically resolve network issues before they negatively impact staff productivity and business service levels.
What if you could meet the high availability and performance demands for your mainframe networks while ensuring their security and reducing the overall cost of running your system at the same time? What if you could meet the ever-growing needs of the business while empowering new workers with easy-to-use, efficient solutions to manage and automate those networks? Look no further than MainView for Networks. MainView for Networks delivers the visibility and transparency that you need into your networks. With MainView for Networks, you can find, detect, diagnose, and resolve mainframe network issues for IP, SNA, and VTAM automatically—before end users detect a problem. You'll also gain availability, performance, security, and productivity benefits that your business needs while reducing your mainframe costs. Don't let your current solution put you in a vulnerable position. Get the facts.
Forrester study reveals strategies for controlling mainframe costs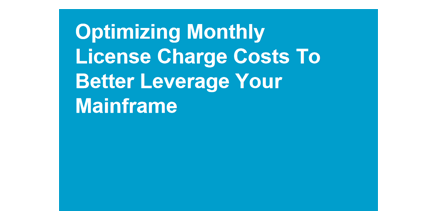 Read this Forrester paper to learn more about the key findings of this study and how to reduce MLC costs.
Download the Study ›
These postings are my own and do not necessarily represent BMC's position, strategies, or opinion.
See an error or have a suggestion? Please let us know by emailing blogs@bmc.com.