Issue 3 of the "Digital Transformation that Endures" blog series by Mark Gradwell
So far, I've shared how to start digital transformation with a vision and then turn that vision into a strategy. Many organizations believe that's enough, but for digital transformation to endure, you need the third leg of the stool – a means to sustain it. That happens by creating a community of change champions charged with building change momentum, driving continuous improvement, and measuring outcomes. This third blog will cover what it takes for the change champions to achieve these critical functions.
Not only is it important to have the "right people on the bus1" in terms of carefully identifying and appointing the right combination of people to lead and participate in the community, it's equally important to put the right framework in place with a charter, roadmap, executive sponsorship, escalation paths and key performance indicators (KPI's). The driving force of the community of practice is to instill a culture of continuous improvement and intentional learning that allows the team to celebrate success as key milestones are accomplished and progress is made toward realization of the change vision. Whilst the age old adage "to manage an outcome it needs to be measured" remains relevant in today's world, how we accomplish the measurement and outcome is less about rigorous top-down governance and more about empowerment, collaboration, and team work.
Going back to my golf analogy, pro golfers continuously improve their game through a process of data analytics, swing change, fitness regimes, and sports psychology as they look to build a swing and mindset that will withstand the intense pressure of competitive professional golf. They look to build a mental toughness and confidence by adopting a repetitive course management approach and practice routine until it becomes muscle memory. That approach allows them to perform at world-class levels over sustained periods of time. Gary Player, the South African golfer once remarked "the more I practice, the luckier I get.2" So too, improvement by the smallest margins has proven to be the difference between success and failure – which certainly applies within both the realms of sport and business.
Selecting the change champions
There is no single personality type that best suits a change champion. The right type of change champion profile is determined by the organization's culture. There are however a few criteria and characteristics that should be considered:
Has the ability to see the big picture and translate the change for their team/department
Is respected and seen as a go-to-person, especially across functions or departments
Is highly engaged in the workplace and able to influence positively
Has availability to attend meetings and training as required
Is able to identify resistance to change and support colleagues in a positive manner
Is able to provide a balanced perspective and communicate feedback effectively
Demonstrates determination and ability to deliver.
Activating the community of change champions
As an example, at BMC we work with our clients to establish and run a community of practice in the form of a Service Management Office (SMO), focused on measuring the value IT delivers to lines of business and improving the quality of service delivered to the IT organization's internal and external customers. In the context of Service Management, the SMO outlines the essential components needed to direct, monitor, and evaluate the strategy and roadmap, processes, services, and tools as well as drives the execution of the program and change vision.
The objective of the SMO is to:
Guide and align business strategies and initiatives with IT operational strategies
Promote best practices in Service Management: people, process technology & data improvements
Own and drive continual service improvements
Promote transformational change awareness, measure and ensure adoption
Oversee operations to minimize risk, maximize return and value
Provide centralized and effective support for the integration, promotion and delivery of ITSM best practices
Improve quality, value, operational efficiency and alignment to customer business models
To establish an effective SMO there are a number of key activities that we encourage our clients to undertake:
Establish a mission for the team that creates an identity and sense of purpose, making it easy for team members to rally around and explain their purpose. An example mission statement would be: "To create a cross organization collaborative team with change agents to drive innovation and foster change, with clear metrics for success, guided by a roadmap that delivers operational maturity and embraces Digital Transformation."
Create a charter document that sets out the purpose, goals, scope and authority. It should also provide the list of responsibilities and operating structure of the SMO. The document acts as the authorization for the Service Management Office to carry out its duties and for those duties and authorities to be understood and respected across the IT organization. The key governing roles are also defined within the charter. Certain aspects of the operating rhythm, such as cadence of meetings is also provided by this document as is the decision-making matrix.
Establish and document roles and responsibilities, and appoint people into these roles. This document acts as an appendix to the charter and will detail each of the specific responsibilities for each of the roles defined in the charter.
Define controls, metrics, measures and KPIs which describe how the objectives and targets set by the service management office will be measured. This covers all areas of the SMO's responsibilities from process improvements to adoption of new practices with a view to improve quality, value, operational efficiency and alignment to customer business models.
Create a roadmap to help define the activities required to operationalize the SMO, and provide a timeline for achieving quick wins and longer term objectives. This activity helps to get the team up and running as quickly as possible and provides an immediate focus on achieving outcomes and demonstrating success.
Establish a change strategy that includes a communication plan to drive innovation and foster change. The communications should be distributed via multiple channels to promote awareness which ensures acceptance and lasting adoption of the change strategy.
Celebrate your accomplishments along the way. This can be as simple as having coffee and bagels together.
Bringing it all together
I hope you have enjoyed this blog series in which I have explored a number of key components to delivering a successful change program within your IT organization. Central to the blog series are a number of key questions that all IT leaders should ask themselves before embarking on a journey of change:
Why do anything and why now?
What do we want to become when we grow up?
What will your organization need to do and change to reach the desired future state?
What will your organization need to be successful?
How will you sustain, measure and support people through change?
Dr. Bob Rotella wrote, "golf is about how well you accept, respond to, and score with your misses much more so than it is a game of your perfect shots3. " Likewise, any journey to reach a change vision will encounter challenges and unexpected surprises. But, having a well thought out plan helps respond to those misses and take full advantage of the "perfect shots" along the way to transformation.
1 Collins, Jim. Good to Great: Why Some Companies Make the Leap… and Others Don't. Random House, 2001.↩
2 www.brainyquote.com/authors/gary_player.↩
3 Rotella, Robert J., and Robert Cullen. Golf Is Not a Game of Perfect. Simon & Schuster, 1995.↩

Talk to a BMC Expert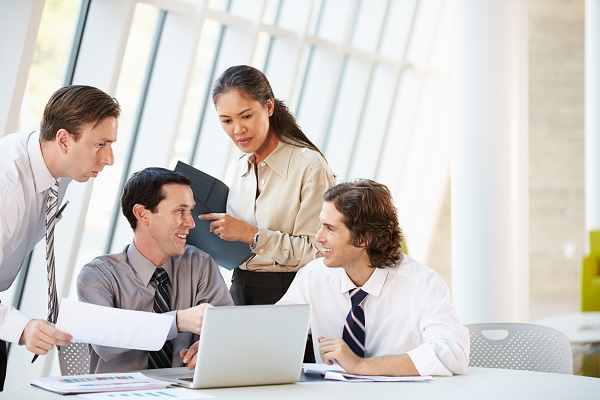 Our expert IT consultants use proven methodologies to help you optimize costs, reduce risk and see a faster return on your IT investments.
Contact BMC Consulting ›
These postings are my own and do not necessarily represent BMC's position, strategies, or opinion.
See an error or have a suggestion? Please let us know by emailing blogs@bmc.com.