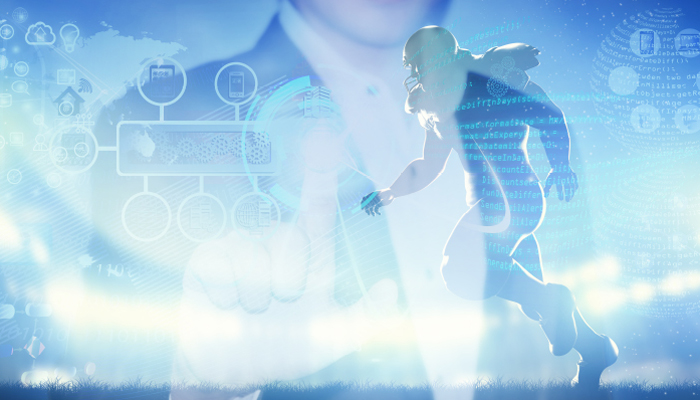 I like sports of all types…baseball, basketball, ice hockey—and American football. I was thinking about the evolution of football strategies and realized there are a lot of parallels between the way football teams have had to change and adapt, and the impact of digital engagement on mainframe IT management. You might think about football's offense as the digital engagement in business today, and its defense as the Information Technology (IT) group which supports the enterprise's IBM® mainframes.
Offensive-minded coaches have taken football in new directions with the spread offense. They've introduced new kinds of plays, a greater variety of plays that can be run, and a much faster pace of play. They are more unpredictable. The end objective of this strategy is to win games and deliver a more interesting, more engaging game for the fans—football's customer—to watch and participate in.
Defensive teams have had to react to these new offensive strategies. They've needed to study and be ready for a wider range of plays. They now recruit a different type of athlete, one who can instantly read the developing play and then react to handle it. Players and coaching staff have to execute at a faster pace than ever before. Teams who fail to adapt to the changes in offense do not succeed.
Just to make the effort more complex, professional football leagues impose salary caps, which are effectively budget limits on how much a team can spend on players. Football teams have to manage down the cost of some positions to free up salary space to pay for the new-skills athletes they need in order to compete effectively in the new offense era.
The effects of football's evolving offensive strategies seem a lot like the significant disruption being driven by digital engagement with a business' customers. The wide variety of new types of unstructured data—such as videos, photos, emails, scanned documents—are becoming key business assets in mainframe-housed databases. The volume and velocity of data and customer interactions are exploding. Digital customers engage with businesses at all times, day and night, and from anywhere, removing predictability and injecting volatility into engagement patterns. And customer expectations are set for nearly instantaneous access.
Mainframe IT is in a similar position as football's defense. IT has to evolve their systems and database management efforts to support unstructured data, always-on availability, and widely varying activities of digital business, while meeting the customers' performance expectations. Infrastructure management efforts must adapt to the variety and volatility of activity hitting their mainframes. Those who cling to the old ways of systems and database management also run the risk of not being able to support the organization's digital business needs.
And, just as in football, mainframe IT faces stringent budget constraints. IT must innovate to deliver new digital engagement avenues for customers—and innovation requires budget. Finding the funds for this is daunting and the mainframe, as a large line item in the budget, is a prime target for cost reduction efforts. Of all the costs associated with mainframe, the single largest is for IBM Monthly License Charge (MLC) software which typically accounts for 30 percent or more of the total cost of the mainframe.
The path for mainframe IT to support digital engagement is available through Digital Enterprise Management, a set of IT solutions designed to make digital business fast, seamless, and optimized. Utilizing techniques in the key disciplines of data management, infrastructure management, and cost optimization, specific capabilities include:
Data management

Effectively manage unstructured data
Deliver "Zero Outage" maintenance
Optimize performance continually
Employ highly-efficient data management tools

Infrastructure management

Implement adaptive automation
Maximize cost/performance with dynamic capping
Choose self-learning systems management solutions
Minimize overhead for systems management solutions

Cost optimization

Optimize MLC subsystem licenses
Use capping for cost reduction
Track/manage MLC budget
Model MLC cost alternatives
Identify applications for cost-reducing tuning
BMC has released new solutions to help mainframe IT attack their mainframe cost challenges. BMC Mainframe MLC Cost Management Release 2.0 is a comprehensive mainframe cost reduction suite that can significantly lower mainframe monthly license charge (MLC) costs by as much as 20 percent or more.
These solutions provide insight, resource control, reporting, planning, and subsystem optimization to help IT staff take control of their monthly mainframe costs, enabling companies to redirect IT budget to new digital enterprise management initiatives while supporting growth in existing applications.
In football, both the offense and the defense have made evolutionary changes that altered the nature of the game, and delivered a higher-quality experience to the fans. Businesses that utilize mainframes can similarly evolve by employing new IT management practices, which will contribute to the success of their digital enterprise.
Annual BMC Mainframe Survey
The 14th Annual BMC Mainframe Survey 2019 reports optimistic trends about the mainframe's role in emerging and established businesses.
Download Now ›
These postings are my own and do not necessarily represent BMC's position, strategies, or opinion.
See an error or have a suggestion? Please let us know by emailing blogs@bmc.com.