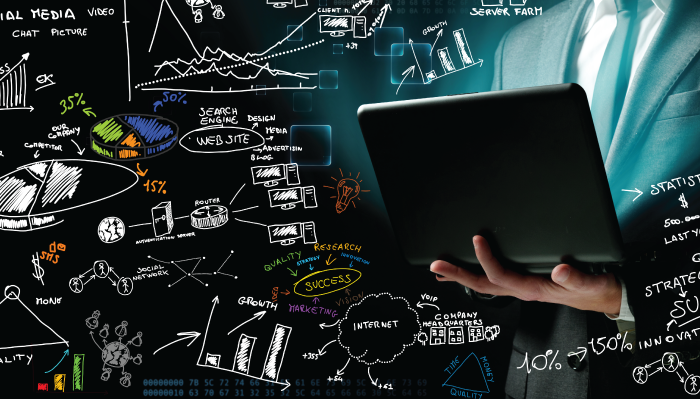 It seems like everyone is talking about the digital revolution and every company is looking to "go digital." According to Gartner, 50% of businesses intend to be a digital business in 24 months and 83% in three to five years. Getting the digital transformation right is critical to business, but one thing is certain, failure to move is guaranteed failure. The focus of the digital transformation always seems to be on applications and services, and rightly so. In a digital business, company objectives are no longer defined by the company, they are now defined by the consumer. Consumers are more educated than ever. They live in a tight network of their peers where your smallest misstep will be broadcast on social media. They are accessing their information from your business on a multitude of devices and they expect their experience to be tailored to them specifically. A better customer experience through digital applications creates a real competitive advantage.
What is often overlooked is your infrastructure and more importantly your data. To a digital business, your data is your most valuable asset. As proof, look at a successful social company which make no products, vacation rental companies which own no properties, or uber-successful cab companies with no cabs!  Often, this data sits on the mainframe and DB2. According to IBM, 91% of customer-facing applications access a mainframe.  To prepare yourself for a successful transformation and to be a successful digital enterprise, your data must be well managed. 21st Century Data Management means properly managing unstructured data, maintaining full availability, resiliency without exceptions, and automation.
Unstructured Data
According to IDC, unstructured data makes up 90% of digital data! In DB2, this means more XML and more LOBs. The modern "digital" DB2 subsystem manages incredible amounts of data, over 70TB in tens of thousands of table spaces. DB2 on z Systems® only vaguely resembles what it looked like in the early 1980s, though data management techniques and solutions have failed to keep up. This new DB2 reality demands new data management technology.  The old ways of data management are simply insufficient to manage a successful digital transformation.
Full Availability
Data is accessed from all around the globe. There is no such thing as a local business anymore. Your data must be online at all times—or you lose customers.  Customers now have a sense of entitlement to obtaining information instantaneously. If I can't access my account on my phone right now, I look for alternative providers. And, now it's just that easy for customers to choose a competitor. With a few swipes or clicks or, yes, even an old school phone call, we can switch phone providers, start up a new bank account, or save money on our insurance. If your data is down for a minute, or even a few seconds, how many customers will you lose?
Resiliency
In the 21st century, one small data management error can have a ripple effect on your business, your industry, and even the world. Everything is interconnected now. Your partners are accessing your data as often as your customers are. If something goes wrong, you impact them. Service Level Agreements are no longer just contractual demands, but business and industry imperatives. 21st Century Data Management must ensure that even in a failure, your data is accessible and there is no impact to your business.
Automation
Humans simply cannot scale to the demands of digital data management. At the same time, new young talent is not entering the mainframe space. The dwindling skillset in mainframe and DB2 skills is an underestimated risk to corporations. The complexity involved in managing today's digital database simply cannot be managed by the shrinking mainframe workforce using the tools of yesterday. True automation of data management to follow all your business rules is a must.
It has been said that digital transformation is both an opportunity and a threat. Those who meet the challenge and succeed will grow like never before. Those that stumble will be replaced with the swipe of a thumb across a screen. To succeed in the digital transformation, you must focus on your data and your data management processes. Being a 21st Century Enterprise means utilizing proper 21st century technology for data management.
Order Now! Get your free Db2 collateral from BMC!
Get your free Reference Guide and Catalog Tables Poster for z/OS from BMC.
Order Now ›
These postings are my own and do not necessarily represent BMC's position, strategies, or opinion.
See an error or have a suggestion? Please let us know by emailing blogs@bmc.com.