A lot has changed since the early 1990s when Anne Arundel County Public Schools (AACPS) first began integrating computers into its K-12 classrooms. Providing computers in instructional settings was a key element of our technology plan for helping our students acquire Maryland's Skills for Success.
As forward-looking as our technology plan was, we never imagined how dramatically our classrooms would change. Today, they are equipped with Chromebooks, cameras, interactive response systems, interactive white boards, TVs, video broadcast systems, and many other devices. These devices help our teachers engage, motivate, and inspire students to explore the world around them, learn and communicate more effectively, and acquire skills that are essential for success in today's digital world. And they empower students to study, do research, create presentations and reports, collaborate with other students, interact with teachers, and take tests that assess their skills and knowledge.
The AACPS technology division has been actively involved in transforming classrooms since the beginning of the digital learning revolution. We're constantly working with teachers and administrators to roll out new technologies and keep devices functioning properly to give our students the best possible educational experience.
For more than 15 years, Remedy ITSM has enabled help desk agents and technicians in the schools to track and manage incidents, inquiries, and requests; respond rapidly to the needs of the user community; and monitor service quality so we can identify and target areas for improvement. In addition, we have leveraged the underlying Remedy AR System to build custom applications that bring greater efficiency and productivity not only within the technology division but also to many critical functions across the school system.
Realizing Benefits Right from the Start
Within the first three years of implementing the AACPS technology plan, the help desk was supporting 8,000 PCs and the number was rising rapidly. At that point, we realized we needed a more sophisticated way of handling the deployment and support of classroom technologies. So we implemented Remedy ITSM to help us accommodate growth, ensure the delivery of high-quality support, and control costs.
Remedy immediately delivered measurable results by eliminating manual efforts related to tracking and managing incidents and making help desk agents and technical support people more productive. Within the first five years after implementation, the number of PCs rose to 12,000—a 50 percent increase. An independent analysis showed that despite the increase in devices, our help desk costs dropped by 24 percent. Other findings from this analysis included a payback period of five months and a five-year return on investment that exceeded 4,000 percent.
Creating Custom Applications
Soon after the initial implementation, we began developing custom applications using the underlying Remedy AR System. Those applications have improved productivity both inside and outside of the technology division. For example, the help desk supports 130 educational and administrative sites. On a regular basis, we need to generate the same ticket for every site. We automated the process with an application that allows us to create a single ticket that is then replicated for all sites.
Other applications have automated such tasks as scheduling people for technical training, tracking the results of application testing, and managing schedules for preventive maintenance on the many different devices in our classrooms. These applications enable us to get more done with fewer resources, so that we can constantly improve support quality without driving up costs.
We've also created applications that deliver the same kind of productivity gains outside of the technology area. In the past, many departments used spreadsheets to keep track of critical information. Keeping spreadsheets up to date and reporting on the data was a manual process. In some cases, no tracking was in place at all.
Today, departments use custom Remedy applications to manage employee records, maintain a record of incoming and outgoing correspondence in the Supervisor's office, handle the scheduling of preventive maintenance for food services equipment, and enable schools to quickly report emergencies and trigger automated notifications to the appropriate people, including police and fire departments. Each of these applications saves a few minutes of time for every ticket. Considering that thousands of tickets are created every year, it's easy to see that those minutes add up to many hours of time saved.
Where We Are Today
Our partnership with BMC Software continues to deliver value because the steady flow of Remedy enhancements constantly offers us new opportunities to increase efficiency and productivity. Ten years ago we had 115 people supporting 75,000 students, 5,000 teachers, and 20,000 PCs. Today we have 92 people supporting 80,000 students, 6,000 teachers, and 30,000 PCs plus approximately 49,000 other high-tech devices in our classrooms.
Ten years ago, the help desk handled approximately 30,000 tickets annually. Today that number is approaching 90,000. Fortunately, newer capabilities such as the ability to submit incidents by email and have tickets created automatically in Remedy continue to help us keep support costs in check. Self-submission of tickets is having a huge impact. Already, 18,000 tickets come into the help desk via the ITSM Requester Console and we expect the percentage of self-submits to grow. In addition, Remedy automatically generates about 8,000 tickets a year for recurring tasks—for example, activities that our technicians have to do at the beginning of each month or tickets alerting the staff that it's time for preventive maintenance on various devices.
A Look Ahead
We have just gone live with Remedy 9. It's too early to report on the results, but we are enthusiastic about the possibilities offered by this newest release from BMC. Our security people are excited about functionality aimed at strengthening security, all while providing the convenience of single sign-on for users. We're looking forward to exploring ways to use Smart IT to make our technical people even more productive and we expect MyIT to make it easier than ever for users to submit their own tickets, even from mobile devices.
We're confident that, as new digital learning technologies emerge, we're positioned to roll them out swiftly to our teachers and students and support them effectively to ensure a quality education in all of our classrooms.
Gartner Magic Quadrant for ITSM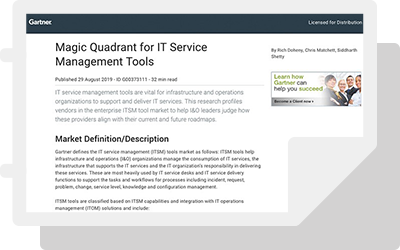 For the sixth year in a row, BMC is a recognized leader in IT Service Management Tools. Download the free report to see why!
Download Now ›
These postings are my own and do not necessarily represent BMC's position, strategies, or opinion.
See an error or have a suggestion? Please let us know by emailing blogs@bmc.com.