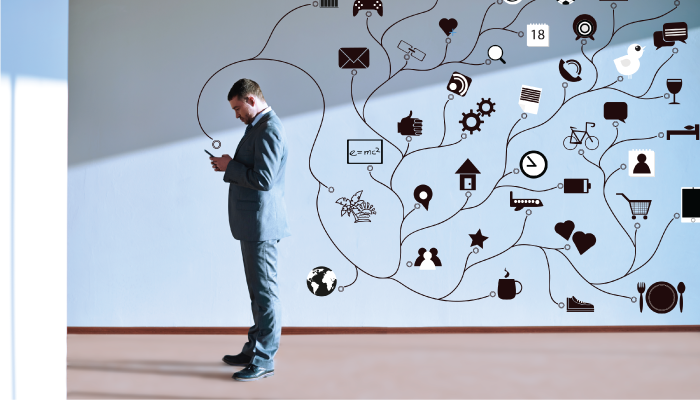 Customers demand real-time responsiveness and file transfers play a key role in meeting these business needs. To keep up with the pace of the digital economy, transfers must be done easily, quickly, securely, and be integrated into the business workflow. The challenge is that most organizations have multiple file transfer solutions. That's a problem because using multiple solutions requires more resources to manage them, slows down responses, and creates integration challenges.
The good news is that businesses can modernize file transfer operations to meet the demands of digital business and stay competitive. Modernization is particularly important because as enterprises produce more data, which they share among systems and partners and use in more ways, these types of actions can create greater risk unless the file transfers are consolidated and then automated.
What does modernization look like? It involves using a single system to build, schedule, and manage secure file transfers and then transfer files quickly and effectively. Data growth is exploding, which means that transfers are becoming larger, and they must execute faster and more often to keep pace with workloads that depend upon these files.
Consolidate, Automate, Innovate, and Save
BMC research indicates that file transfers represent about one in five jobs scheduled through workload automated solutions. So, with a workload automation solution that supports file transfer, the transfers are treated as just another job and don't require additional scripting or interface development. The controls are in one place to make sure critical jobs are executed without disruption.
Six Reasons to Modernize File Transfer Operations with Control-M Managed File Transfer
Provide a single point of control to build, schedule, track, and manage file transfers like any other batch job.
Eliminate the need to use different schedulers and file transfer systems for different file types while also enhancing security.
Centralize visibility with a dashboard that displays real-time status of all file transfer activity.
Achieve easy job building and scheduling with no scripting required.
Improve business continuity by minimizing delays, providing alerts and notification options, and automatically performing a variety of other activities without needing manual intervention.
Leverage self-service to enable users to easily manage their own file transfers.
It's time for file transfer operations to be brought into the digital age. Read the white paper, Improve Speed and Reliability with Streamlined File Transfer Operations, and learn more about how to consolidate, automate and modernize file transfer operations.
2019 EMA Radar for Workload Automation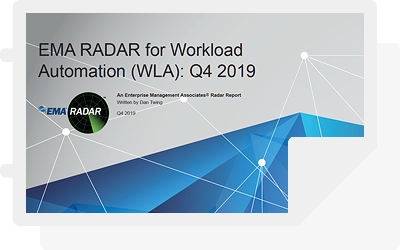 In the Radar Report for WLA, EMA determines which vendors have kept pace with fast-changing IT and business requirements. Read the report to learn why Control-M has earned the top spot for the 5th year in a row.
Download the report ›
These postings are my own and do not necessarily represent BMC's position, strategies, or opinion.
See an error or have a suggestion? Please let us know by emailing blogs@bmc.com.