The shift
People. Process. Technology. Those three words are the golden triangle for a successful transformation. The first and the last are undergoing drastic shifts as we speak.
Millenials are entering the workforce at a rapid pace. Over 50% of the workforce will be adults under 40 by 20201 and with 3 to 4 generations working together, the new way of working includes a shift in the diversity of expectations for how people get their work done. Forward-thinking orgs are constantly looking for tools and technology to meet these changing expectations.
Technology is evolving at an even faster pace. The Internet of Things (IoT) and proliferation of cloud environments are challenging orgnaizations. The moves to IoT and more multi-cloud computing environments are bringing tremendous opportunity, but also a great deal of complexity. Artificial Intelligence (AI) and Machine Learning (ML) are part of the new wave of solutions capturing the minds of enterprise leaders to respond to these new opportunities and complexities.
Digitally literate leaders, highly cognizant of this wave, are jumping in headfirst and applying AI and ML to solve real business situations – making enterprise dreams of enabling cost savings via smarter operations and decision-making come true.
New challenges for digital leaders
Against this backdrop, digital transformation efforts take on increasing urgency. To truly achieve digital transformation, organizations must change the way services are delivered.
The promise of Cognitive Service Management
At BMC, we acknowledge traditional ITSM will not be sufficient to address today's challenges. Traditional ITSM must evolve and our answer is Cognitive Service Management. BMC Cognitive Service Management (CSM) addresses the complexities of multi-cloud computing by applying intelligence, automation and predictive capabilities.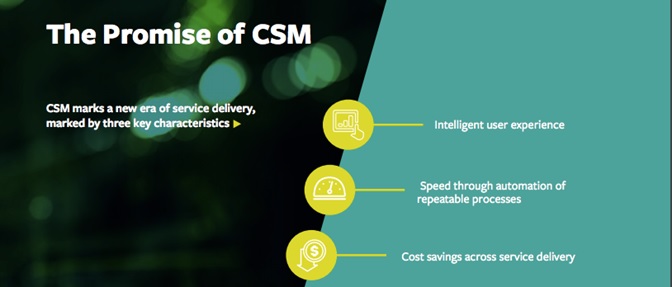 CSM employs a differentiated approach with a more holistic point of view for the enterprise. For example, businesses can leverage cognitive technologies to automate repetitive service desk processes – whether it's creating incidents, servicing employee information, or proactively addressing an issue before it occurs.
This approach infuses and embeds intelligence at every level of the service delivery process – from end-users, to agents, and applications – and is delivered by these leading solutions from BMC:
Digital Workplace: Delivering conversational omni-channel experiences.
Remedy Service Management: Transforming the agent experience through automation.
BMC Innovation Suite: Delivering intelligence through cognitive micro-services.
Stay tuned as we share more advancements and more details on our approach to meet the new service expectations and to help drive your business forward.
1 https://www.pwc.com/m1/en/services/consulting/documents/adults under 40-at-work.pdf