If your IT organization is like most enterprises, you've seen how the demands of digital business put greater pressure on the service desk to become more efficient and responsive, while continuing to drive down costs. Plus, you have to do all of this at a time when hacking is on the rise and threatens the business. While self-service and self-resolution can help to reduce the volume of contacts processed by the service desk and improve the user experience, there's more room for improvement. Your team can be responsive and improve security while reducing the burden of tedious, yet critical work for your staff.
Your organization may already be successfully using automation to accelerate the ability to respond to tickets. Yet wouldn't it be great if you could also close the loop and use automation to help deploy changes as well – particularly those that can remediate a vulnerability quickly? If not, you're putting your business at risk because vulnerabilities exist far too long – an average of 193 days – before they're patched. And when that delay happens, the company can be open to data breaches, which can be costly, time consuming and damage a company's brand.
The Service Desk and SecOps Solutions – Powerful Auditing and Tracking
Fortunately, there is a solution to this. That's because BMC SecOps solutions, which bridge the gap between security teams and operations teams, are now integrated with the Remedy Service Desk. BMC SecOps solutions enable you to prioritize tickets related to vulnerabilities, while following best practice change management processes and incorporating tracking and other key functions. This tight integration between BMC SecOps solutions and the BMC Remedy Service Desk provides consistent, automated security protection in a timely manner. Integration ensures closed-loop compliance with full automation of all change-related activities: remediation, verification, and documentation. That capability equates to greater security for your business and less stress for your busy staff.
Financial publishing firm Morningstar, for example, uses BMC BladeLogic Server Automation to make sure all configuration changes and deployments happen quickly and consistently, while BMC Remedy helps them prioritize and deliver services to the organization. Furthermore, new, automated security parameters and configurations improved long-term stability, reliability, and security for Morningstar.
Practice Safe SecOps – Streamline Remediation
To understand why the integration between security teams and operations teams as well as prioritization are so important, consider what happens after tickets get opened by a security organization. The tickets get handed over to the service desk to prioritize and remediate any vulnerabilities. IT Security runs scans for vulnerabilities while IT Operations have to fix them and ensure system stability and uptime. Because of different priorities and roles for both teams, delays can occur between the time when a vulnerability is identified until it's patched. This disconnect is known as the SecOps Gap.
BMC is closing that gap with SecOps solutions that automate processes between the two teams to mitigate risks. These solutions include BladeLogic Server Automation, BladeLogic Network Automation and BladeLogic Threat Director. These technologies deliver a proactive approach by avoiding, remediating, and identifying threats and vulnerabilities. It provides more control because you can automatically link vulnerabilities to identified patches and create an attack plan to deploy countermeasures on demand. Vulnerability scanning exposes the problem. Knowing what to do with this data via automation – and acting quickly – solves it.
Improve Your Security Posture
BMC SecOps solutions make systems and environments less inviting to hackers and deliver a variety of quantitative improvements, such as reducing the time to provision or patch servers. At the same time, the solutions make it easier to use scan data to automatically prioritize remediation. They also offer consistency in patching and updating security threats and vulnerabilities. These integrated solutions enable an "audit-ready state" at all times – protecting data security and reducing the time needed to create compliance reports.
For more information on how BMC SecOps solutions can keep out hackers with a proactive approach, read the Voke Research Report on BMC SecOps Solutions.
Gartner Magic Quadrant for ITSM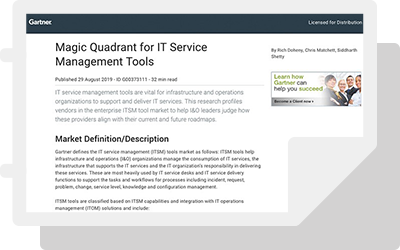 For the sixth year in a row, BMC is a recognized leader in IT Service Management Tools. Download the free report to see why!
Download Now ›
These postings are my own and do not necessarily represent BMC's position, strategies, or opinion.
See an error or have a suggestion? Please let us know by emailing blogs@bmc.com.