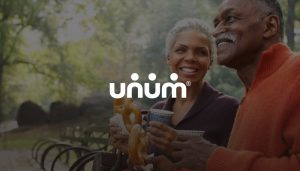 Unum, which encompasses Unum US, Colonial Life, Starmount, and Unum UK, is a leading provider of financial protection benefits in the workplace, including disability, life, accident, and critical illness coverage. The insurance industry has changed a lot since Unum was founded in 1848, and the increasingly digital nature of our lives is driving change at a faster and faster pace at companies like Unum. Whether our customer is an employer offering coverage to employees or an individual policyholder, today's customers expect flexibility, convenience, and speed when it comes to insurance-related transactions.
The IT organization at Unum is excited about the digital revolution and we're committed to putting the right technologies in place to support the company's growth. In the workload automation area, where I manage job scheduling for distributed systems, we're supporting the business by automating processes and empowering people to run and monitor their own jobs.
We're constantly seeking new ways to boost productivity for the scheduling staff as well as to ensure efficiency and convenience for business users. Control-M has been part of that effort for more than 20 years. Today, Control-M manages every aspect of our batch processing:
Supporting internal business operations
Enrolling policyholders
Transferring employee data reliably among employers, Unum, and payroll providers
Processing claims for individuals
Pretty much every piece of the business has some stake in Control-M. Early on, eight developers had access to Control-M. Today, that number exceeds 700.
Empowering Users with Self Service
In the past, business users submitted requests to the scheduling team when they needed to run batch jobs. Depending on our workload, we might be able to handle the request right away. During busy times, however, it might be half an hour or more before we could act on it. The process was introducing delays in getting important work done. Some requests came in outside the scheduling staff's normal working hours, in which case requesters had to wait until the next business day.
The problem was that the scheduling staff had to get involved with every request. But the business was growing and so was the number of requests. We needed to provide better response to our user community. However, adding scheduling staff to keep pace wasn't practical. We found a solution with Control-M Self Service, which we implemented four years ago.
Today, people submit and monitor their jobs on their own instead of having to funnel them into our very lean scheduling staff. The response has been truly gratifying. With Control-M Self Service, instead of spending time creating and submitting request tickets, people submit jobs by pointing and clicking in the service catalog. The result has been a 60 percent reduction in batch service requests coming into the scheduling team. We've also seen a 900 percent increase in jobs submitted via Self Service over the past 3½ years. When we first started handing over access, users were submitting 200 to 300 jobs a month. Today, 90 percent of our 800 users are submitting their own jobs, and the volume has reached 28,000 jobs a month.
Another major benefit of Self Service is that it gives users ownership of their workloads. If there's an issue, they can respond immediately instead of waiting for someone to notify them of a problem such as a job not running successfully to completion.
The Control-M "dynamic variables" feature is benefiting users and schedulers alike by reducing the number of jobs we have to create and maintain. Previously, some applications had a large number of jobs that had virtually identical attributes but the values of those attributes differed from one job to another. Building and maintaining a separate job for each combination of values consumed a lot of time and resulted in hundreds of entries in the self-service catalog for the application.
Today, we can build a single job for an application and incorporate the use of dynamic variables that the user can specify when requesting a job execution. The user simply displays the service catalog, clicks on the desired job, and enters the appropriate values for that run. The service catalog is much easier to navigate because it has fewer entries. Keeping jobs up to date is also faster because instead of propagating changes to hundreds of jobs, there are only a few jobs to deal with. This is especially attractive to developers.
Empowering the Scheduling Staff with Control-M Version 9
BMC Software continues to invest in Control-M, and we've regularly upgraded our implementation over the years. Most recently, we upgraded to version 9 to take advantage of productivity-enhancing administrative features. For example, version 9 has a built-in agent deployment capability that automatically upgrades agents through Control-M Configuration Manager. In the past it would take about 10 to 15 minutes to upgrade each server. We have about 250 servers connected to Control-M, so automatic upgrades saves hours of manual effort.
Version 9 also makes it easier to deliver Control-M clients to users who want to access the full Control-M feature set either instead of or in addition to using Self Service. With version 9, we simply provide these users with a URL that allows them to download the client with a single click. Simplified client distribution is speeding the rollout of the latest Control-M release.
Because my responsibility is distributed servers, I'm especially interested in the version 9 ability to order jobs between Control-M servers. Many of our jobs move back and forth among the mainframe and distributed servers. With Version 9, I no longer have to intervene to ensure that the distributed jobs are ready to run when they are needed.
Considering what we're doing and the amount of work that we're pushing through with a team as small as ours, there's no way we could do it without Control-M. It allows us to do more with less and to get things done faster with more accuracy so that Unum can maintain its competitive edge in the digital age.
Gartner Magic Quadrant for ITSM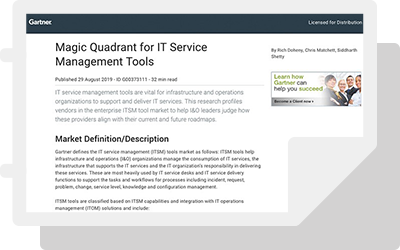 For the sixth year in a row, BMC is a recognized leader in IT Service Management Tools. Download the free report to see why!
Download Now ›
These postings are my own and do not necessarily represent BMC's position, strategies, or opinion.
See an error or have a suggestion? Please let us know by emailing blogs@bmc.com.