Travel just about anywhere in the world — from Guatemala to Guam, Sri Lanka to Sweden, the United Kingdom to the United States to the United Arab Emirates — and most likely you'll run across the familiar SUBWAY® logo. With more than 44,000 restaurants in 110 countries, SUBWAY is the largest restaurant chain in the world.
In every one of our stores, you'll find motivated, hardworking sandwich artists serving up fresh, delicious, made-to-order sandwiches. That's not an image that immediately brings digital technologies to mind. But the reality is, like virtually every other business today, we are embracing digital because consumers are demanding it. They want the convenience that mobile offers — the ability to find the nearest store, scan the menu, check out nutritional information, find out our daily specials, order and pay for their meals, and have their orders ready for pick-up when they arrive.
So digital technologies have become vital to our business. They give consumers the convenience of ordering meals using mobile devices and computers. They help store managers ensure that the right ingredients are on hand to fill customers' orders. They enable sandwich artists to complete customer transactions quickly and efficiently. And they make it possible for our company to interact with customers in new ways and respond quickly to their changing interests and preferences.
Digital Transformation Challenges and the Role of ITIL®
The demand for digital has had a huge impact on my area of IT, which is IT service management (ITSM). My team is responsible for the service desk, change management, and service request management. One of our toughest challenges is finding the right balance between supporting new technologies and agile development methodologies to drive innovation and keeping the legacy infrastructure functioning smoothly.
We've been able to adopt IT Infrastructure Library (ITIL®) best practices, which we believe are as important in the digital enterprise as they have been in the traditional enterprise. Used in the right way, ITIL brings a level of service management excellence that translates into high efficiency, increased productivity, and lower IT costs. Automation combined with the ability to implement consistent and repeatable processes and practices has improved our efficiency. And, as SUBWAY corporate and our franchisees become more dependent on technology, our investment in best practices will pay off even more by enabling us to support a growing number of stores, applications, and transaction volumes without big increases in staffing and support costs.
ITIL best practices are also facilitating agile development, which is increasingly important for our company. To support rapid time to market for new and enhanced applications, we need an unobstructed flow of communication between development and support. That's an area that we struggled with in the past. Development would sometimes deploy a new version of an app, but the support center wouldn't be aware of it or wouldn't be totally prepared for the impact. ITIL adoption helped us close the gap by keeping the two groups separate and distinct while ensuring two-way information flows.
The Goal: IT Excellence
We're already a global company, but we're growing at a rapid pace, and we need a world-class support infrastructure ready to respond to the increasingly global nature of SUBWAY's business. So, as we continue our digital transformation, we're keeping our focus on IT excellence. That will require higher levels of integration and automation.
We're benefiting substantially from our ITSM solution, which serves as the critical pipeline to our stores. When a ticket is created, it populates with the relevant details about the store and the hardware and software that's installed there. That type of automation drives productivity, increases accuracy, and moves us up the IT excellence ladder.
Down the road, we're looking at initiatives around unified communications, integration of our ITSM solution with a configuration management database (CMDB), and supporting the growing demand for mobile access.
The Importance of User Buy-in
Today, we have over 100 call center agents around the world taking calls on over 60 different applications, systems and hardware – with many of these systems and applications being proprietary in nature, including the POS and menu management systems.  We're investing in automation and self-service because, well, here's the bottom line: When your customer base is hundreds of thousands large and is growing by the day you can't necessarily hire and train enough people quickly enough to support them all. Instead, you have to rethink how you're approaching things.
Self service is a great option. One challenge, though, is educating the SUBWAY workforce on the value of self service. Our organization includes some technically savvy people. However, with the highly diverse, global workforce we have, there are also many people who aren't yet comfortable with technology. Visiting our support website and exploring the knowledgebase when they have questions or issues is a big leap for some them.
Breaking down the resistance to self service will be huge in taking the next step of our digital journey. We're putting educational programs in place to encourage people to pick up the phone only for urgent issues. Fortunately, we're making great progress. Self-service access is rising, and we expect the volume of phone calls to continue dropping. As a result, our support center agents are able to spend more of their time on critical incidents.
Recipe for Success
The SUBWAY chain has changed a lot since Fred DeLuca opened his first store in 1965. One of the early lessons Fred learned was that a high-quality product is only part of the recipe for success in the restaurant business. Providing excellent customer service, reducing costs, and keeping franchisees productive and profitable are also essential ingredients. Our digital transformation is helping us achieve these goals by increasing efficiency, productivity, and responsiveness so we can meet customer expectations for quality service, delicious food, and affordable prices.
Gartner Magic Quadrant for ITSM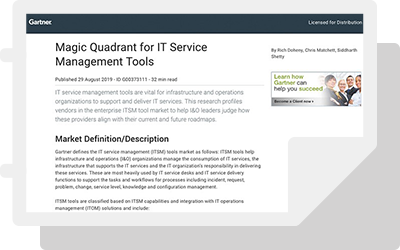 For the sixth year in a row, BMC is a recognized leader in IT Service Management Tools. Download the free report to see why!
Download Now ›
These postings are my own and do not necessarily represent BMC's position, strategies, or opinion.
See an error or have a suggestion? Please let us know by emailing blogs@bmc.com.