Embrace technology innovation and increase your competitive advantage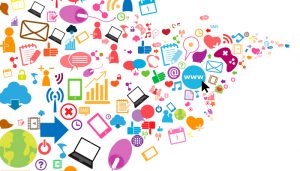 Maneuvering through your business has likely become extraordinarily complex. Technology is incessantly entangled in everything we do, defining the way we work, communicate, and collaborate with colleagues. Most would agree that technology innovations have made life more convenient; however, your IT department's opinion may differ.
IT is facing an innovation paradox – business consumers are now driving technology with increased demands for innovative service offerings. These increased demands are forcing IT to discover new ways to work more efficiently while also focusing on moving the business forward.
You are required to deliver great service regardless of communication channel, build apps for every department need, and provide self-service and 24/7 help desk support. In the midst of this multi-tasking, new innovations crop up every day in social, cloud, Internet of Things, mobile, and big data – which you are also expected to support. IT departments have to find faster and more efficient means of service delivery in order to juggle this flood of technology and expectations.
So, how can you keep up?
We are in an era where change is occurring faster than ever before and in order to remain relevant the traditional IT organization needs a makeover. Now is your opportunity to redefine the legacy role of IT in your company. Modern IT service management best practices enable IT organizations to be agile, quick, and open to new innovation providing you with the foundation to support the ever-changing digital demands of your customers. In addition, an environment that supports the instantaneous service and anywhere-anytime-mobile-and-social access business consumers are used to outside of the office is essential.
The right combination of people, process, and technology will help IT deliver high-quality service to business consumers, remain accountable and responsive, and reposition IT as an innovative business leader. This is a challenging, but not impossible, venture.
People Hiring the right people can be difficult for any organizational unit because oftentimes the needs of the department are not clear. Hiring to fill a vacant role without refreshing requirements that include the future direction and goals of the business won't attract someone who brings innovative thinking to the table. Your business consumers are relying more and more on IT to solve their complex problems and out-of-the box, inventive thinkers are key assets for your modern IT team.
Process In addition, IT organizations will need to adjust their processes and security restrictions to take advantage of collaboration platforms, such as social media, consumer apps, and mobile technology. In Gartner's Top Predictions for IT Organizations for 2015 and Beyond, analysts predict that "By 2017, 70 percent of successful digital business models will rely on deliberately unstable processes designed to shift as customer needs shift." Change is happening much more rapidly than ever before and there is still a place for process, but processes are best designed to support, not restrict, end-user productivity.
Technology Finally, the right technology solutions are essential. IT Service Management solutions have traditionally helped IT departments automate and manage standard IT services based on service level agreements in a single system. This is no longer enough. IT is responsible for delivering the services that end-users want and more often than not these are the services that contribute heavily to increased productivity. The technology IT chooses to support drives innovation, thus keeping the business competitive.
Technology has weaved its way into every aspect of our daily lives, bringing with it new ways of doing everyday things and new expectations of business. IT Service Management vendors know that as IT organizations evolve they need to offer solutions that not only deliver real ROI, but also solutions that support future needs. Including, the ability to apply service management principles across the organization, deliver application platforms that allow the creation of business specific apps, agile dashboards for informed decision making, consumerized self-service, and easy cross-channel communication.
Learn how Mitchell International achieved 95 percent faster reporting and 75 percent faster onboarding with BMC Remedyforce.
Gartner Magic Quadrant for ITSM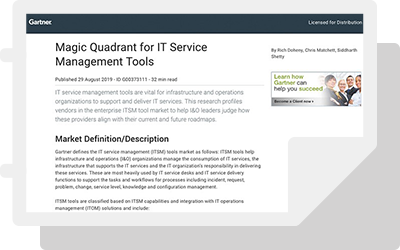 For the sixth year in a row, BMC is a recognized leader in IT Service Management Tools. Download the free report to see why!
Download Now ›
These postings are my own and do not necessarily represent BMC's position, strategies, or opinion.
See an error or have a suggestion? Please let us know by emailing blogs@bmc.com.