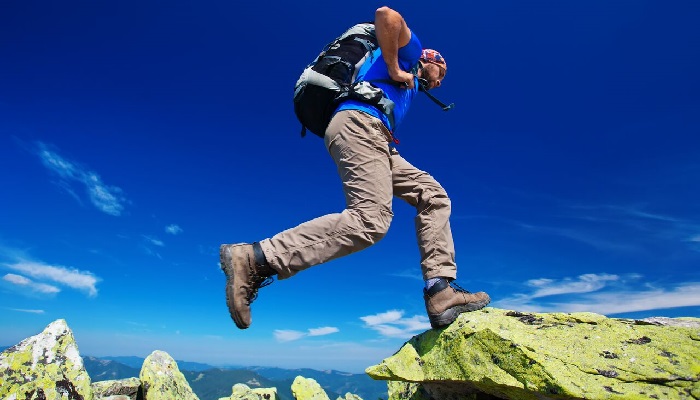 As technology continues to become integrated into our daily activities, companies are finding ways to take advantage of that technology to improve our quality of life. ChipRewards is one of those companies. ChipRewards has taken on the challenge of combining science and technology to incent people to live healthier lifestyles. The ChipRewards platform is designed to increase engagement in a broad range of health-related behaviors such as health screenings, preventive care, wellness activities, pharmacy adherence, exercise, and disease management.
Their goals require accurate data tracking and analysis to drive large-scale health incentive and engagement initiatives that can lower the cost of healthcare.
I had a chance to interview Trey Hamer, Co-Founder, Jason Saint, VP of Engineering, and Dr. Josh Klapow, Chief Behavioral Scientist, at ChipRewards to discuss how they plan to do this.
What is ChipRewards all about?
Josh: ChipRewards is a company that brought together people from a lot of different perspectives and backgrounds with a single goal in mind. That is, could we apply the principles of behavioral science with an incentive program to affect large populations and change their health behaviors in a way that was scalable and sustainable? To do that, it really required us to bring together science and technology capabilities, as well as the understanding of healthcare delivery systems.
Trey: Our core philosophy is to inspire individuals to take healthy actions and really to impact the bottom line by reducing healthcare costs.
What does this mean for you from the IT perspective?
Jason: As we bring on new customers, new files and data feeds are required, so the volume of data grows exponentially. For any given customer, there may be five to six data feeds. Sometimes more than that; and we need to be able to manage it all.
I understand there is a lot of batch processing associated with your data analysis. What was your process for selecting a workload automation solution?
Trey: We chose Control-M after searching through many products. We have multiple job scheduling internal applications already and we went through a rigorous selection process researching multiple vendors. We talked with many of our large customers, many of our former large banking customers, and many customers on the healthcare side. Then we looked at the product, the technical specs, and we really liked the company and the team. So far, it's been a great decision.
How does Control-M help you run your business?
Jason: On a daily basis, we can instantly see what files are on, what the status of those files is, and what capacity we'll need for upcoming runs.
Josh: Well, if you think about the data itself—and this may sound a little abstract—but here at ChipRewards, the data is the clients' behavior. We can't actually see 4.8 million people going to the gym, but we can see data transactions that show they went to the gym. Tracking the data enables us to track the behaviors of clients.
When someone submits for an annual physical, we are able to pull the claim to verify that it was, in fact, an annual physical. If the data is wrong and there's no correlation, then we are letting down the client who said, "I went and had my physical; there's evidence of it. How come you're not tracking it?"  Data is at the core of everything we do.
And that is the value for our clients. We pride ourselves on providing accurate tracking of their health behaviors.
How does Control-M help you with your IT operations?
Jason: We use Control-M to automate our batch processing. We get many different files from many different sources; keeping track of that much data and making sure it all runs in a timely fashion is a challenge. So we use Control-M to automate it. We also use Control-M to help us spin up additional capacity when we need it for processing. In using a private Cloud, we can put a new server online quickly and take it offline when we are done with the processing.
What has your experience been like working with BMC Software?
Trey: The BMC experience has been great. The sales team is amazing. The support team and, really, the overall training resources that they have available either via the website or through courses have been very helpful. We were able to get implemented and up-to-speed extremely fast.
Jason: It has been very nice. There is a lot of documentation and the technical support has been wonderful.
Trey: We like to view our clients, and everyone we work with, as partners. I like to see BMC as a partner in this with us. They've really helped us as we grow—and will continue to grow—in a really exciting market, driving large-scale health incentive programs.
2019 EMA Radar for Workload Automation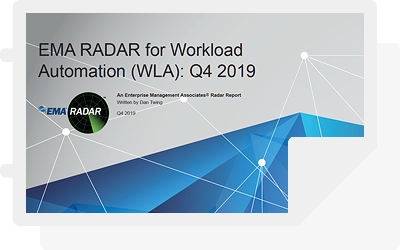 In the Radar Report for WLA, EMA determines which vendors have kept pace with fast-changing IT and business requirements. Read the report to learn why Control-M has earned the top spot for the 5th year in a row.
Download the report ›
These postings are my own and do not necessarily represent BMC's position, strategies, or opinion.
See an error or have a suggestion? Please let us know by emailing blogs@bmc.com.