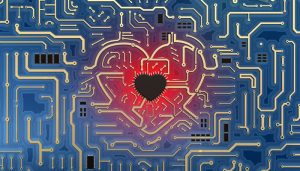 Today I am feeling romantic. In an odd sort of way…perhaps it's more appreciative or idealistic about life, its blessings, our meandering paths, the path that brought me to Silicon Valley in the early 2000s, and the industry and technology that I have learned which has allowed me to thrive. I wanted to honor that feeling with a post of some random thoughts, and a poem. I won't include the full poem (after all, our attention spans are sub-3.5 minutes at this point) but it, like most of John Keats, is well worth reading:
A thing of beauty is a joy for ever:
Its loveliness increases; it will never
Pass into nothingness; but still will keep
A bower quiet for us, and a sleep
Full of sweet dreams, and health, and quiet breathing…
–John Keats, from Endymion
Now the spoiler, and I risk being labeled the techiest of techies with this next segue, but I work with mainframes, DB2 specifically, and have in various ways for almost 15 years (and no, I'm not a baby boomer or even a Gen-Xer thank you very much). Today, I've given myself permission to write why I think the mainframe is like a "thing of beauty" and a "joy forever." Why I am confident in the knowledge that it will "never pass into nothingness." Why the mainframe, as the backbone of business for decades and the backbone of digital business today, has provided a bower for us – health and sustenance in a way. It has given us the platform from which to spring into action, with which we run the millions of transactions per second that we need to process the vibrant digital exchange we enjoy today. The platform which has provided us with the most compute power the world has ever seen, which has translated into industries, innovations, careers, and a living…for me and mine.
So yes, the spirit of the day may have run away with me, but I am in a Sunday kind of mood and I do love the mainframe so it seems only fitting. Please humor me and read on for some of the many reasons why I find working with the mainframe such a fulfilling and worthwhile pursuit:
I love the mainframe because it is or has been:
A Long Shot – in 1964, IBM gambled $5B USD (2x the company's revenue at the time) on this baby and transformed the computer industry as a whole. System/360 was born with the first-ever integrated circuits and compatible peripherals.
An Olympian – For 40 years! From Sarajevo, Yugoslavia to Calgary, Canada to Nagano, Japan to Sydney Australia. The mainframe backed the scoring of the Games for decades.
A Business Genius – Big Iron is synonymous with Big Business. In the 1970's, the waitlist for a mainframe was sometimes two years long. Take that Apple! The mainframe helped airlines to get off the ground and banking to move into the 20th Century. Banking, ticketing and scheduling continues on zSystems today.
An Astronaut – NASA, many heroes sung and unsung, and the computing power of the mainframe put a man on the moon (Apollo 11). The S/360, Model 91 installed at NASA's Goddard Space Flight Center in Greenbelt, Md in 1968 was the most powerful computer in the world. It could perform up to 16.6 million additions/second.
A Workhorse – Citibank replaced all of the mainframes that they had everywhere in the world with brand new mainframes, without interrupting end-user banking for any of their customers. And don't forget, applications written decades ago on a mainframe will still run today because it is one of the only systems with no forced changes due to upgrades.
A Gamer – the mainframe plays a mean game of chess (Deep Blue, 1997) and beat Ken Jennings on Jeopardy (2011, which was Watson's coming out party)
A Fighter – The U.S. Secret Service uses mainframe applications to track financial and electronic crimes, including forged checks and bonds.
A Hollywood Star – The references to the mainframe in many a movie are hilariously mashed together here: https://www.youtube.com/watch?v=Hcywf9mwF5U#action=share
Essential & Tenacious – the mainframe keeps on trucking. Steadfastly supporting us and our business and technology needs, sometimes without any credit and sometimes even with some slander. Remember Stewart Alsop? He was forced to publicly eat his words in 2006 after he predicted that the last mainframe would be uninstalled in the late 90s.
Lou Gerstner, former CEO of IBM, wrote something to the effect of, "the world never ground to a halt over cookies" speaking of the immense challenge he faced leaving Nabisco to run the then-faltering IBM (birthplace of the mainframe). Just think about all of the daily activities that would be impossible without mainframes. Getting money from an ATM for one – thank you mainframe. Making a purchase with a credit card (which we do on average 37 times per day) – again, thank you mainframe. I could go on but I will spare you. I'll just say that I consider myself extremely fortunate to wake up every morning with the opportunity to work with a technology platform that is so meaningful worldwide and impactful on such an immense scale. One that has meant so much to our world, that continues to be the backbone of digital business today, and one that will continue to be relevant and impactful in the future. What else is Valentine's Day but a day to honor and appreciate the joys in our world? One of those for me is the mainframe. Another is chocolate. Now stop reading and go out and get some chocolates!
To learn more about how BMC innovates for the mainframe platform, see: http://www.bmc.com/it-solutions/mainframe.html