At BMC, we have always provided great products to manage, streamline, and support the execution and maintenance of IBM's DB2 for z/OS. We were among the first to market for DB2 utilities, and we have continually improved our products to make them more flexible and adaptable. We have introduced quite a few "first" along the way, including a GUI that enables application developers to navigate the catalog and tune SQL before it goes to production.
Now we are taking another leap forward by welcoming CDB products into our portfolio. We are particularly excited to acquire CDB's Reorg technology, Auto-Tune, and LOBMaster. This technology, which complements our existing DB2 data management portfolio of administration, maintenance, application tuning, and backup/recovery solutions, will make it easier than ever to manage larger DB2 objects and real-time transaction volumes in a digital 24X7 world.
Sixteen former CDB employees have joined the BMC family and will work with heritage BMC employees to combine the best of the best from the BMC and CDB products. You will see significant improvements in elapsed times, execution costs, and availability.
If you need to lower costs for DB2 on z/OS or if you need higher availability, contact us and see what we can do for you.
Gartner Magic Quadrant for ITSM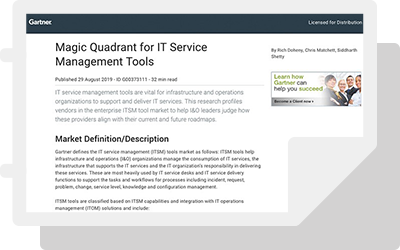 For the sixth year in a row, BMC is a recognized leader in IT Service Management Tools. Download the free report to see why!
Download Now ›
These postings are my own and do not necessarily represent BMC's position, strategies, or opinion.
See an error or have a suggestion? Please let us know by emailing blogs@bmc.com.