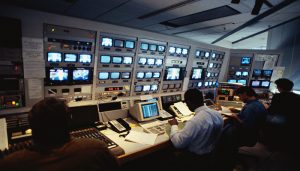 By its nature, the news business is reactive. Our products are built around what's happening in the world each day. Whether the medium is digital or print, our reporters, journalists, photojournalists, videographers, producers, and others start with a blank canvas and create content that educates, informs, and inspires the audiences we serve.
Speed in producing content is of paramount importance and technology is vital to empowering our people to create, manage, and deliver that content. The News UK's technology team has implemented sophisticated and innovative information systems to support content creation and publication.  This technology serves our traditional print publications, The Sun, The Times, and The Sunday Times, as well as our expanding digital portfolio.
News UK is no longer just a newspaper company; it is a cross channel multimedia company. This transition represents a seismic but necessary shift because consumers are turning increasingly to nontraditional sources to find out what's happening in the world.
IT is constantly under pressure to provide exceptional performance and reliability to support incredibly tight production deadlines. A technical service outage may result in a direct impact to production & distribution.
Those of us in the Technology Enterprise team consider ourselves to be the people who provide the IT infrastructure—the canvas—on which our reporters, journalists, and digital development teams create the delightful products News UK is known for. With our customers in mind, we've been on a multiyear journey aimed at ensuring that our service management processes and tools are robust enough to meet today's demands. We're fortunate to have BMC Software and KTSL, BMC's longest-serving reseller in the UK, as technology partners in that journey.
Gaining Insight into the Infrastructure
Our digital service management journey began five years ago with the adoption of BMC Remedyforce to handle incident, problem, service request, change, and other service management processes. In the past 18 months, and as part of an Enterprise-wide service review and remediation program, our focus has been on building our asset management capabilities. Our goal is to gain increased visibility into the assets that make up our infrastructure and the relationship of those assets to critical services. That visibility will enable us to manage the environment more efficiently and effectively.
We've implemented Discovery, Discovery for Storage, and BMC Atrium™ Configuration Management Database (CMDB) from BMC Software to give us the insight we need into our assets. Those solutions have become the backbone of everything we do around managing our infrastructure and delivering high-quality service to the business.
Over the last year, we've made major strides in our service asset strategy. We appointed a Service Asset Manager to lead that function and engaged KTSL to help us develop and implement more formal discovery and management processes.
Our initial objective was to identify the Tier-1 services that underpin newspaper production, print, and distribution. We invested in re-platforming our critical services and are now leveraging Discovery to capture asset and relationship data and maintain it in the CMDB. We're also using TexWurx uControl in conjunction with Discovery to simplify the creation of service maps and pass them to the CMDB for visual presentation and tracking. The result is that we now have robust asset data and clear visibility to improve troubleshooting, business impact analysis, and change management planning.
Gaining Insight into the Storage Environment
The content-heavy nature of our business means that we require large amounts of storage to support massive amounts of content that includes video and high-resolution photos. Our storage needs are already high and are continuing to grow at a rapid pace.
Maintaining and managing so much storage—both physical and virtual—is incredibly complex. Fortunately, Discovery and the CMDB enable our storage manager to gain an understanding of the storage environment. Service mapping gives us an accurate, real-time picture of how storage is configured and the relationships among storage volumes and the services they support.
Because we have unique storage management needs, we're working with KTSL to customize some categories in Discovery to provide a more granular view of the association of storage volumes with virtual servers. This customization is possible because BMC's discovery and dependency mapping solution not only delivers robust out-of-the-box capabilities but also makes it easy to tailor those capabilities to meet unique needs such as ours.
Greater Insight Means More Effective Service Management
In the past, our technical teams relied on spreadsheets to maintain IT asset data. Keeping spreadsheets current was a time-consuming task and the data wasn't easily accessible to facilitate IT processes. With Discovery and the CMDB, technical teams now have access to accurate data, which is greatly enhancing efficiency and productivity across service management disciplines.
Change management is an excellent example. Impact analysis functions in the CMDB now give our technical teams a solid understanding of the configuration items (CIs) that various services rely on along with the degree to which services and user groups might be affected by a change to any of those CIs. That visibility has helped improve our change success rate. The bottom line is we have fewer outages, happier users, and fewer calls to the service desk.
We're also seeing major improvements in incident management. In the past, lack of asset visibility hampered our response, especially for major incidents. When an incident occurs, we can pinpoint the server affected and quickly figure out which services that server is hosting and what other CIs may be involved. We also know which teams to engage to resolve the incident. These improvements have contributed to cutting our mean time to resolution (MTTR) in the last 18 months.
We can also spot trends and conduct root cause analysis on recurring incidents. In that way, we reduce the number of incidents coming in. That's made a world of difference in the quality of life for the people who previously had to scramble in the middle of the night to fix outages.
Moving Beyond News UK
Because of our rapid progress and impressive successes in digital service management, we are looking at expanding our best practices and taking on the digital service management of sister companies within the News Corp family—for example, HarperCollins UK. News Corp is the parent company of News UK.
We have well-defined, well-managed processes in place and strong tools to support them. As a result, our environment is highly scalable.
As we continue our digital service management journey, we expect to face new challenges and seize new business opportunities. So far the journey is an exciting one, and it keeps getting more and more interesting.
Gartner Magic Quadrant for ITSM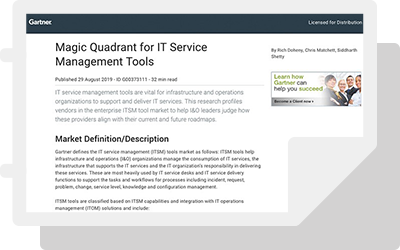 For the sixth year in a row, BMC is a recognized leader in IT Service Management Tools. Download the free report to see why!
Download Now ›
These postings are my own and do not necessarily represent BMC's position, strategies, or opinion.
See an error or have a suggestion? Please let us know by emailing blogs@bmc.com.