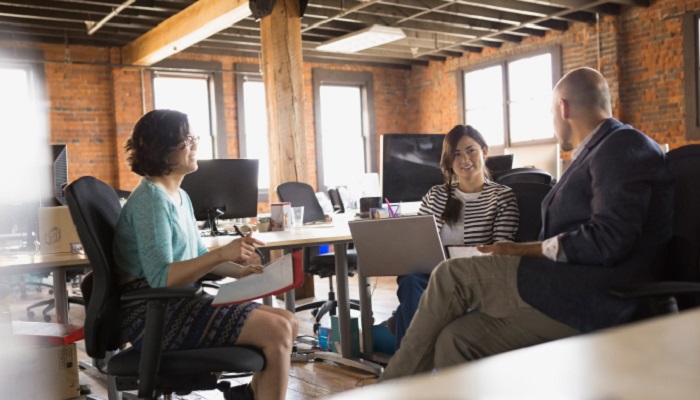 When I joined BMC about 18 months ago, the time had come to reshape our talented services organization. BMC technologies had become so integral to the transformation of their business, that customers were turning to us for strategic guidance on how, where and when to achieve their digital enterprise IT objectives. It was only natural our services should reorient to meet these expanded customer needs and help them achieve success with our technology.
It was also clear that many BMC teams played a role in this success. From pre-sales to partners, the BMC ecosystem had grown, servicing customers in all major regions of the world.
Internally at BMC, this meant many late nights and intensive activity to establish the appropriate services skills, organizations and scalable methodologies to grow and perform as a global strategic partner. We have been building out those capabilities in earnest ever since. At the forefront of our organization are some of the brightest minds in the business, working side by side with our impressive customer base to realize business objectives through IT.
Today I'm pleased to share insights into how we are "drinking our own champagne" to evolve BMC services to meet our digital enterprise management customer needs. Let me share with you our Customer Success vision and customer impact to date. Then, I look forward to all of my leadership team engaging with you in follow-on blogs in our communities, to elaborate upon each key area. As always, we welcome your feedback through those forums.
Customer Success Organization
Every day, through every customer engagement, our job is to ensure BMC customers can successfully maximize the business impact of their BMC technology investments. Not a moment goes by that we are not thinking about digital enterprise management and how it can benefit customers, which I think differentiates us from many others in the market. It is not a side business or afterthought, but the core of what we do. We have built methodologies, solutions and resources with digital transformation in mind.
To constantly maintain our focus on the business outcomes of digital enterprise management, we aptly named our expanded set of professional services as BMC Customer Success. Customers need to be successful in their digital enterprise transformation, not just at a technical level, but at a strategic, business impact level. This means we need to apply BMC technical expertise, value measurement and thought leadership skills at the appropriate times throughout our customer's digital enterprise journey. It also means our services need to align with the rest of BMC's ecosystem and product development teams.
We began executing against our Customer Success vision by ensuring our "best of the best" were united and equally enabled in their focus on customers, which is why we brought together Consulting, Managed Services, Education, and Support experts for our foundation.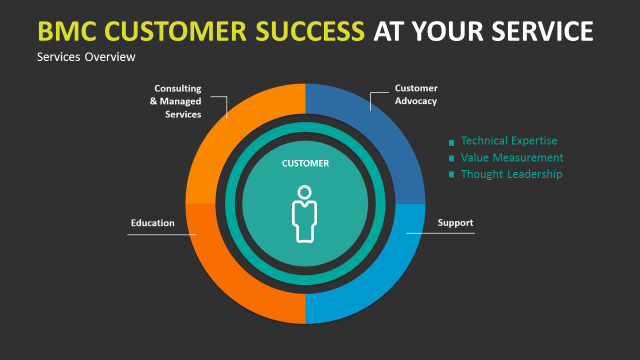 For customers, this BMC Customer Success model provides:
To drive consistency in quality across our Customer Success engagements, we refreshed our delivery methodology, BMC Excellence, which we are now rolling out to provide the right balance between waterfall and agile approaches. Across the many BMC interaction points with our customers, BMC Excellence Delivery Methodology systemizes how customers extract value and apply Customer Success expertise for maximum value.
All of these new and expanded services and operational improvements were co-developed with our customers, and represent significant investment by BMC.
Connecting Customer Insights to Customer Actions
This leads me to another key evolution milestone in our Customer Success strategy – incorporating Customer Advocacy. The Chief Customer Office (CCO) for all of BMC is now part of our Customer Success organization. The CCO regularly drives BMC customer advisory board discussions, institutes customer feedback surveys, and analyzes customer data for insights.
Through my role overseeing both CCO and services, we have designed a unique voice-of-the-customer vantage point from which we can also readily act. There is no synapse between receiving customer feedback and driving customer success improvements forward across every BMC function.
Other companies bifurcate customer feedback organizations and customer service delivery teams, forcing the build-up of extraordinary governance and monitoring mechanisms. At BMC, from India to the Ukraine, there is a singular focus around Customer Success based on an unbiased, independent inflow of customer feedback. Ultimately, this helps us ensure we continually evolve to best help customers develop and drive the maximum business value from their IT.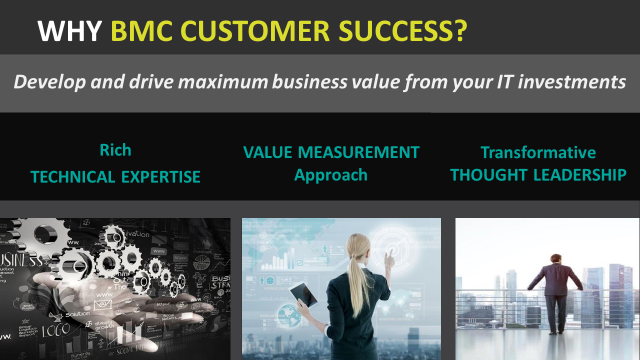 Customer Success in Action
A great example of Customer Success in action is a recent workshop we held with one of the world's leading energy providers. Our global teams prepared extensively for the two-day session. Seated around the meeting room, and with video conference participants as well, were the solution architects and technical strategists from both BMC and our customer's multiple lines of businesses.
Together, we worked through the strategic challenges of the new digital enterprise environment – what IT services might have the greatest impact on reducing their cost per unit? How can we optimize digital services to help them scale faster and more efficiently? What could we change in the design, approach, sequence or integration of our solution sets in their environments to improve their digital transformation metrics?
To earn the distinction as a strategic partner with this world-leading company speaks to how far we have come as a Customer Success organization. In addition to our rich and broad technical expertise, we were able to share thought-leading ideas and advanced value metrics to help steer BMC technology toward their most significant business impact. This is just one of many such strategic customer relationships.
Your Digital Enterprise Outcomes
It has taken the efforts of teams and customers in every region of the world to reach this level of integrated service and new market offerings. We have re-oriented the bright minds in our BMC services ecosystem to pivot their expertise around true Customer Success. And we infuse them every day – and the rest of BMC – with direct feedback from our CCO surveys, discussions and data analytics insights. This combination of real-world customer project experience and on-going customer dialogue has readily prepared our highest quality teams to "front end" our organization and play a much more strategic role in how we drive customer solutions to market.
If you have not looked at BMC lately, or don't know what Customer Success services we can provide, do invite us in for a conversation. While there is much to share about our Customer Success capabilities, the most important agenda items will be your desired digital enterprise outcomes and discussing what it takes to realize them, together.
Talk to a BMC Expert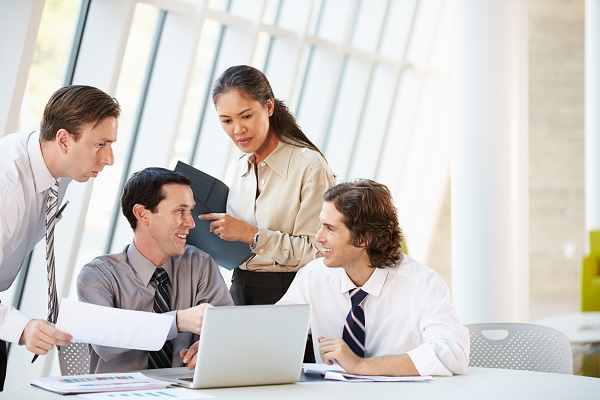 Our expert IT consultants use proven methodologies to help you optimize costs, reduce risk and see a faster return on your IT investments.
Contact BMC Consulting ›
These postings are my own and do not necessarily represent BMC's position, strategies, or opinion.
See an error or have a suggestion? Please let us know by emailing blogs@bmc.com.