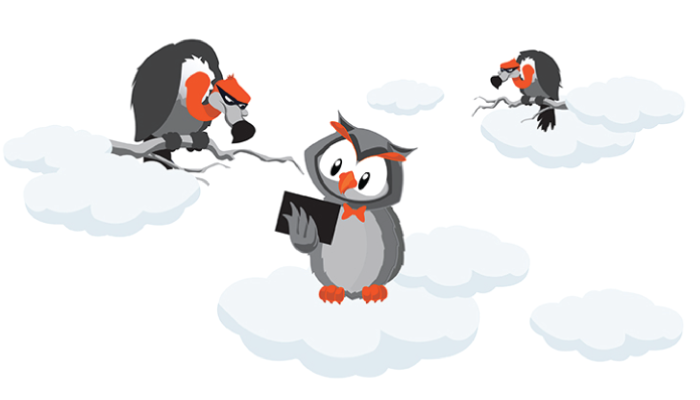 Digital transformation for business is no longer a luxury. All companies must accelerate the development and continuous deployment of innovative processes, applications, services, and software changes just to survive. To meet this challenge, companies are increasingly turning to the cloud for the agility, scale and operating flexibility that is needed to meet the rapidly changing needs of customers. Spending on cloud computing infrastructure and platforms is expected to grow at a 30% CAGR from 2013 to 2018 compared with 5% growth for overall enterprise IT1. And, with this they are not just turning to one cloud platform. Companies are realizing the benefits of utilizing multiple cloud platforms:
The benefits of a multiple cloud IT solution, including the agility to quickly procure and provide shared computing processing and capacity on-demand, enable businesses to keep pace with customer and market demands in real-time, drive new revenue streams, innovate more rapidly, and deliver services more efficiently. Further fueling the growing utilization of multiple cloud platforms over a single-provider solution are: the growth of everything 'as-a-service' (SaaS, PaaS, IaaS, etc.); the desire to avoid vendor 'lock-in'; the ability to match the right workload with the right platform (best-cloud-for-the-job); the ability to better realize cost savings by leveraging the unique pricing of different vendors; and the ability to mitigate risks by not having all one's eggs in one basket. So, the question has really shifted from "Why cloud?" to "Which cloud?"
What does this all mean for IT?
IT must of course continue to deliver on the stability and reliability of core business systems and applications within the traditional on-premise datacenter environment. However, multi-cloud is here to stay. As organizations move to more fully leverage hybrid multi-cloud environments to realize the above stated benefits, IT must contend with a number of new realities and pressures. The world of IT has changed forever and those who respond best today will be the successful digital enterprises left standing tomorrow.
Speed. The hybrid multi-cloud environment is significantly faster than that of traditional IT. It is a world where slow is the new broken. Users expect immediate availability and unlimited scalability from cloud-based services and now have more choices as to where they get these services. Couple this with the new breed of app developers who want to move faster and faster and can't be slowed down by governance and control processes. If IT cannot deliver rapid digital innovation or fulfill service requests fast enough, business users and developers will circumvent IT and source services from the public cloud themselves. As this behavior grows, the value of the central IT organization goes down and business risk goes up due to lack of visibility and governance.
Risk. With the expanded use of multiple cloud platforms, the attack surface changes and new security vulnerabilities must be managed. Protecting company data as it moves from on-prem to multiple private and public clouds and back is critical. And, the direct procurement of services by business units often results in employees going around existing corporate policies and security procedures. With the average cost of a data breach now standing at $4M6, the impact to a business's financial performance (not to mention its brand) can be devastating. IT must maintain effective security, governance, and compliance across increasingly heterogeneous cloud and legacy datacenter infrastructures – and new tools are required to enable this.
Cost. Companies move to the cloud with expectations of realizing significant cost savings but are often surprised when the bills come in. Not all cloud services are equal and there is no single pricing model for services. It is not always just pay for what you use – in fact, it is estimated that 30-45% of spend is wasted7. Unrestrained service acquisition by businesses securing their own public cloud solutions also increases the potential financial impact, and costs can spiral further out of control when underutilized or unused resources remain active. Finally, there is potential cost increase exposure from 'lock-in' as vendors look to build out more proprietary platform technologies, making it more difficult to move data and applications to another provider. Organizations need to have end-to-end visibility of on-premise and public cloud infrastructure resource availability, utilization, performance, and cost to optimize service placement, control costs and make better business decisions.
Complexity. Instead of managing what was a set of fixed resources within its own datacenter, IT must now manage a constantly shifting combination of public cloud platforms – all with different capabilities, processes, costs and performance levels. This complexity can slow down the migration to the cloud, increase exposure to the business from gaps in execution and governance, and lengthen time to value for innovation.
This all adds up to – it is not business as usual for IT. Traditional IT practices and processes are too slow and too rigid. Trying to apply the same disciplines of governance, security, integrity and performance to the new hybrid multi-cloud environment is breaking IT and counteracting the very benefits of agility, speed and cost optimization that is driving business there in the first place. Organizations need to re-examine traditional rules, policies, and tools and expand those solutions to bridge existing IT platforms with multiple on-demand public cloud infrastructures. Failure to do this means that businesses risk disruption to the value chain and risk becoming obsolete by not keeping pace with innovation in new products and services. Furthermore, IT risks becoming irrelevant to the business as a trusted partner for new digital initiatives.
The path forward
IT can embrace multi-cloud and become a trusted service broker and value creator for the business by removing complexity and taking a more unified and holistic approach to management. To enable this, critical core tool capabilities are required:
Automation. Automation and integration of business application workflows across multiple environments including orchestration of the migration of workflows between environments.
Service Innovation. Enablement of easy access to private, public, and hybrid cloud environments through a self-service catalog that also delivers enterprise IT the tools needed to manage visibility, control, and security.
Security. Reduction of risk with automated cloud governance and compliance. Including a single pane of glass to manage risk across every element of the heterogeneous enterprise environment, as well as automation to ensure that essential security and governance policies are included with every service IT delivers.
Cost Control. Optimization of resource utilization and control of cloud consumption costs with real-time insight into the cost of on-premise and public cloud resources.
Performance & Visibility. End-to-end visibility of cloud services performance and end-user experience across all on-prem and cloud-hosted services to ensure customer expectations are met.
BMC Multi-Cloud Solutions are uniquely positioned here to help IT achieve the full benefits of multi-cloud ecosystems with their breadth of industry-leading, vendor agnostic solutions for these required capabilities.
To see more on how BMC solutions are ready today to help organizations manage the complexity of multiple cloud ecosystems and transform businesses into digital enterprises, click here.
1 Patrick Seitz, "Battle of Cloud Titans Has Just Begun, Goldman Says", Investor's Business Daily News online, January 16, 2015, http://www.investors.com/news/technology/amazon-aws-leads-in-cloud-msft-googl-crm-rising/ ↩
2 IDG Enterprise Marketing, "IDG 2016 Cloud Computing Survey", November 1, 2016,https://www.idgenterprise.com/resource/research/2016-idg-enterprise-cloud-computing-survey/↩
3 RightScale, "2017 State of the Cloud Report"↩
4 Sahini Bogchi, "Here's Why the Future Belongs to Multi-Cloud", CXOtoday.com, February 20th, 2017, http://www.cxotoday.com/story/heres-why-the-future-belongs-to-multi-cloud/?↩
5 Michael Crandell, CEO RightScale. Sahini Bogchi, "Here's Why the Future Belongs to Multi-Cloud", CXOtoday.com, February 20th,↩
6 Ponemon Institute, "2016 Cost of a Data Breach Study", https://securityintelligence.com/media/2016-cost-data-breach-study/ ↩
7 RightScale, "2017 State of the Cloud Report"↩