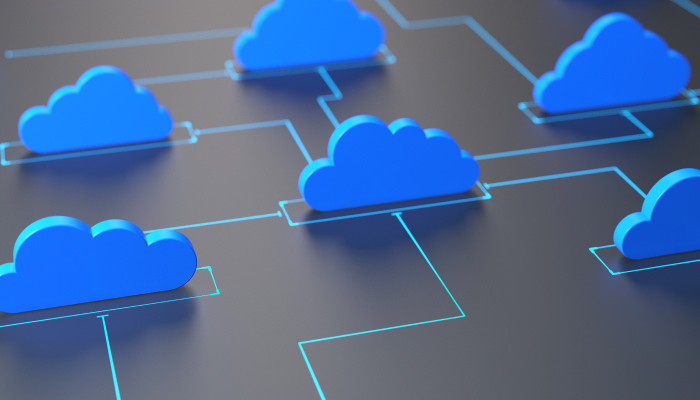 Hey, IT manager! Be honest for a second. Do you really know how many clouds your organization uses? And, which ones?
When was the last time you checked which cloud-based services employees across your organization were using? Do you know why they've decided to turn to the cloud for the resources they need? Do you know which features they benefit from and the associated costs?
According to research our team conducted recently, 51% of organizations use more than one cloud. However, most IT leaders are not leading this effort strategically or in a way that is most cost-effective.
Why multi-cloud?
In spite of the potential challenges associated with a multi-cloud strategy, CIOs and IT teams understand it can also offer substantial cost-related and agility benefits when utilized in a measured and strategic way. What should you be considering as part of your conscious multi-cloud strategy? Let's discuss.
Reduce lock-in
One of the strongest cases for maintaining on-premises environments has always been autonomy and control. This is compromised with a move to the cloud and so, while the advantages of the cloud may persuade enterprises to relinquish this control initially, vendor lock-in quickly becomes an issue. Relying on a single IT vendor is never a good strategic move when it comes to maintaining control.
In addition, in today's fast-paced world of innovation, enterprise IT environments need to be able to quickly adjust to change. Adopting a multi-cloud strategy encourages IT leaders to consider and implement infrastructure brokering and orchestration layers which will in turn create a flexible and robust IT infrastructure. During contract negotiations, such flexibility allows cloud infrastructure brokers with a large resource pool (like MSPs) to request better terms they can pass on to their customers.
Control cost
Cloud service providers offer a wide range of pricing models and packages, with granularity to bill by the hour or even the second. When comparing alternatives, significant differences exist that may have a direct impact on the IT environment and its operating cost. It's important to pay attention to details and consider which features best apply to your enterprise's needs. In some cases, management may want to choose the cheapest available option, while in others, IT leaders may prefer to spend more for a specific application to achieve special capabilities or better performance.
When comparing Infrastructure as a Service (IaaS) offerings across clouds, mixing-and-matching may be the best route. For example, your business may choose Google for its fast instance launch and select AWS for its mature and comprehensive instance portfolio. And, you may add Azure to customize packages in cases in which your organization is under the Microsoft Enterprise Agreement (EA).
Different features, more options
Gartner's report "Critical Capabilities for Public Cloud Infrastructure as a Service (IaaS), Worldwide" report shows the range of features and capabilities amongst leading cloud vendors. See the chart below from the report that applies scores to each IaaS vendor based on their ability to support an enterprise's "critical capabilities."
For example, AWS is well-suited to organizations with a large number of users, for large-scale data processing, and for meeting most security and regulatory compliance requirements. However, for customers with existing Microsoft deployments, deployment of Azure Stack and full compatibility with the Azure public resource pools are particularly good fit to build a hybrid infrastructure.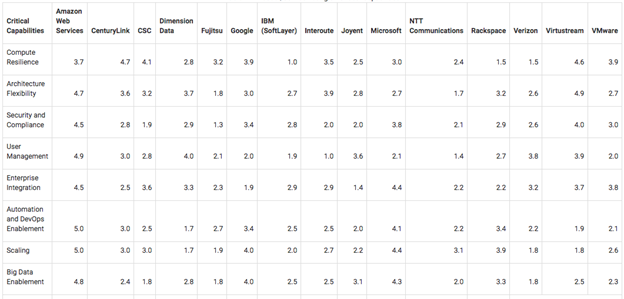 With multi-cloud flexibility, one cloud vendor might offer a more desirable feature set that would justify switching. Some features, such as Database as a Service (DBaaS), security controls, compliance, or high availability (HA) architecture might not be supported by all vendors. Therefore, comparing the values and quality of the same or similar capabilities of different vendors will benefit your enterprise.
Workload mobility
Multi-cloud cannot be a true solution without the right tools to allow practitioners to move applications and data between totally different infrastructures. Docker and Kubernetes are good examples of trending solutions that are most suitable for the multi-cloud approach. Kubernetes offers a wealth of vendor-agnostic features so you won't be locked into a specific cloud provider. At the same time, a Kubernetes cluster can be installed on bare-metal servers and virtual machines, and can run in AWS, Microsoft Azure, or Google Cloud Platform, not to mention OpenStack, the most commonly used open-source platform for private clouds. Through a set of plugins, Kubernetes supports diverse implementation of container networking and allows workload mobility and persistence for a highly heterogeneous infrastructure.
Summary
As the market matures, so does enterprise IT. Strategically implementing a multi-cloud setup for your enterprise can be a challenge, but in order to stay relevant and competitive, IT leads must see that multi-cloud is a trend for a reason. To create a modern, cost-effective, and robust IT infrastructure, IT managers would be wise to consider that a multi-cloud approach puts them back in charge, as brokers, while offering their enterprise users and customers the resources they need to run critical production workloads.
Whitepaper: Why Discovery is Critical to Multi-Cloud Success
Learn how multi-cloud discovery provides insight into your assets and their relationships across every environment.
Download the Whitepaper ›
These postings are my own and do not necessarily represent BMC's position, strategies, or opinion.
See an error or have a suggestion? Please let us know by emailing blogs@bmc.com.